Hey everyone. Over a year ago I began researching and doing a bit of homework for decorating a Garden Style bedroom and other rooms. Using these ideas for decorating and redoing our bedroom, I decided to do a little decorating in miniature as well. 
The ideas though can be used across the board for creating a lovely garden style room.
My theme was going to be White, Rustic and a little elegance.
My own bedroom looks beautiful and I will share those pictures in the future. Today we are focusing on the theme and the pieces involved.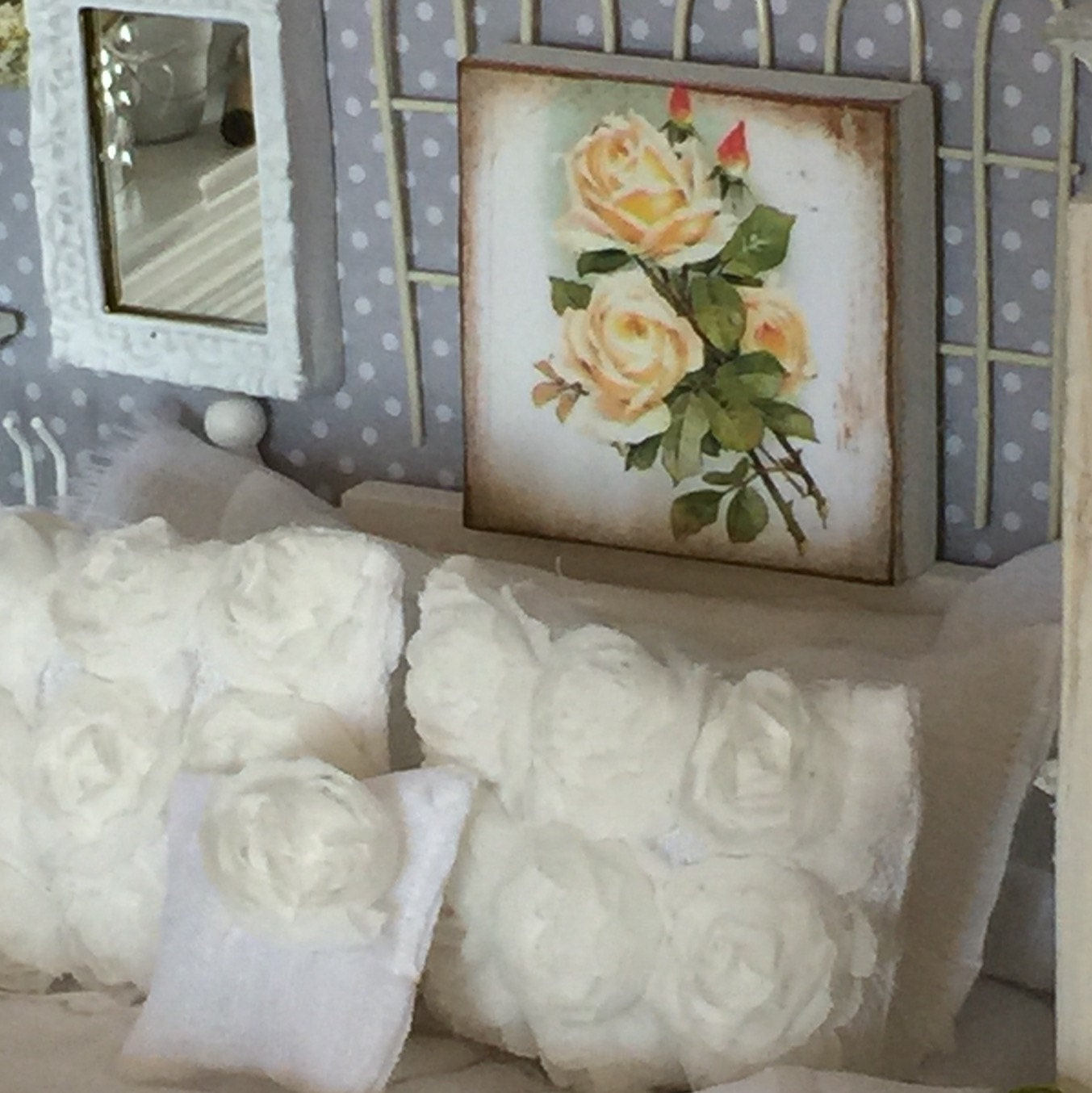 Be sure to sign up below for my newsletter as I will be sending out a Free Ebook on Garden Style decorating that is more in depth with tons of ideas, and I'd love for you to receive that as well.
The decorating plan I was  going for was a peaceful retreat so I needed soothing colors in my plan.
Here are several ideas and pieces I knew I needed for the room -
Garden style frames
Books and Journals
plants and planters ( I chose white and neutrals instead of vibrant colors)
greenery (fake and real)
frames and mirrors
garden style images
garden fencing - pretty to look at
rusty tools, watering cans, metal items
white linens - fabric
Garden tools
glass jars for flowers
terra cotta pots
baskets
white, cream and beige pillows
My bedroom furniture in my home is actually rich looking wood colors. I love the contrast of the darker wood and the white bedding and accessories.
I knew I needed a little bit of all these things.
The white bedding was layered and was a backdrop for my own bedroom. Lots of pillows, blankets, throws and comforters. 
For the dollhouse room I used my own pattern(click on link below) that easily shows how to make bedding for dollhouse miniature sized beds - and then proceeded to use mostly white fabrics, including white linen.  
Click on this link to see it. https://www.etsy.com/listing/250224825/sewing-pattern-miniature-cottage-style?ga_search_query=pdf&ref=shop_items_search_64
A very important thing I learned when decorating any size room, is that there needs to be a focal point - the bed, or a hutch or a large sized element. 
Layering garden style items on a shelf or chest of drawers is a good plan. Starting with larger items towards the back and then a smaller focal point item in the front that is pretty to look at.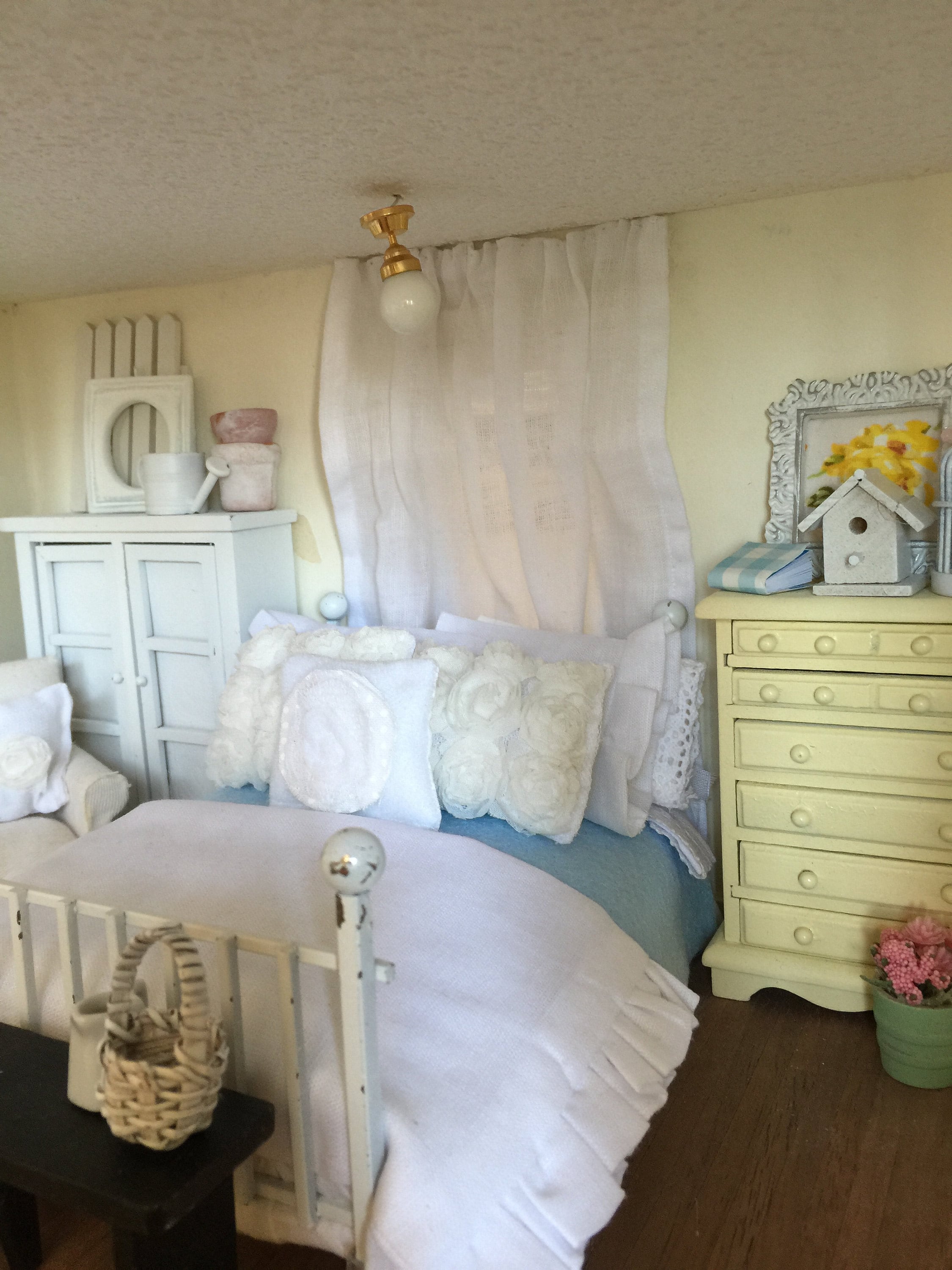 Blankets in alternating colors can be chosen to add a little color to the room. Stack books that match on top of a chest of drawers.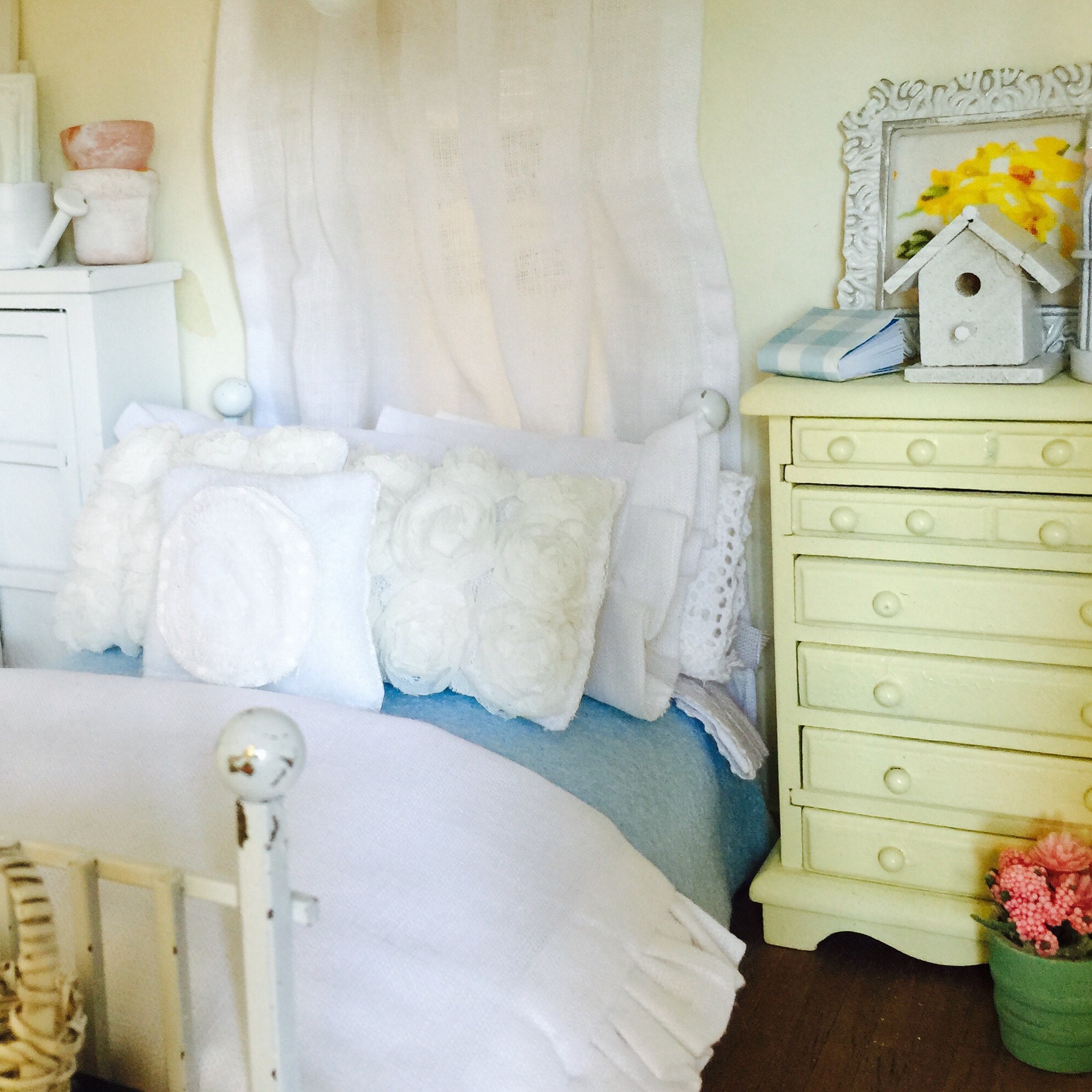 I looked for pictures that had vintage flower images on them and then framed them in pretty frames that I painted white. Thrift stores are a great place to find frames. Paint them, take out the picture that is in them and replace with something you like that is the theme you like.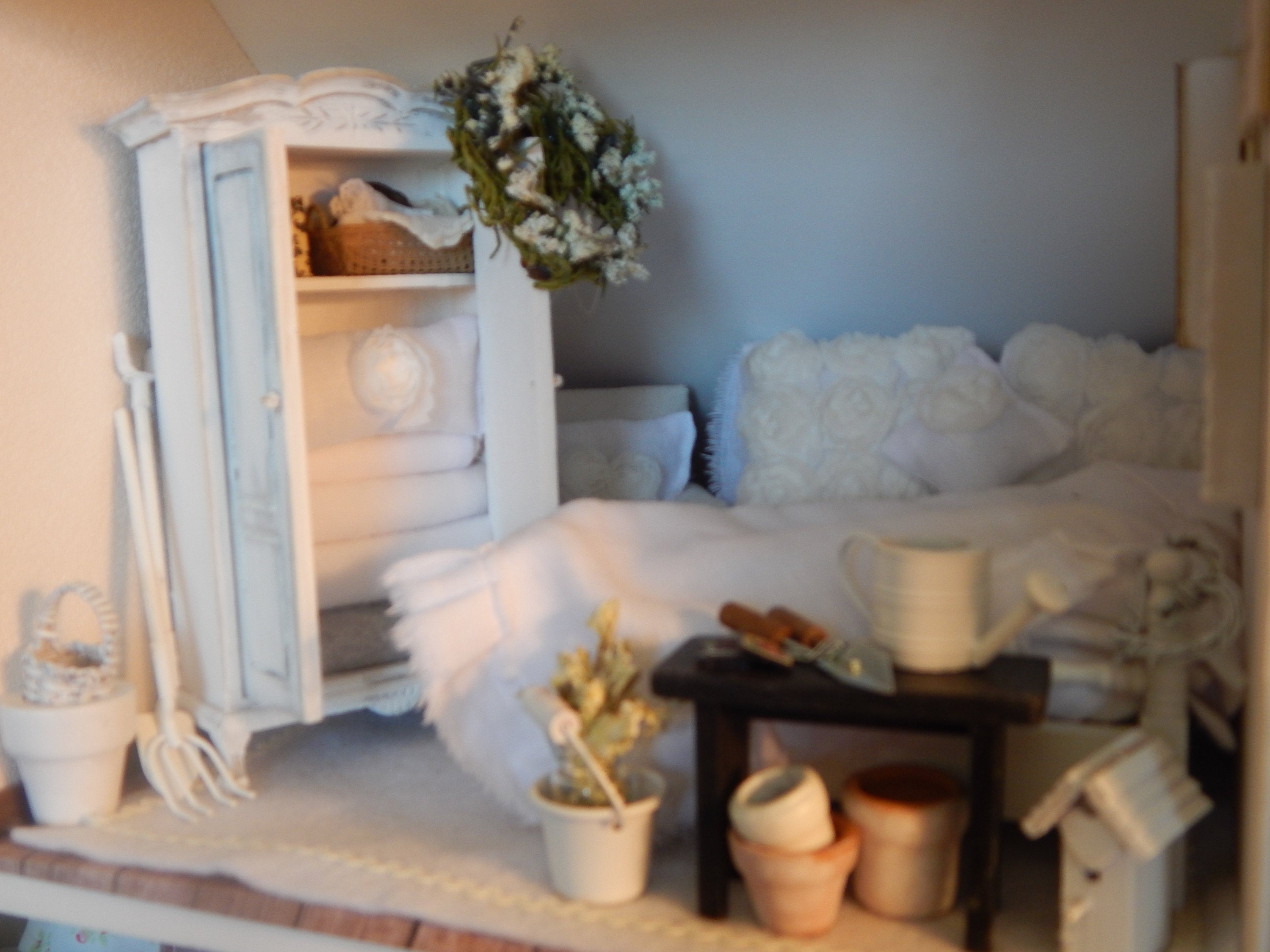 The photo above was decorated with more white linens, terra cotta pots that were stacked on one another. Birdhouse, watering can, garden tools to name a few, were the accessories I chose for decorating and bringing the feel to the room that I was looking for.
Garden tools like rakes and shovels were also painted.
Below the garden feel goes from the wreath, to the canvas art above the bed, to the terra cotta pot full of coordinating flowers, and then touches of those colors in the bedding.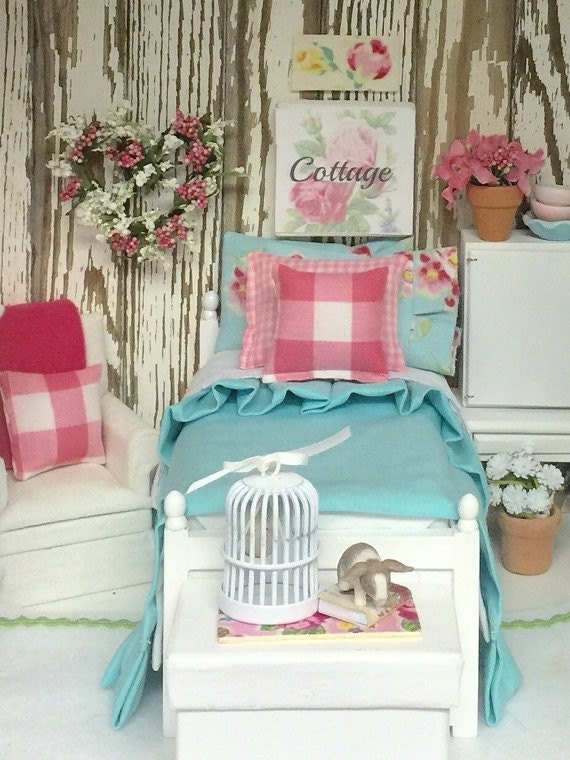 Roses, flowers, wreaths and a birdcage help set the garden feel for the picture above. I always choose flowers after I have decided the color scheme and feel of the room I am decorating.
I love the contrast of my roses against my picket fence at our farmhouse. I never tire of looking at this.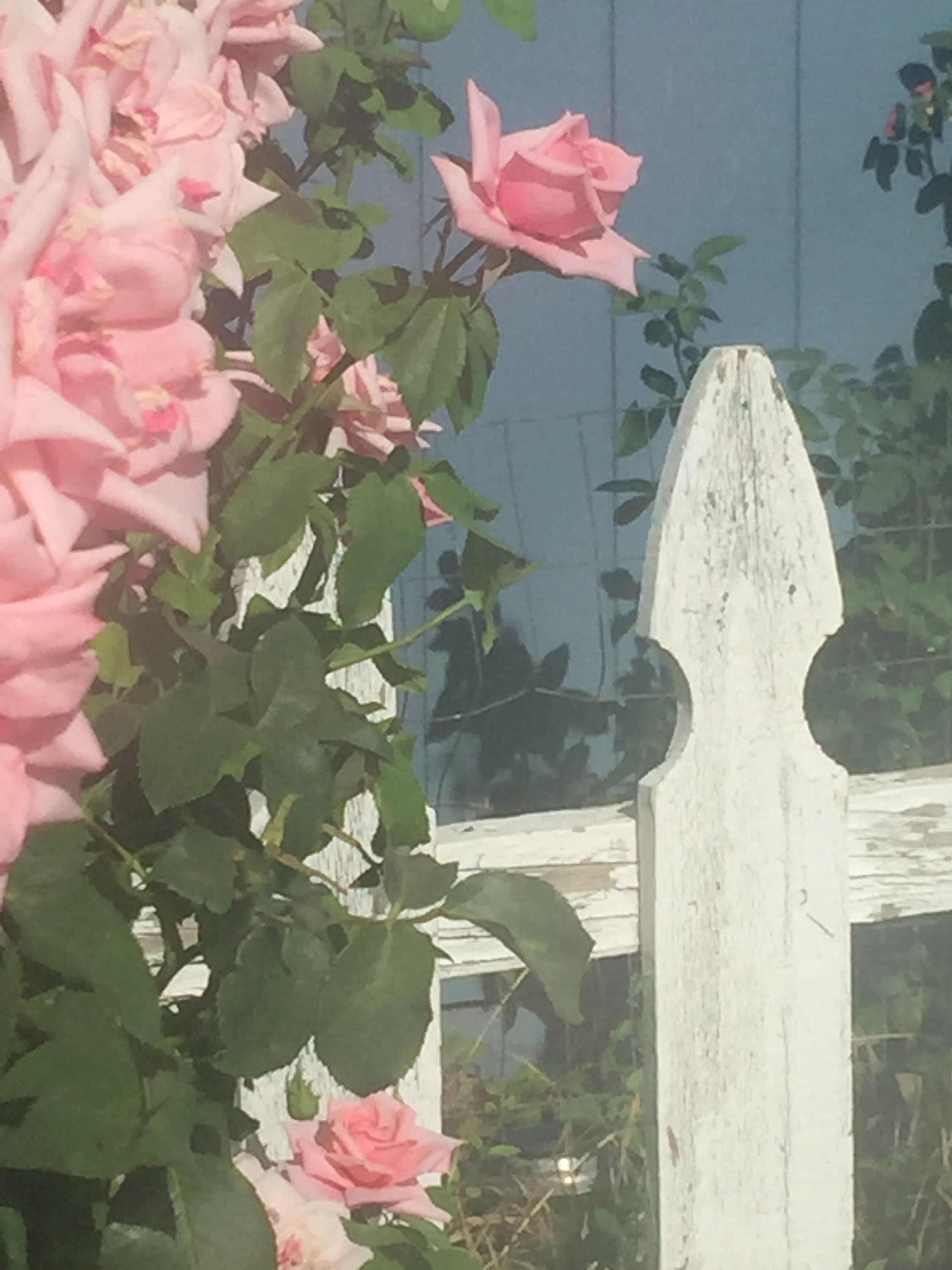 This is just a little bit of what I am working on in my new Ebook that will be free to you. It will have wonderful ideas to use when decorating with a garden style theme.  Be sure to sign up so you will know when it is available to you.
Have a blessed day!
Debbie