Hey everyone! So glad you stopped by.  I wanted to share with you some ideas and techniques I use for making little sewing rooms. 
As a professional seamstress my sewing room is very important. How it looks is very important. For many years I had the end of a side table in our bedroom, and fabric inside of big plastic tubs stacked in our closet. My husband joked that the bed kept moving closer to his wall while he was at work. Haha because I kept adding to my little tiny sewing area in our room and needed more space!
This little sewing room was made with beautiful fabric by Lori Holt (Riley Blake) and it is her Sew Cherry 2 collection. I love her collections because they often have tiny designs in them which is perfect for sewing miniatures. You can see more of Lori's designs HERE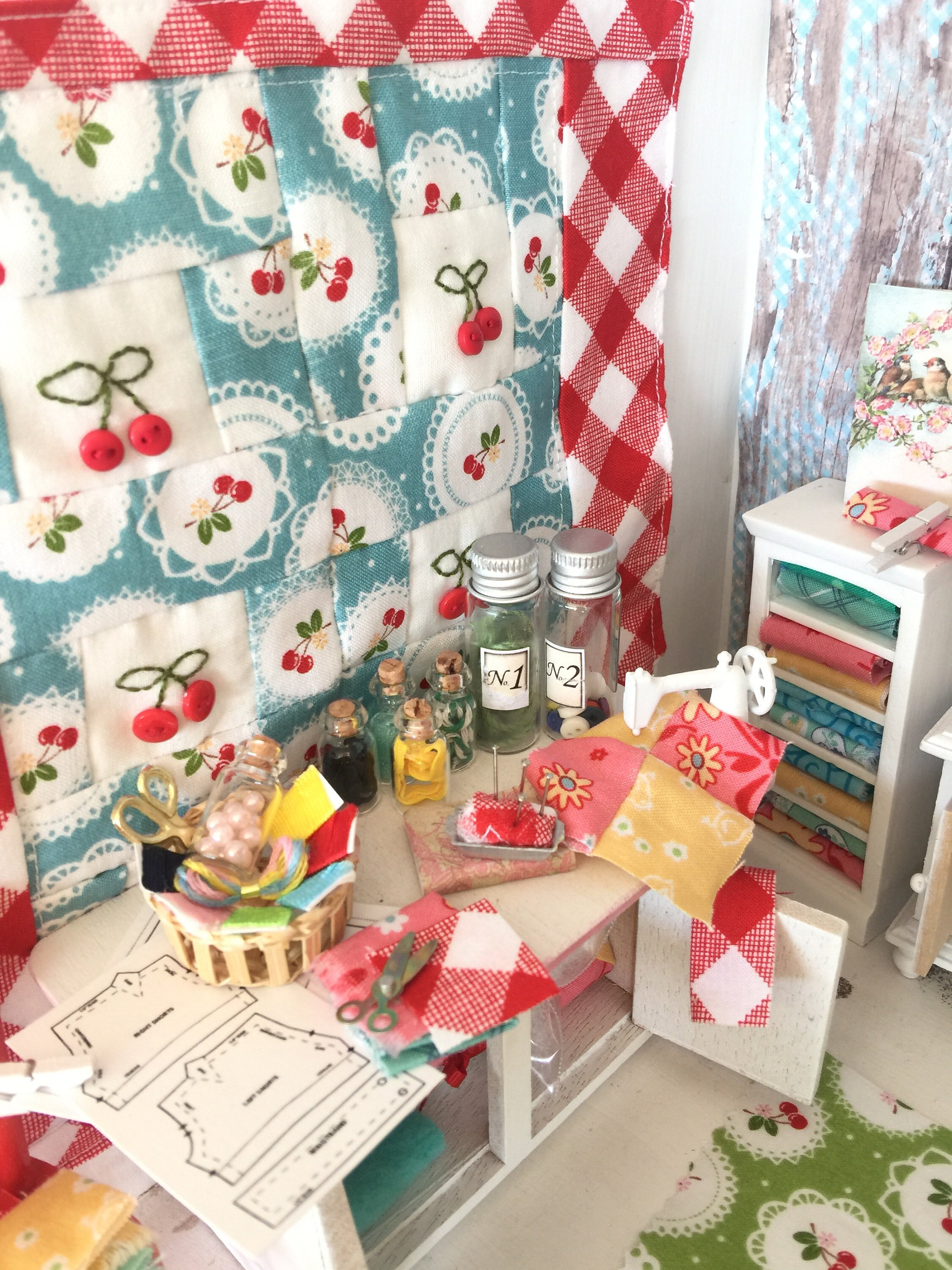 This is Part 1, Part 2 I"ll share basics of making the little cherry quilt on the wall.
First I gathered all my supplies. I purchase a few things -
littlel glass jars with lids (found at Michaels and Hobby Lobby
I found them in the jewelry section and in the miniature section.
Ribbons
Laces
Tiny trim
Tiny Rick Rack
Straight pins
fabric of choice (my color scheme was red, blue, green and yellow)
Miniature hutch or furniture (Hobby Lobby)
TINY SEWING BASKET - found at Hobby Lobby in miniature section. I took it apart and used the scissors to lay on the table on top of the little pattern.
White craft paint or spray paint
Miniature sewing machine
These are the basic supplies to get you started.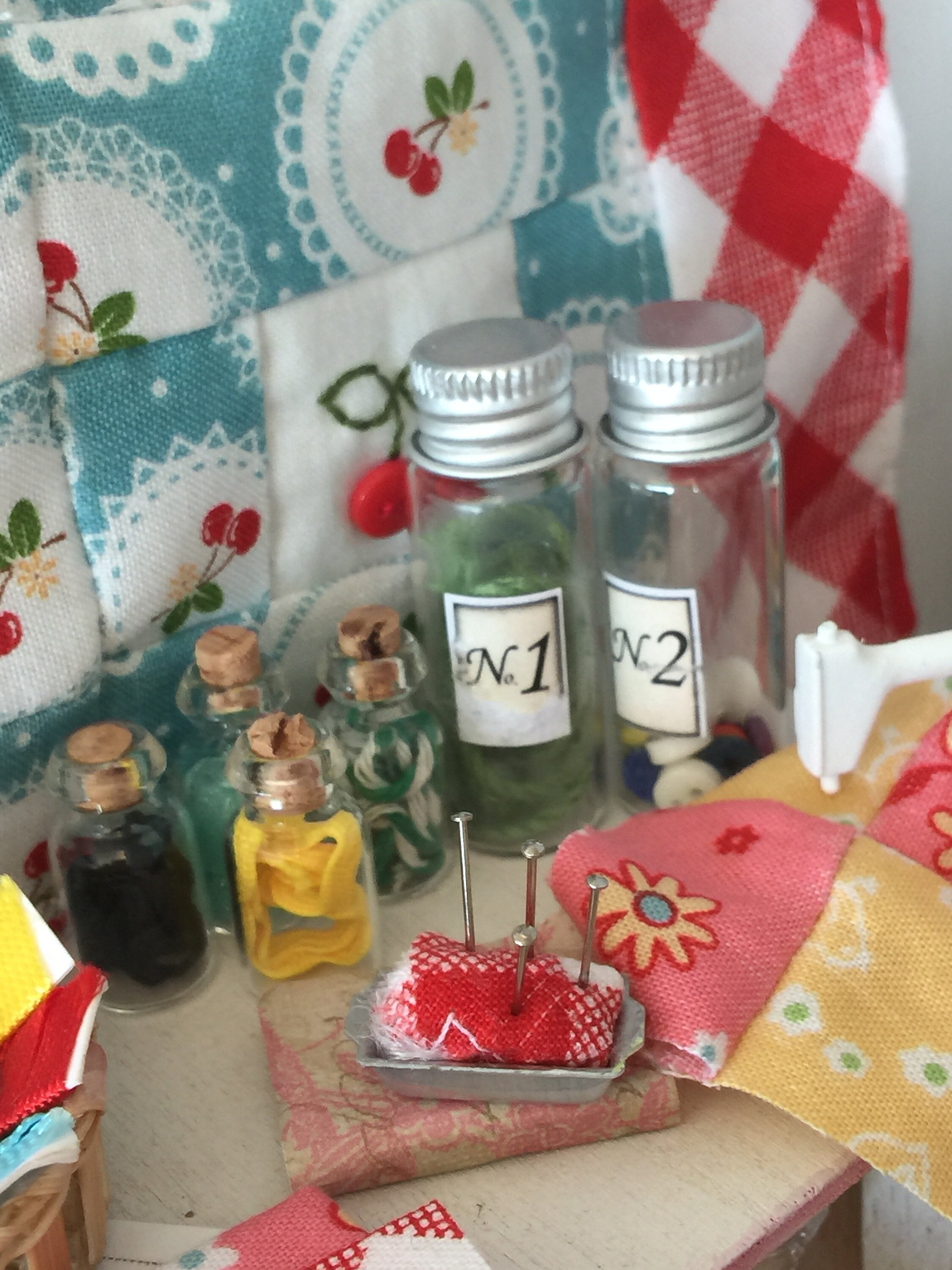 I began cutting small amounts of ribbon and rick rack and stuffing them inside the little glass jars. Using wire cutters I cut down regular straight pins and made them shorter, about 1/4" long. Then I added 6 or 7 into a tiny glass jar and put the lid on to keep them in there.
The loaf pan I ordered off of Ebay. It was a little bit of work to do this porject, but I dropped a few drops of glue in the loaf pan on the bottom and the sides, then a tiny bit of stuffing on top of the glue. I cut the  fabric in a tiny rectangle that was a bit bigger than the loaf pan. Using a toothpick I placed the fabric over the stuffing and tucked the sides in the loaf pan. It took some doing. It wasn't hard, just took patience! Once it was in and was as good as it was going to get, I let it dry.
Once it dried I added the cut off straight pins to make it look like a pin cushion.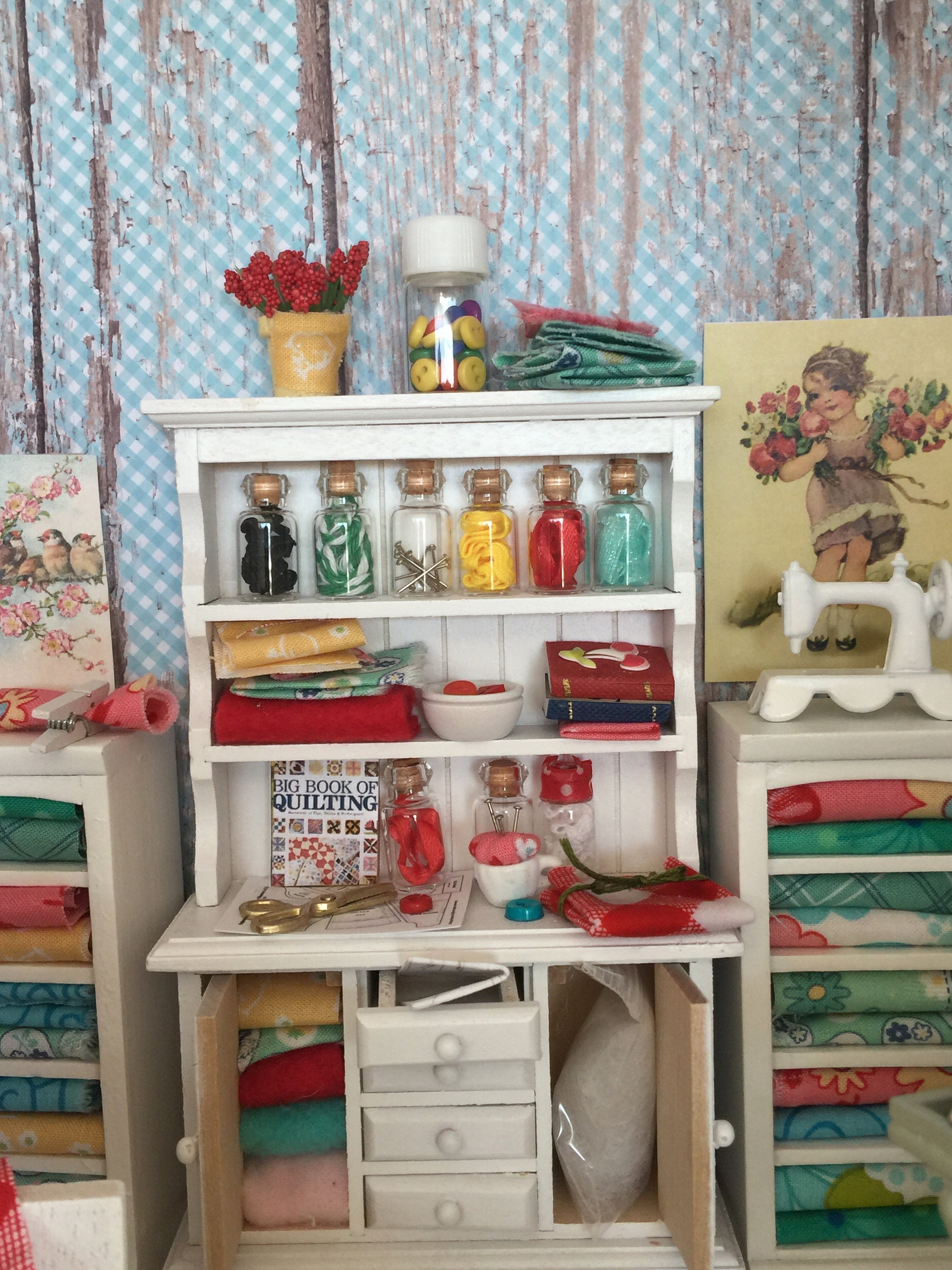 I cut fabric into 1/2', 1' and 2" squares. Some of it I folded and stacked and fit into the cupboard doors and shelves, depending on how wide it ended up being.
I found free doll clothes patterns that were printable online. Saved them to my computer, then when I was printing them out, I reduced the percentage box to a very small amount like 10% and  printed it out. I did this a few times, making it smaller until I got the size I was wanting. It needed to be small enough to fit on the surface of the hutch I was using.  I stacked books on one another, and I stacked little folded pieces of fabric to look like a fabric stash. I added little bowls of pins, buttons, and lace to fill in empty spots on the hutch. 
Another idea would be to stack fabrics on the hutch by colors, making it look a bit more organized!
For the little bag of batting, I took a small jewelry sized ziploc bag and added a tiny piece of batting and closed it. It looks perfect just like that.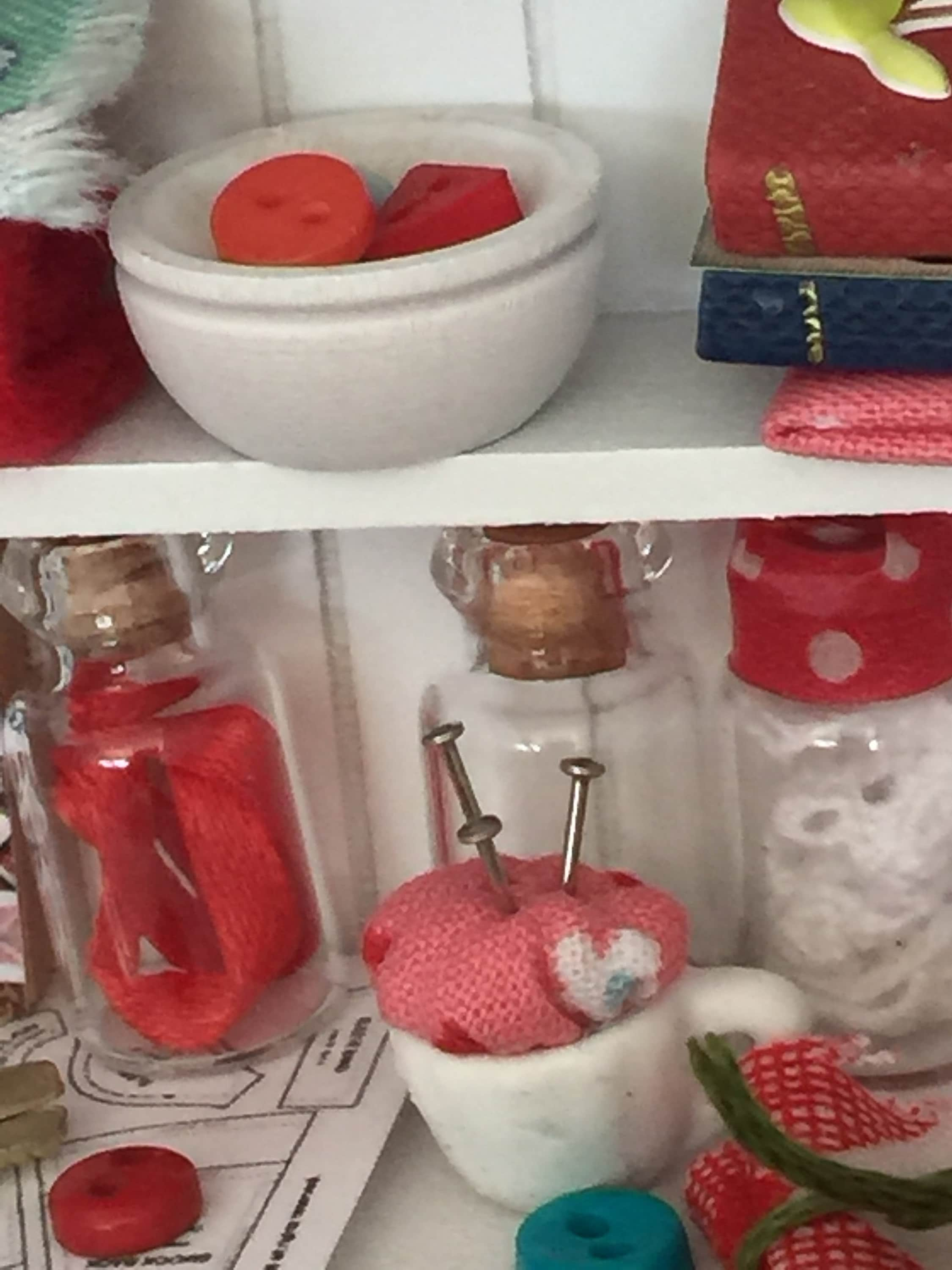 I used furniture that was white, and a neutral backdrop for the items I added.
Part 2 will show how to make the litlte cherry quilt on the wall so make sure you come back for a visit for that.
Also I'm giving away a Farmhouse Style Garden Ebook when I send out my next Newsletter, so be sure to sign up below for that. I would love for you to have that!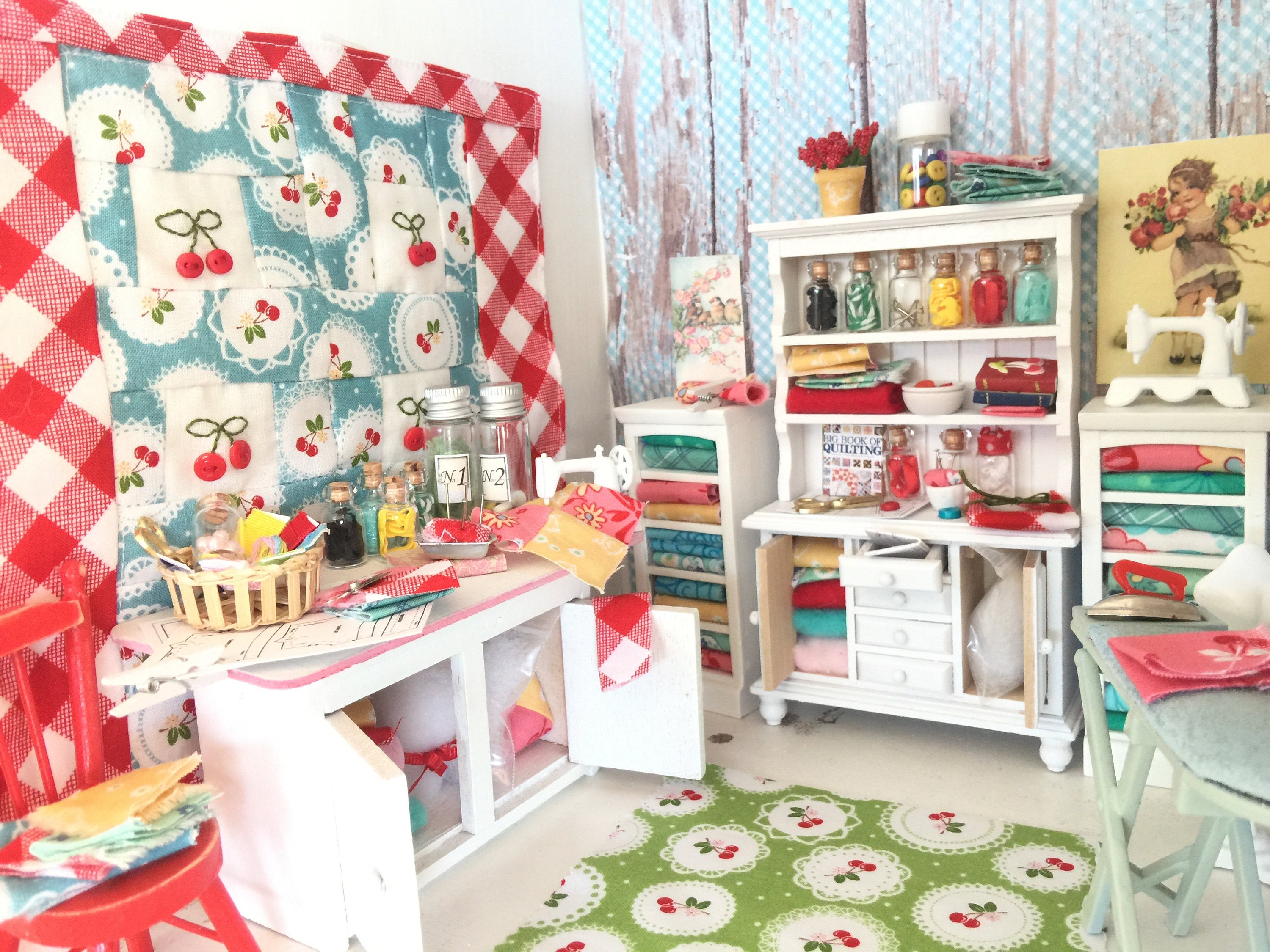 The sewing hutch and shelves can be found and seen HERE
Thank you for coming by. I hope you are encouraged to make a little sewing room, or even a decorated hutch that could be used as a decorative piece on a shelf in your own sewing room!
Blessings,
Debbie
See you again soon for Part 2!