I hope you are having a lovely week so far. I am grateful to have had all my kids and their spouses and children, our grandchildren here. I feel very blessed!
In the last couple of years I have been asked multiple times to create easy to make patterns for dolls and doll clothes, along with doll bedding. This sweet little baby is just that. One pattern piece cuts out the doll body from soft creamy wool felt, and the clothes take just 2-3 pattern pieces to cut out, sew and make.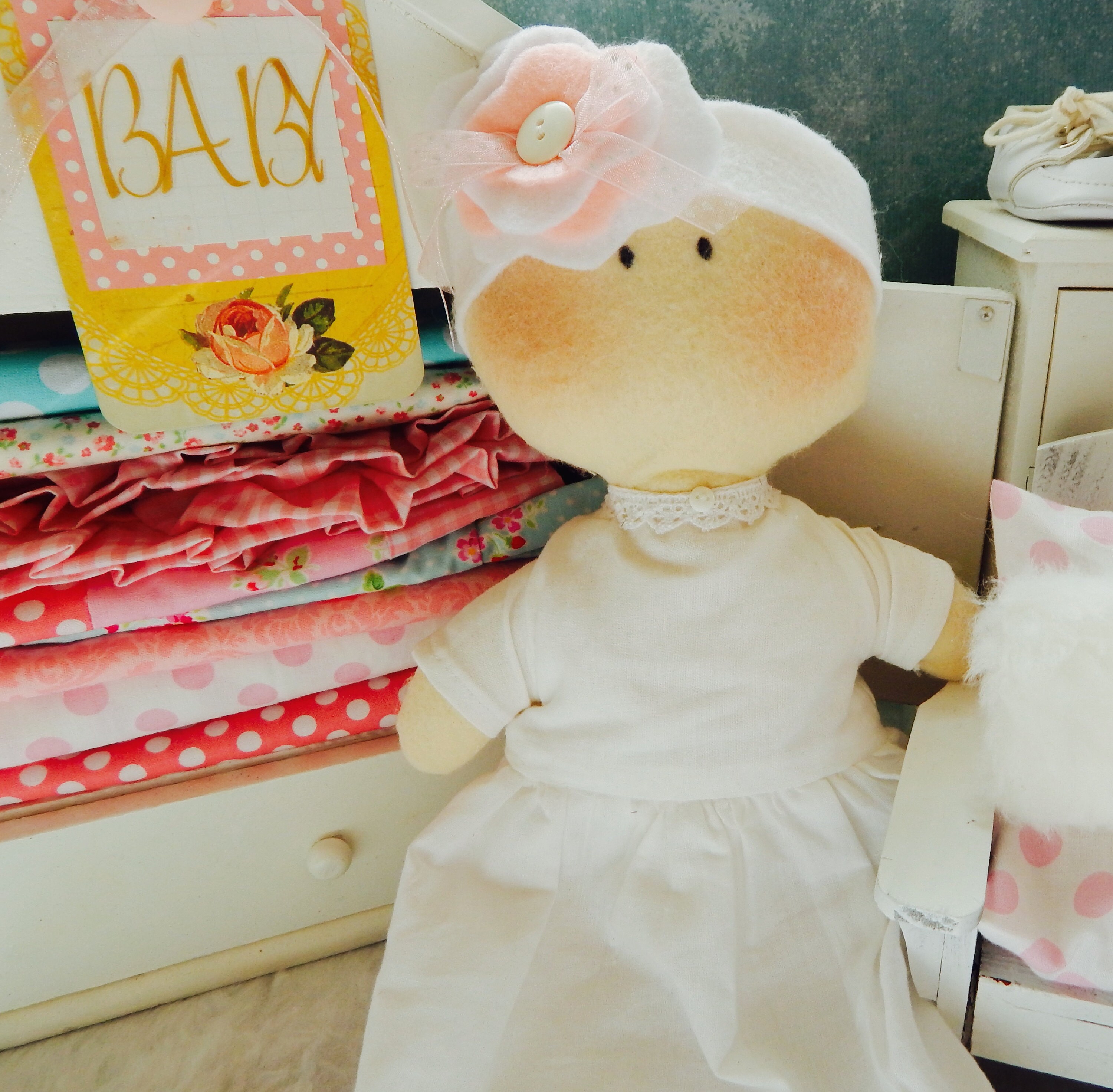 As a little girl my mother taught me how to hand sew. She would cut out patterns for doll clothes, simple things, and then have me hand sew them together. It taught me motor skills, but also how to fit pattern pieces together.
Now that I am older, I want people to enjoy the art of sewing, and I believe simple patterns with lots of pictures help do just that. This simple pattern makes the doll, the little outfits, diaper and headband.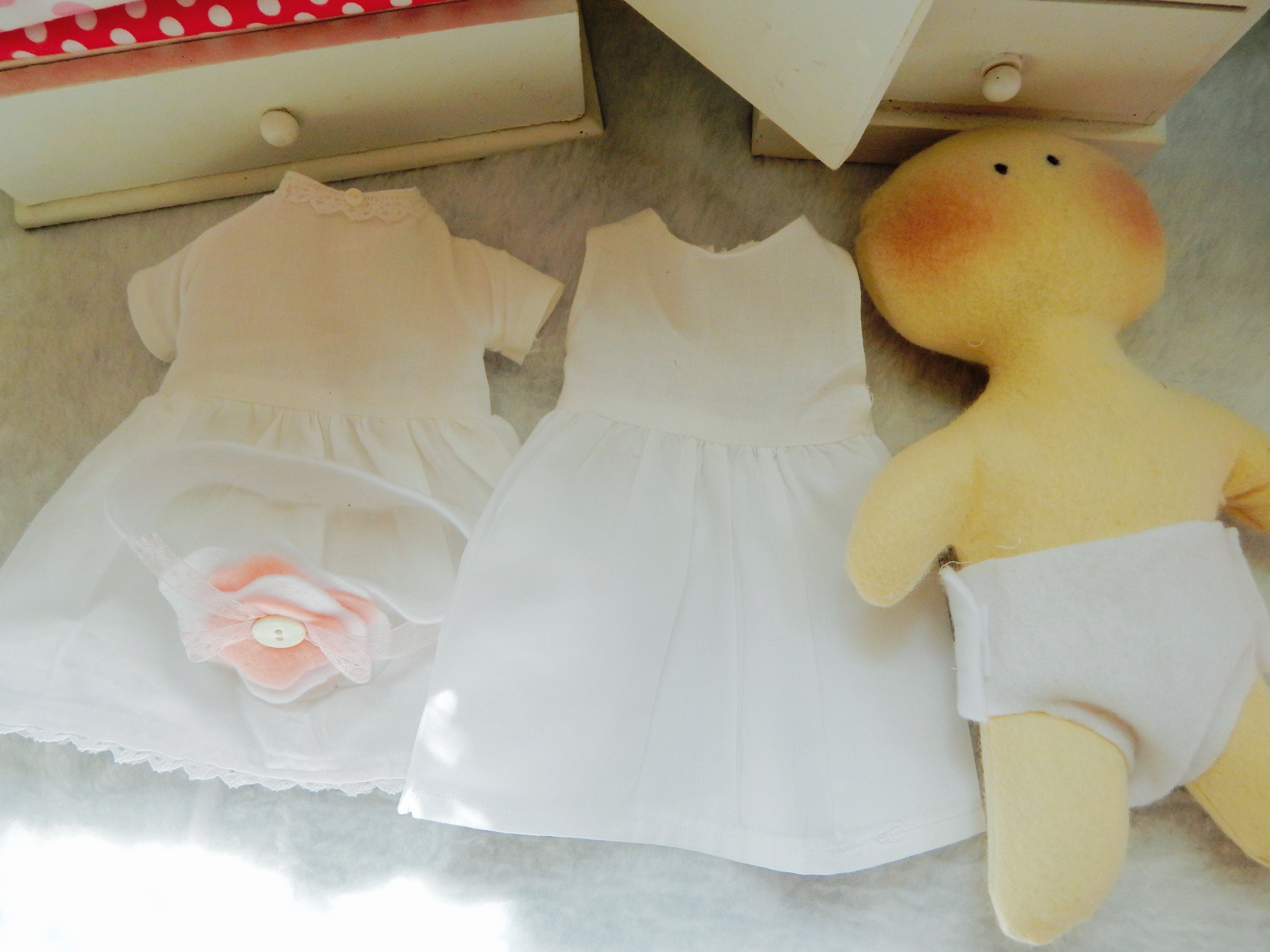 This pattern was made originally to create simple little play dolls for my granddaughter with outfits that were easy to change. The diaper had velcro closures and this made the diaper simple to put on and take off.
Felt Softie Baby Doll and Clothes Pattern Here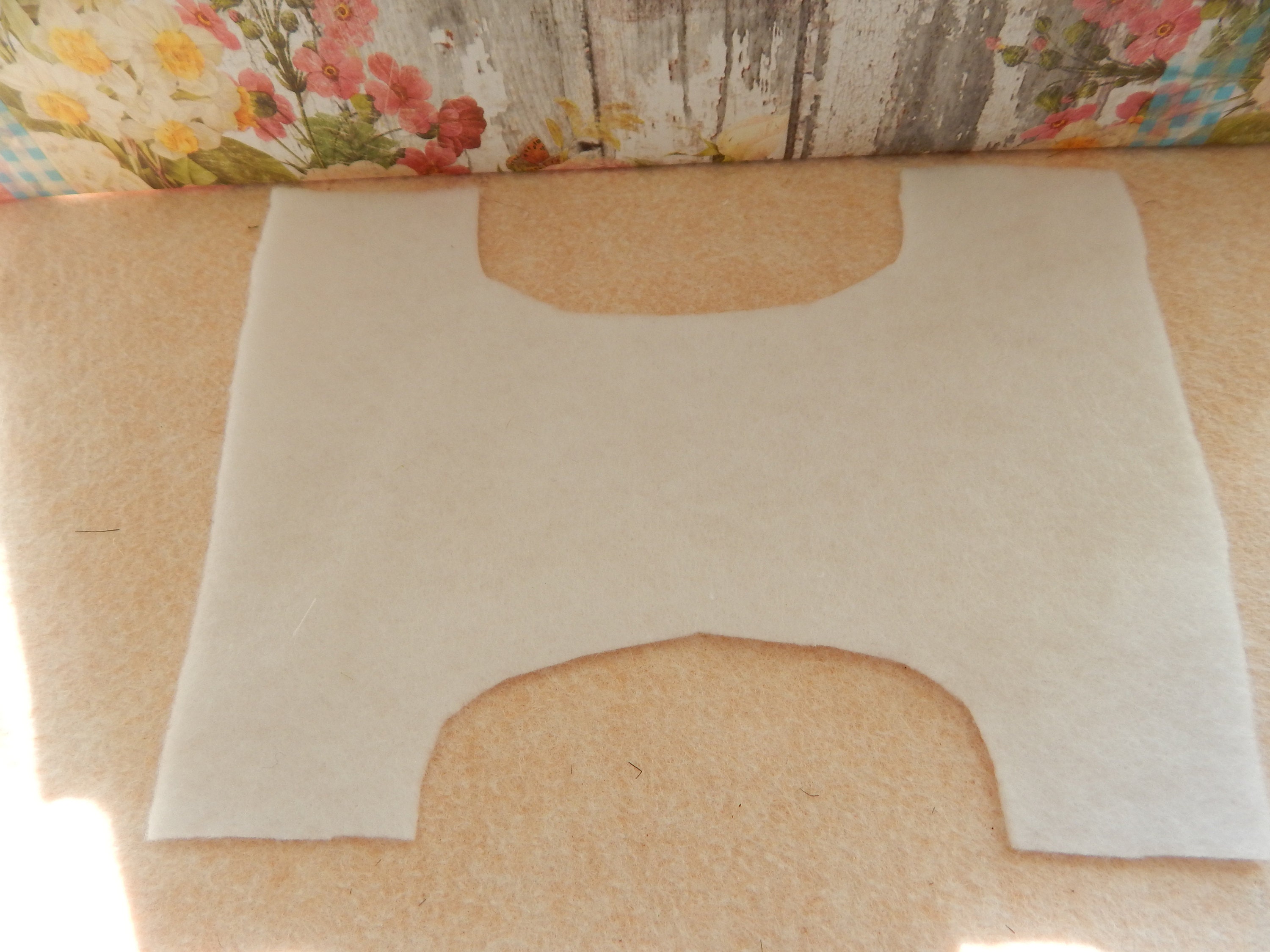 I also found that using felt was a key element to the ease of the pattern because it requires no hemming or finishing. The diaper is just cut out and velcro or that type of closure and it is done.
Here are the things I would do to create a wonderful and budget friendly doll room for a baby doll or bigger doll.
Look in stores, thrift stores, inexpensive stores like Big Lots or similar, for jewelry chests with drawers, or closet style doors, hutches, small doll pieces of furniture. Paint all of them white. Jewelry chests have been easily found and the most inexpensive item I have found to repurpose for doll furniture.
Ebay and Etsy also have doll furniture that is more Vintage style - Ginny beds, tables and chairs, and closets. These are a bit more expensive but can be found for under $20.00 often times.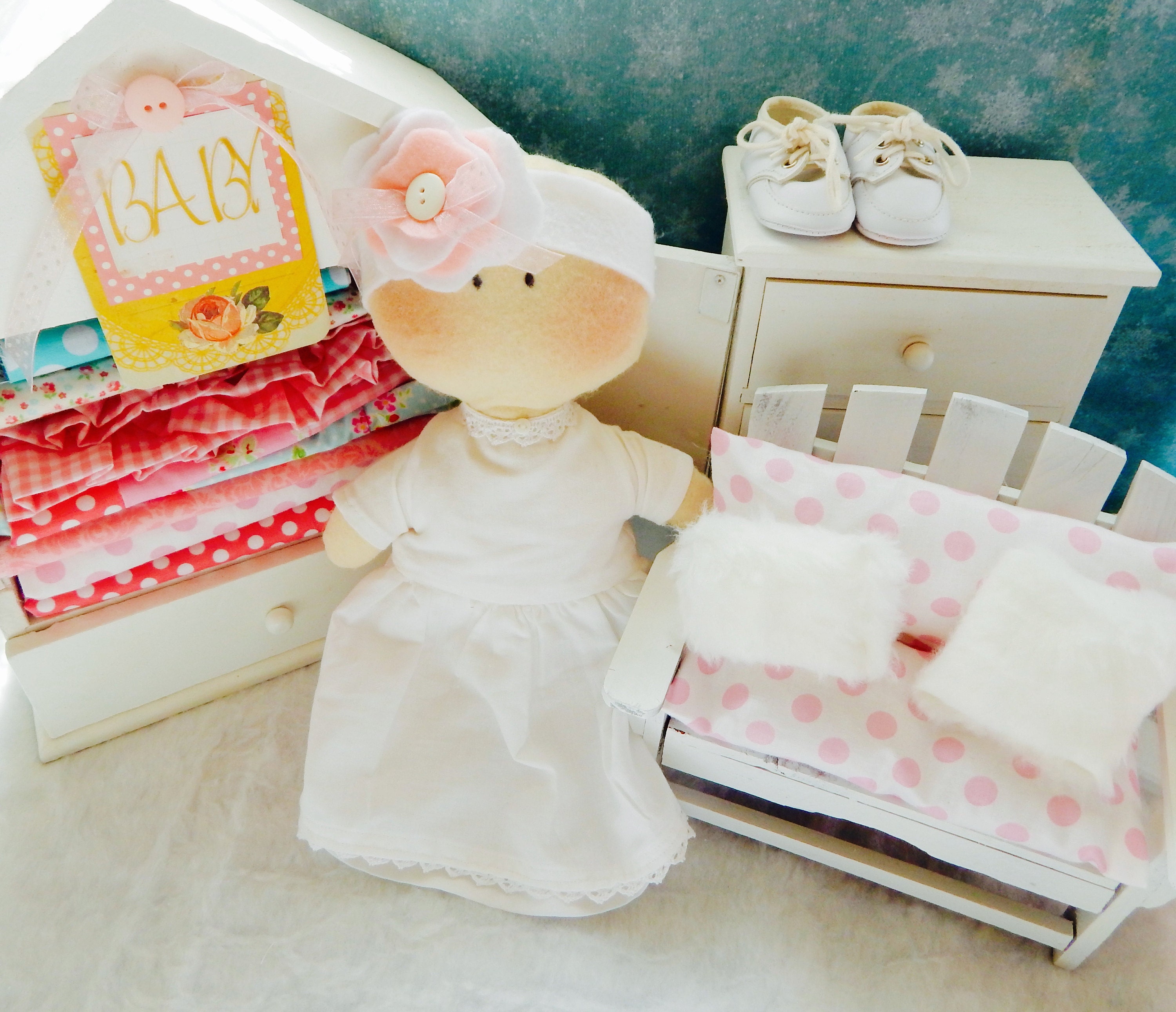 If you can sew make pillows, sheets and blankets to put in the drawers and cupboard shelves of the furniture. This will fill the cupboards and make them look full.
Create simple little rugs cutting rectangle or oval shapes from pretty colored wool felt.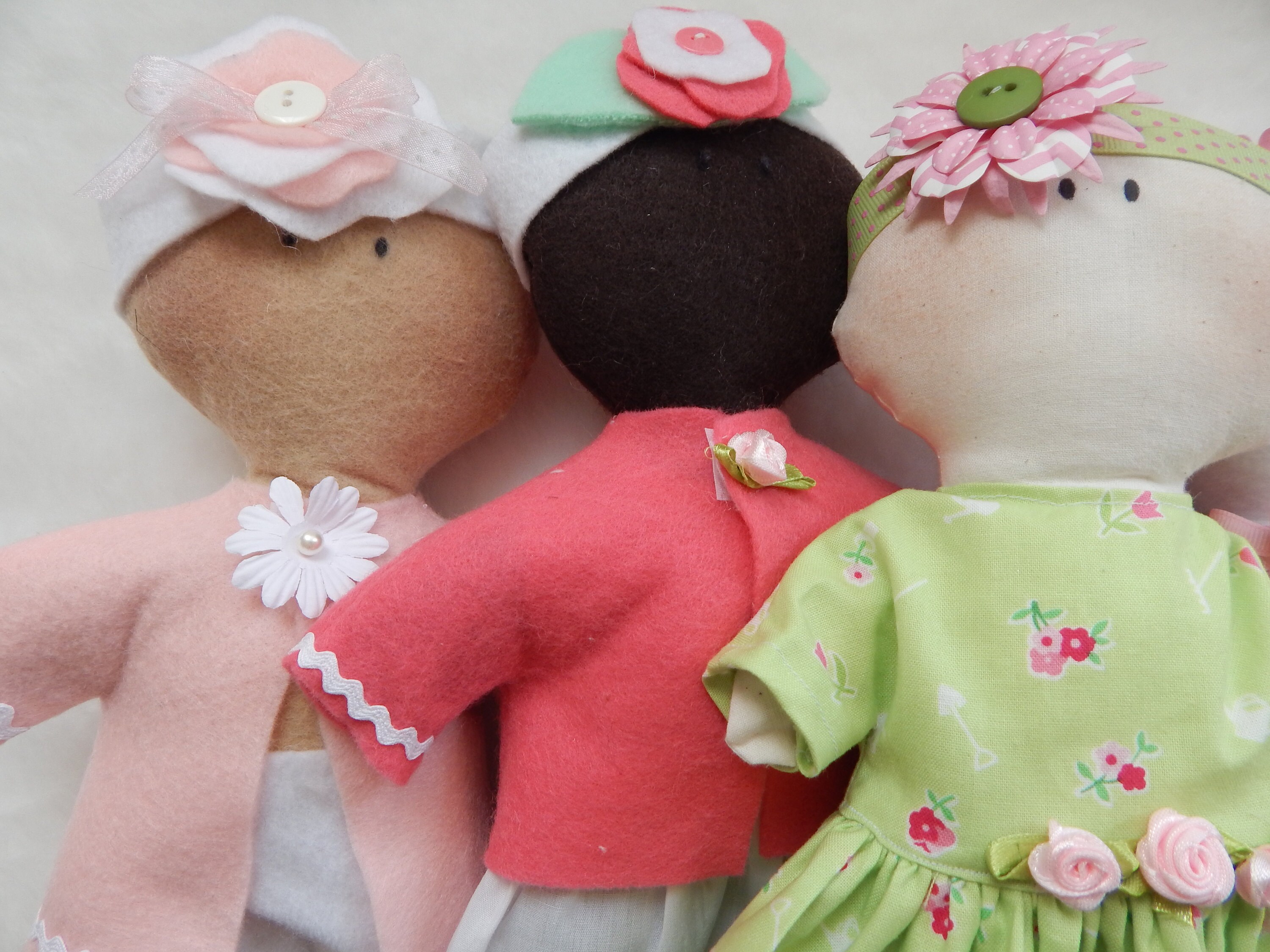 The pink closet below I found a few years back on Ebay. It is from a vintage Ginny doll furniture selection. I absolutely love it!
I find adorable little images on paper in the scrapbook paper section of craft stores, and insert them in $1.00 frames from the craft store.  Sweet pictures could also be taken from Toddler type picture books and cut down to fit frames. Little baskets can be filled with toy food, bottles, diapers, small pillows, doll shoes and doll headbands.
Inexpensive items like doll bottles, doll brushes doll clothes can be found even at a dollar store and used as filler items .
While the pattern I am sharing is from the my own design, other doll clothes patterns can be used to make doll clothes. Little flowers and bows can be glued onto the clothes and headbands to add some cute embellishments.
Keep it simple and keep it cute. Raid your craft stash and find little things that could be used to decorate the doll clothes and doll room.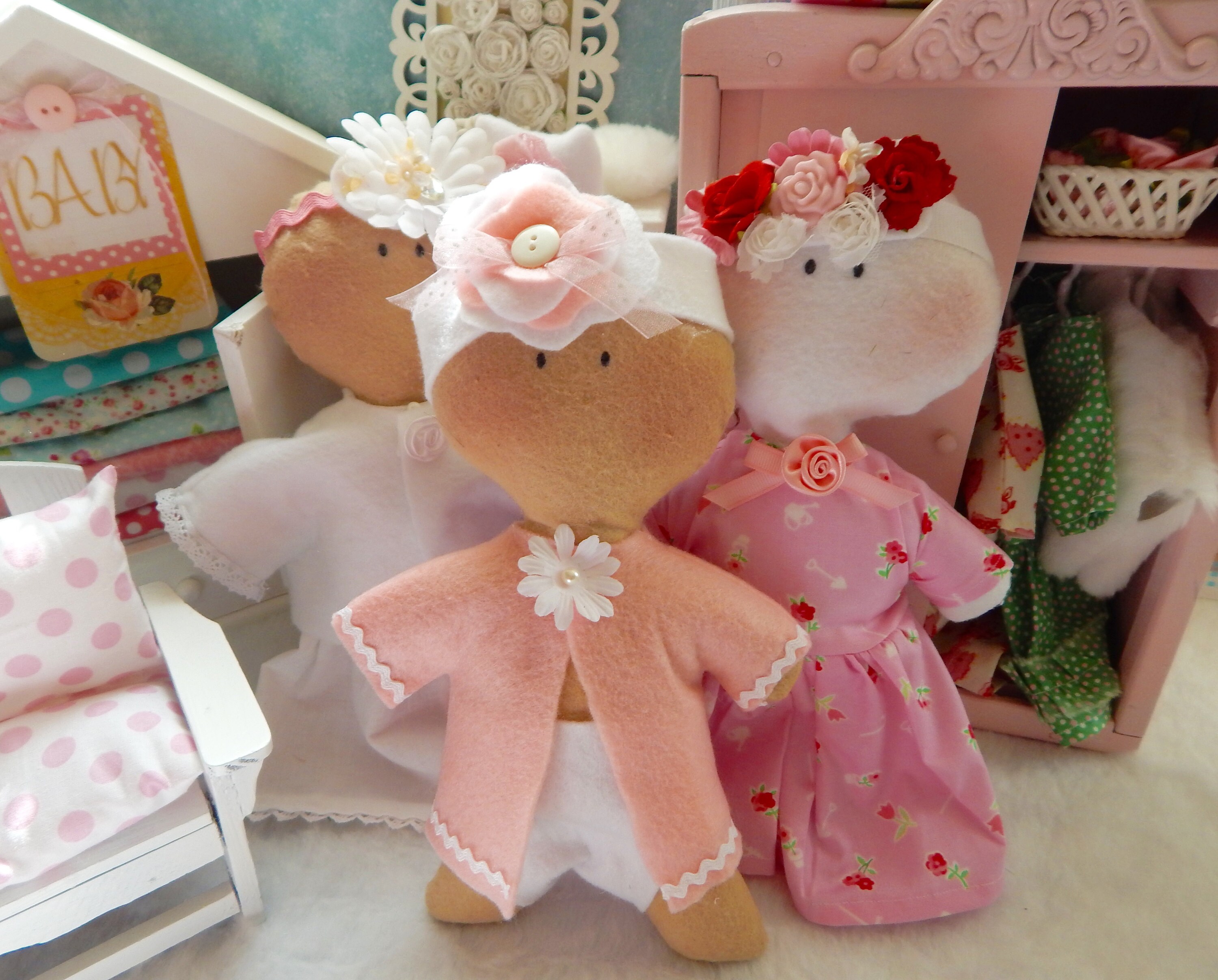 I have more ideas I will share very very soon!
Blessings,
Debbie