Hey everyone I hope you are doing amazing! I wanted to share an easy way to make some little pictures for a small scene, dollhouse wall, diorama or room box.  
Most of the supplies you may already have.
BASIC SUPPLY LIST
craft knife
decoupage glue
1" x 1" or 2" x 2" wood squares or rectangles
2" x 2" small artist canvas
small paint brush
craft scissors
small pictures, graphics or cards
small word phrases
optional - brown chalks, or brown stamp pad for rubbing on edges of signs to give an aged or distressed appearance.
I've made designs using picmonkey. That is another DIY altogether that I won't go over now. But will in the future.  I've also used designs from beautiful greeting cards that I've purchased at the store. The design needs to be between 1" and 2" in  width and length. Graphics can always be cut down to size.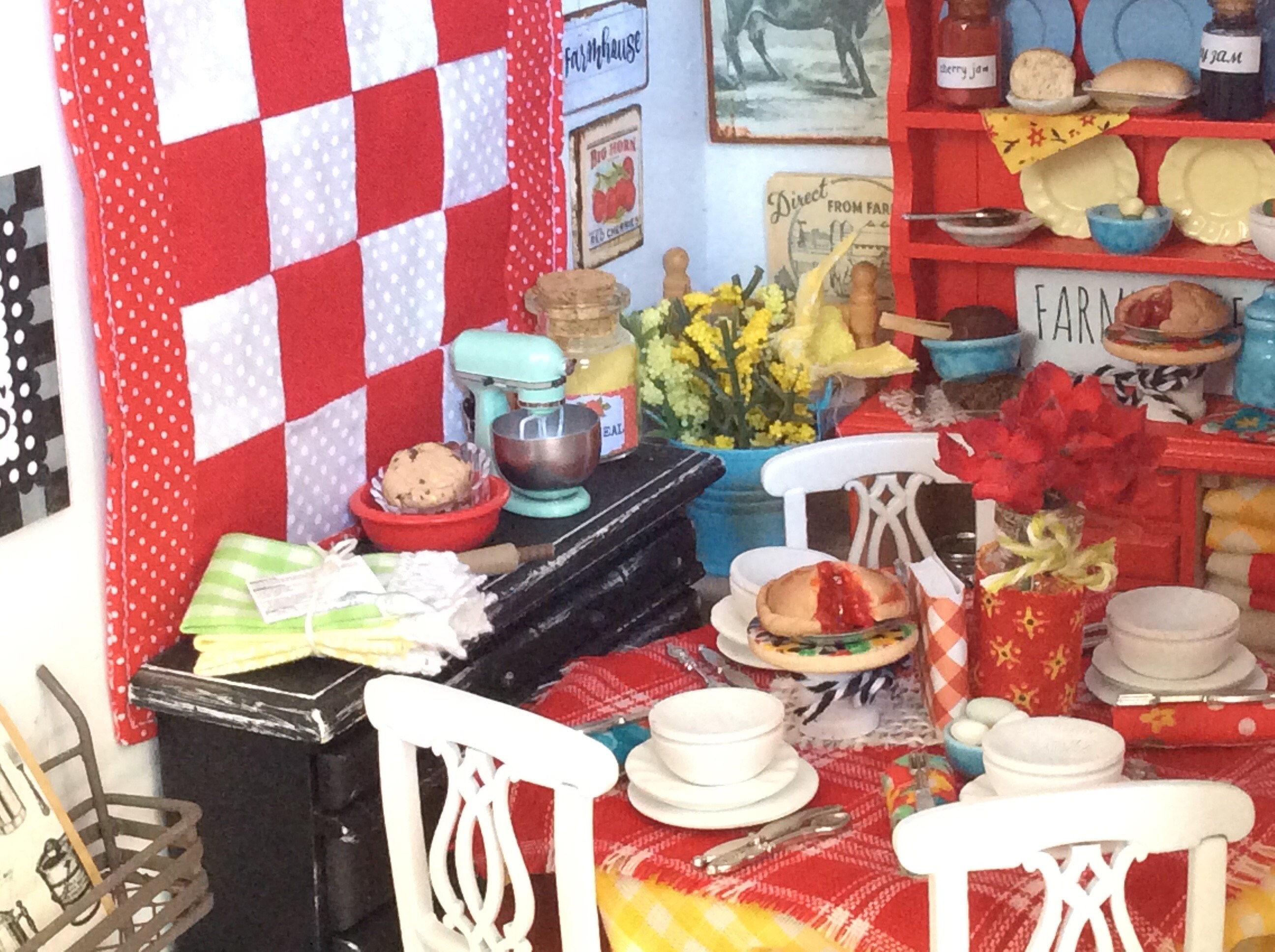 **If you desire a specific look then type in certain key words and phrases when searching on the internet. For example type in 'free images, strawberries' or 'free images, childrens artwork' or 'free graphics, flag'. 
What this does is bring up images that are free (most of the time) and can be saved and used. Then you need to reduce them in size on your computer to 1" x 1" or 2" x 2". I open up a word or page document (Apple computer). Next I click on the tab above that says insert and I click on it and then the image that I have saved. Once it is inserted onto the word document, I click on the edges of the picture and drag the edges till it becomes smaller. My computer shows the inch  measurement as you drag it to a smaller size and it shows me once I have reached the 1" or 2" range.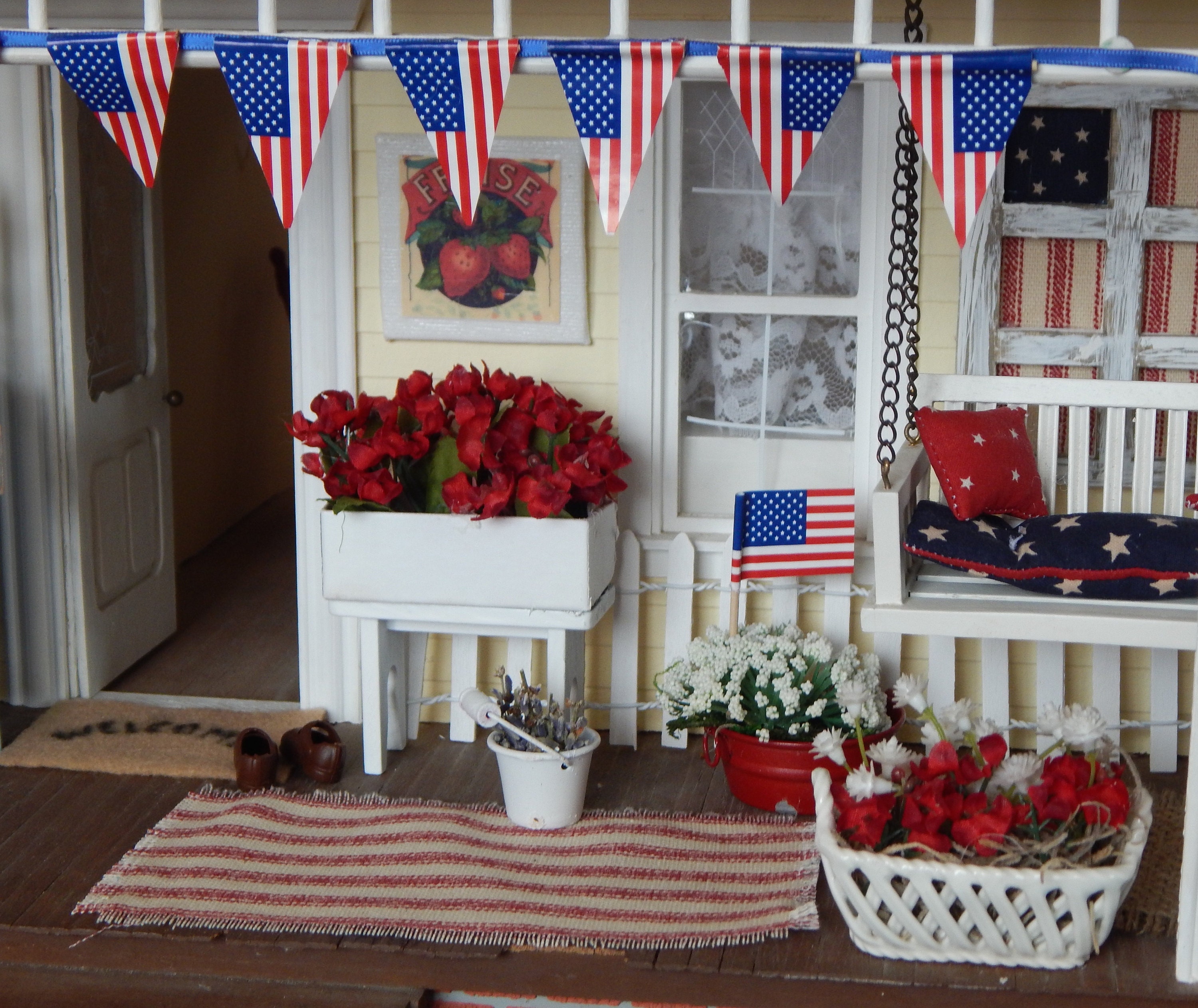 The majority of the time the pictures I make like this are between 1" and 2" in width. The only time I use a larger picture is for a large wall that is empty or above a fireplace. But to keep a picture within a dollhouse scale range which is one inch to one foot, I usually make the smaller pictures.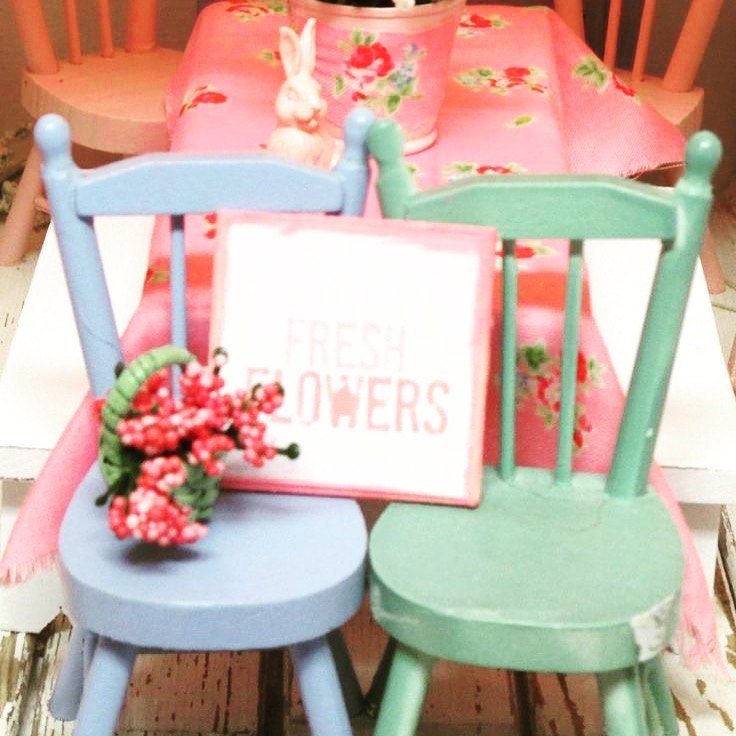 When I first started decorating dollhouse rooms I actually painted the inside of a wood box and set it up as a room. At this point I did not even have a dollhouse but was busy making little miniatures to sell on Etsy for additional income while I stayed home to take care of my mother.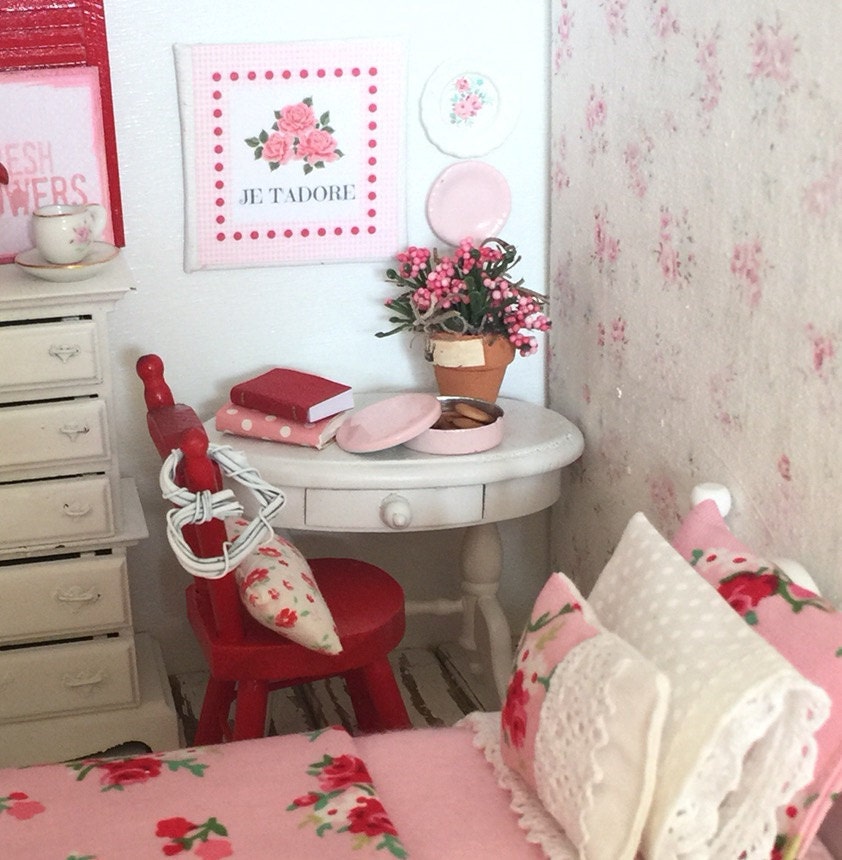 I needed an actual room to display the miniatures I was making and take photos. Then a magazine editor who saw my pictures on Etsy and Pinterest contacted me wanting to know if I would send pictures of the rooms and the dollhouse I was using! There was no dollhouse!! Yikes!
So I quickly and I mean quickly found a dollhouse that was fairly dated on Craigs list and bought it for $75.00 and went to work painting the rooms white. I had to decorate quickly. I painted over the wallpaper on the walls and painted the walls creamy white.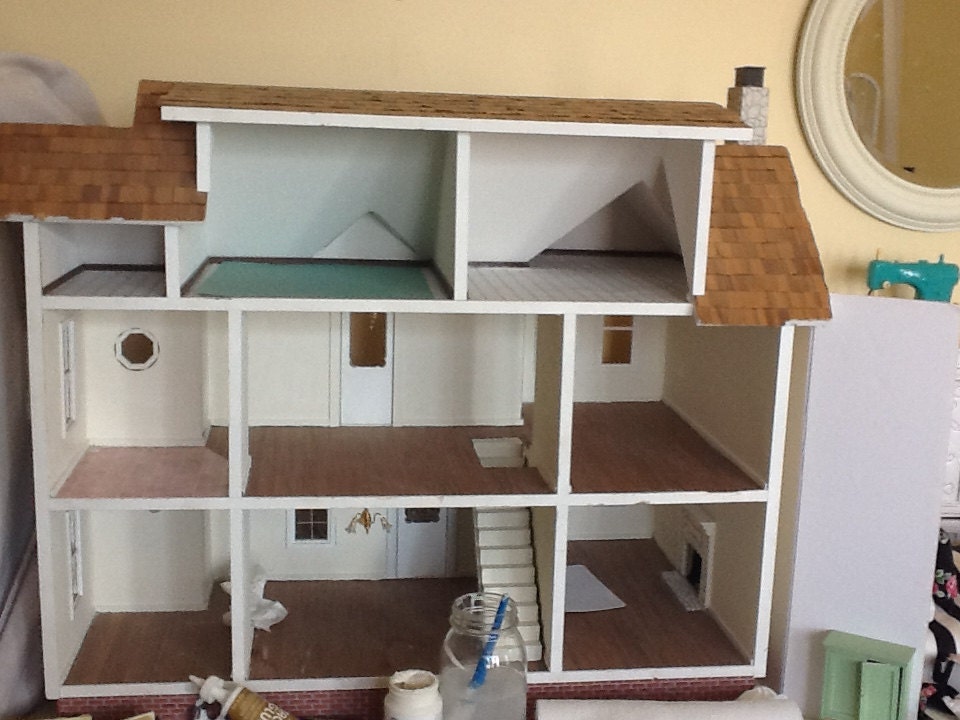 While I am not a woodworker I can find my way around a pair of scissors, glue gun and craft knife fairly successfully!!! 
Leaning towards vintage and farmhouse designs I looked through old seed catalogs, vintage cookbooks, old calendars and began cutting and glueing designs to wood backings and little canvases.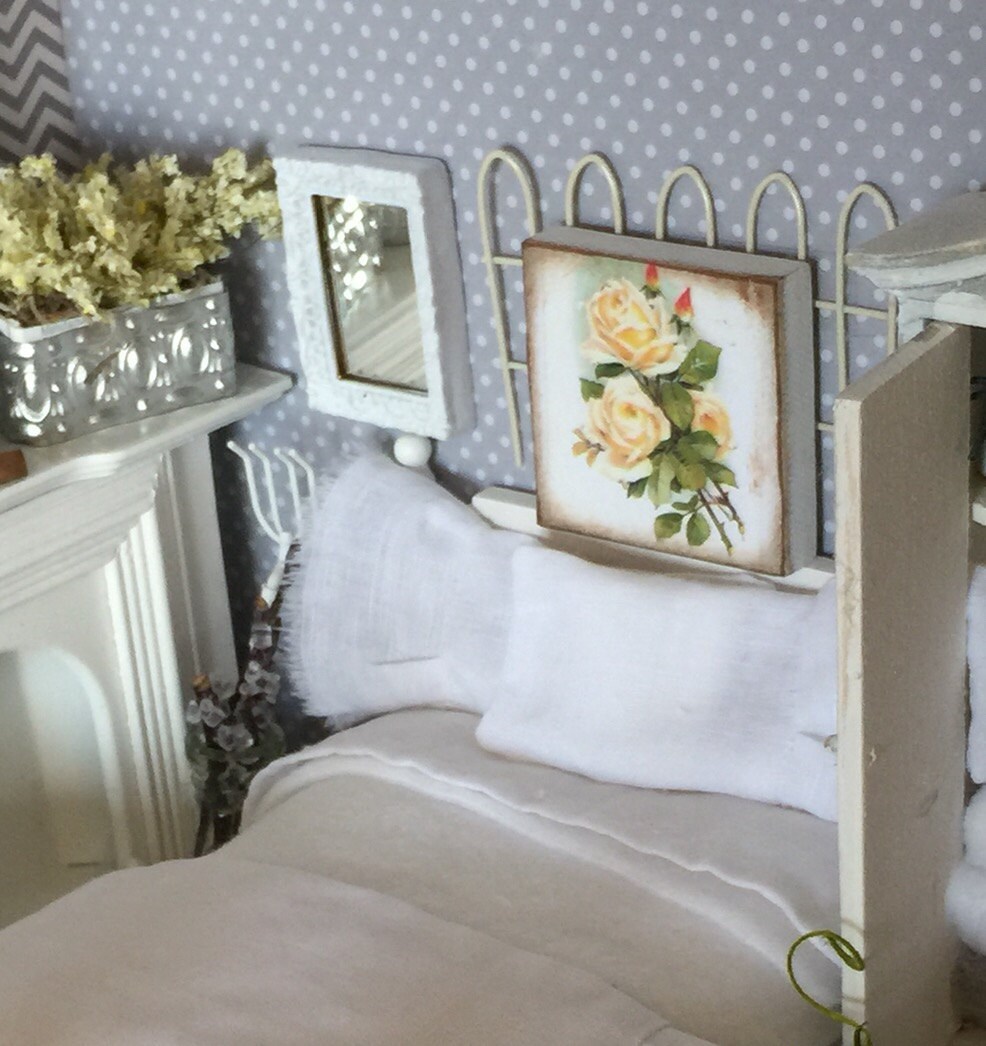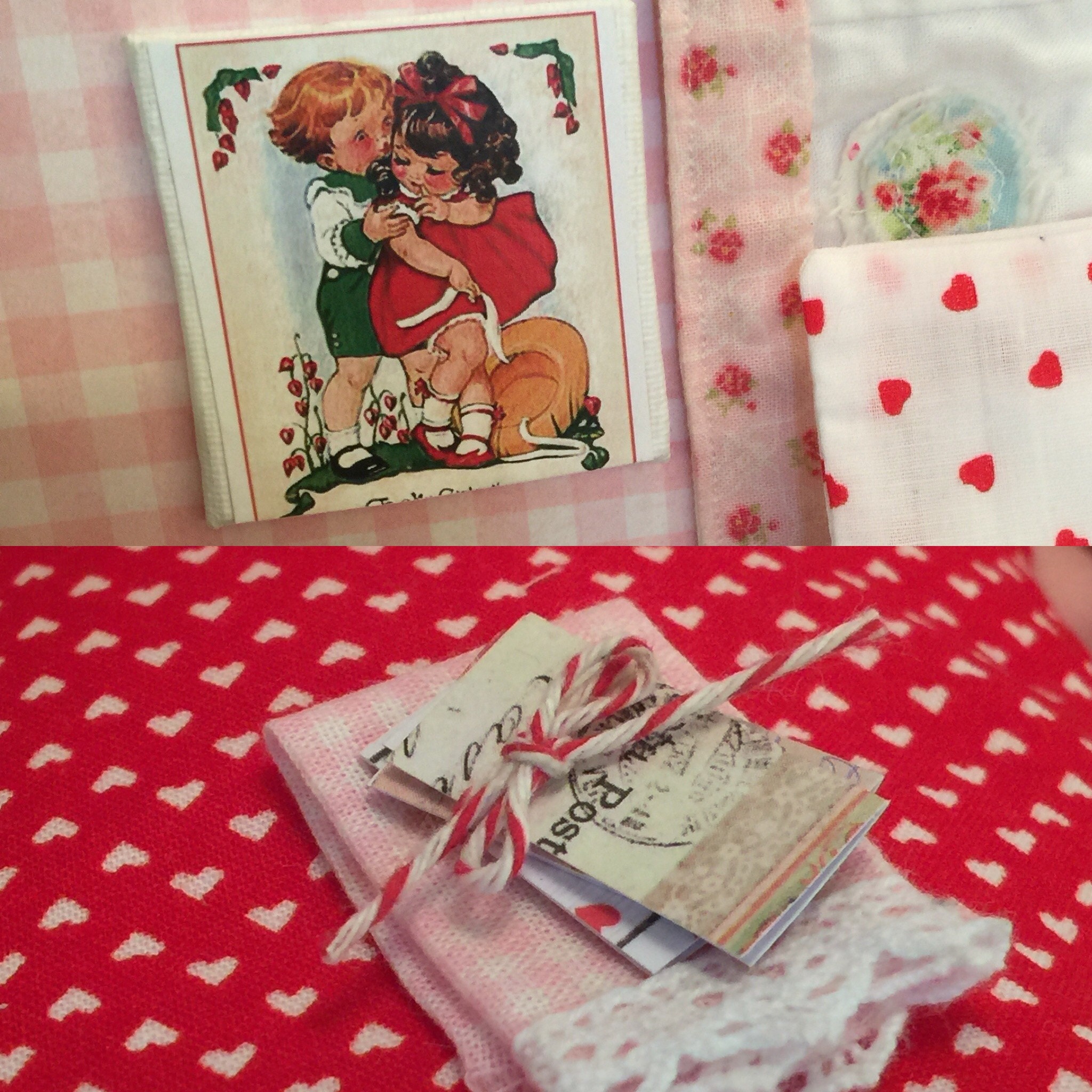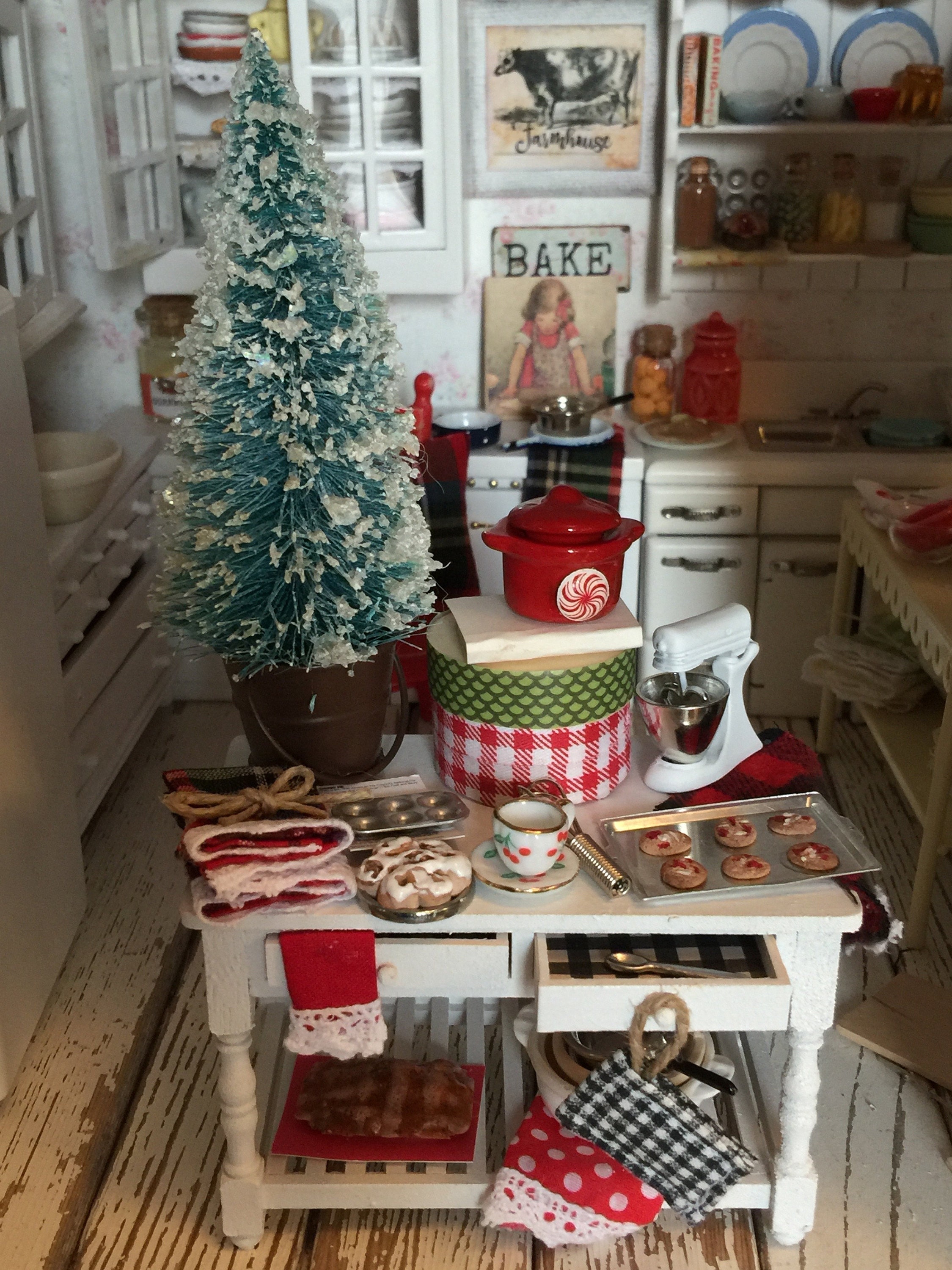 Many of the life size rooms I loved looking at in magazines or on Pinterest often had pictures, old windows, little word signs and more in their rooms. I wanted to replicate this look but found that it was expensive to purchase all these signs for one room. 
In my business I often design little tables filled with bakery items, kitchen prep boards, bedding for many different bedroom looks, holiday tables and hutches and so much more. I needed so many little pictures and signs it was overwhelming. I knew I needed to learn how to make signs.
I needed to EXPAND AND IMPROVE my personal skills when it came to sign making! And I needed to do it with a budget in mind. 
To make miniature signs was actually easier than I thought! But it was a process and I want to share all of it with you so that maybe it will help you in making signs for your rooms. And for even more detail you can purchase my little Ebook that takes this even further into detail when it comes to decorating little rooms with a budget friendly game plan! Found here @ 100 Decorating Ideas Decorative Miniature Dollhouse Scale
Here are some free little graphics to get you started.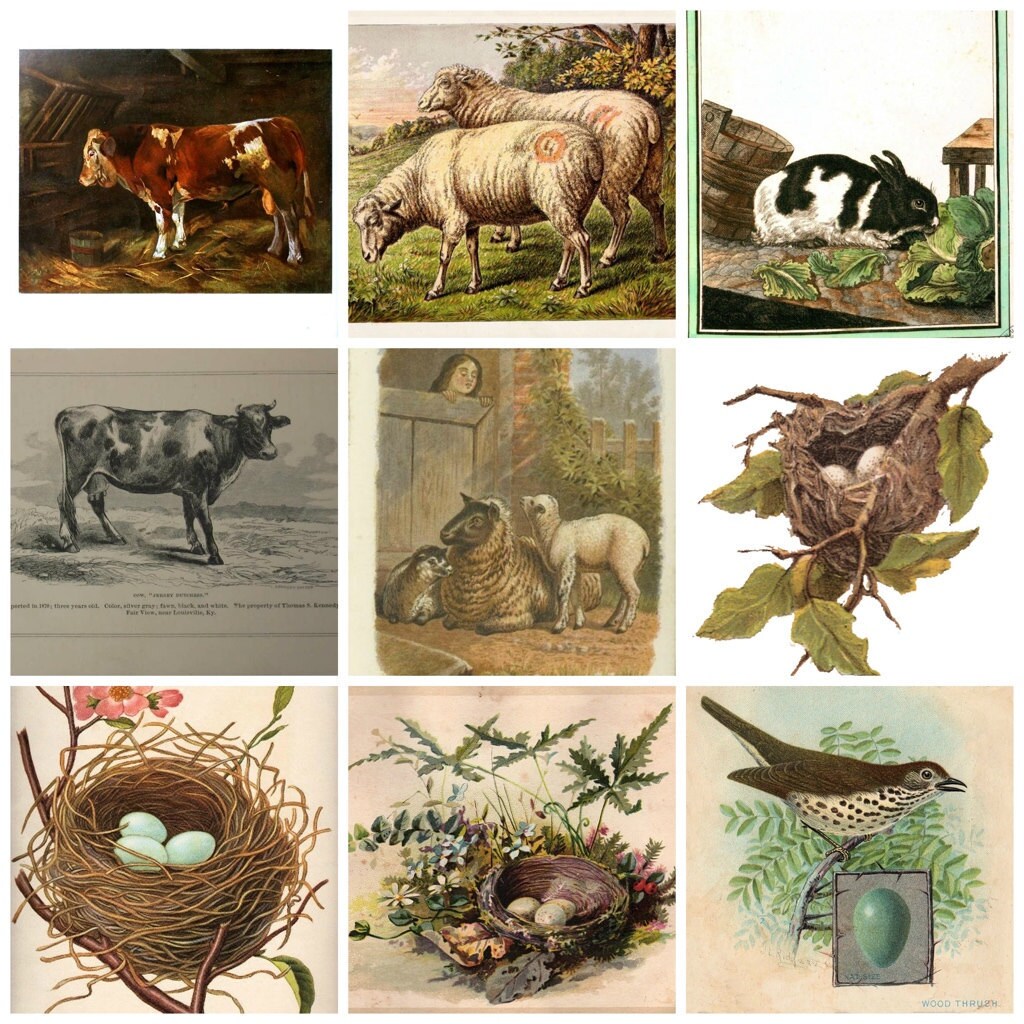 Save to your computer by clicking on the image, right click and save to your computer. Then print out onto white card stock if available. I've also printed on regular copier paper too. If you feel the design is too big for what you want, you can reduce the percentage amount when printing to a smaller percentage like 80% or 75% instead of the large percentage amount your printer automatically chooses for you. 
To begin - take your graphic, scissors, decoupage glue and wood or canvas backing.
Brush the wood backing with decoupage glue
The graphics below are about 1 1/2" wide. They are too small to fit to a small 2" x 2" canvas, so I attach them to the wood backing instead.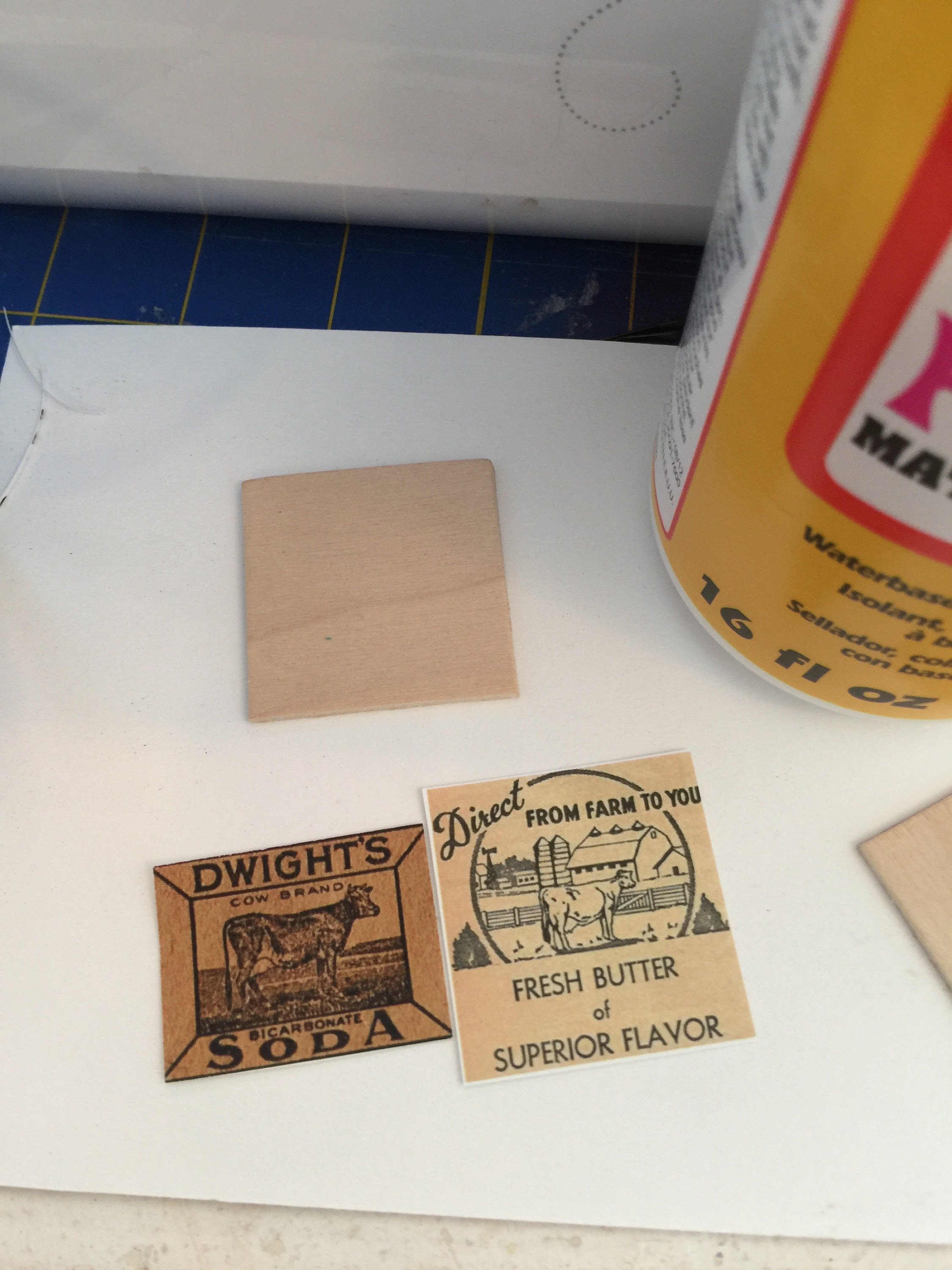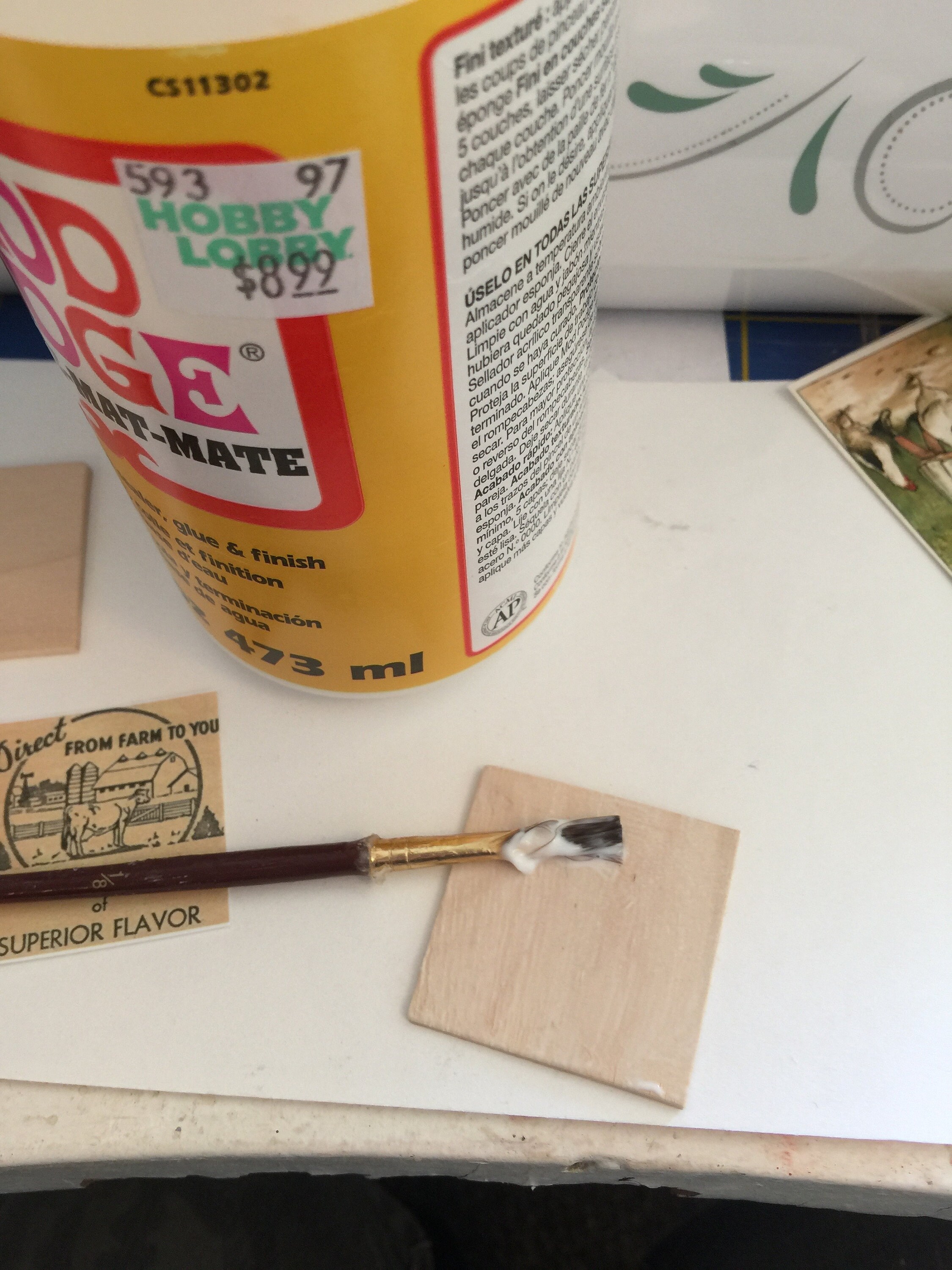 Place the paper graphic over the glue and straighten and align edges with wood backing.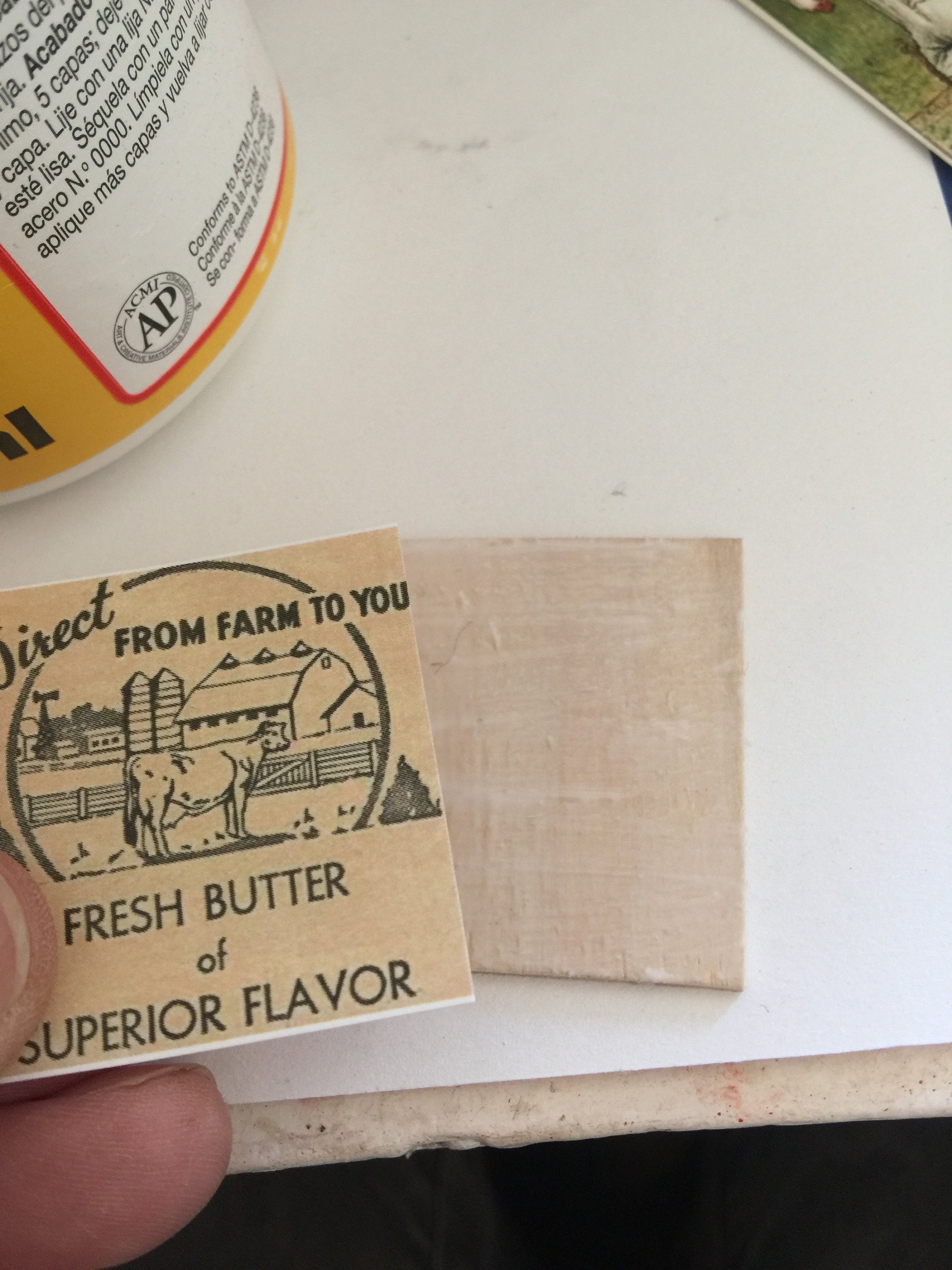 This graphic wasn't quite tall enough but was wide enough. I attached it and straightened the edges.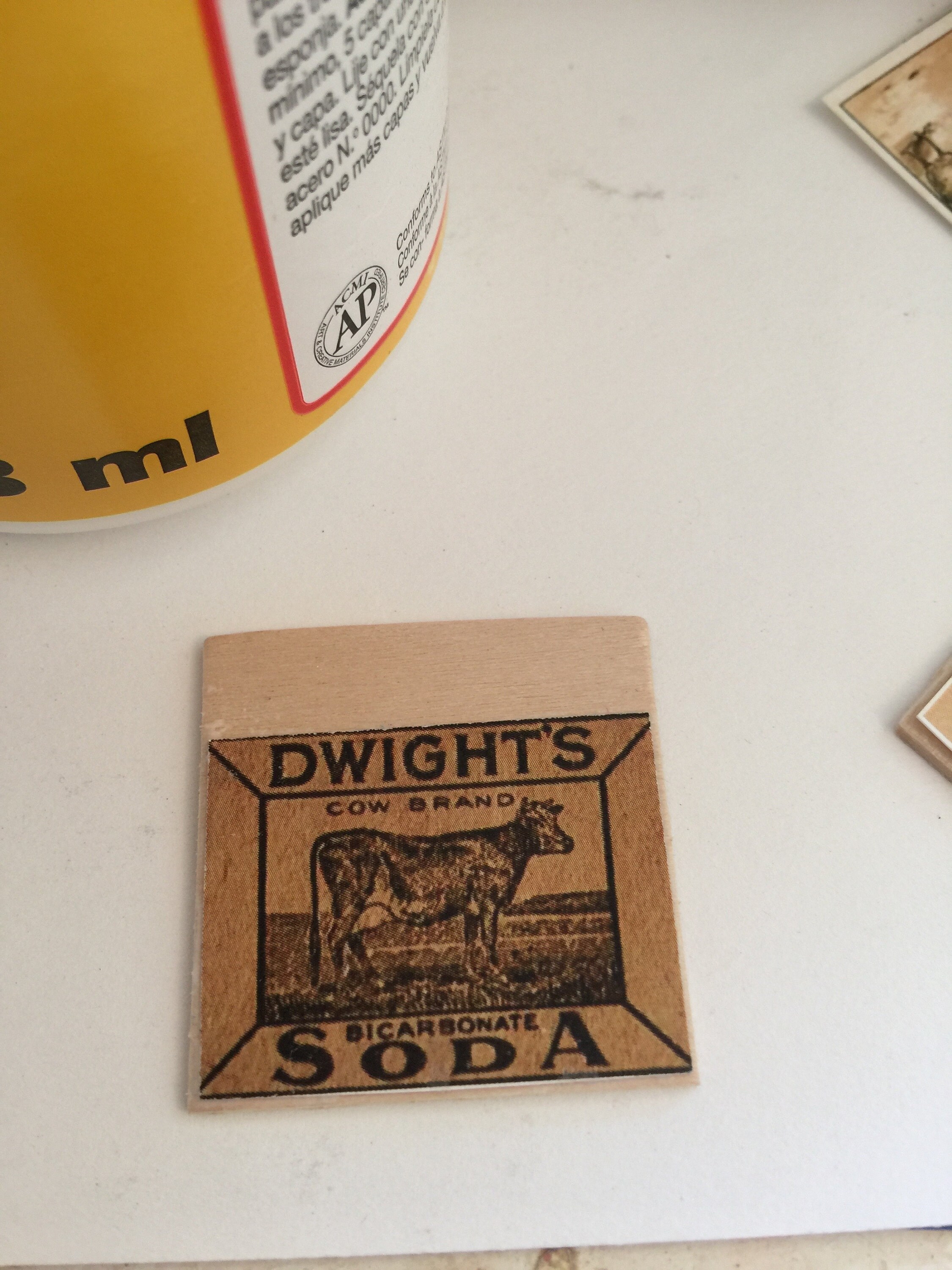 Using a pair of craft scissors i simply cut the excess wood away from the graphic.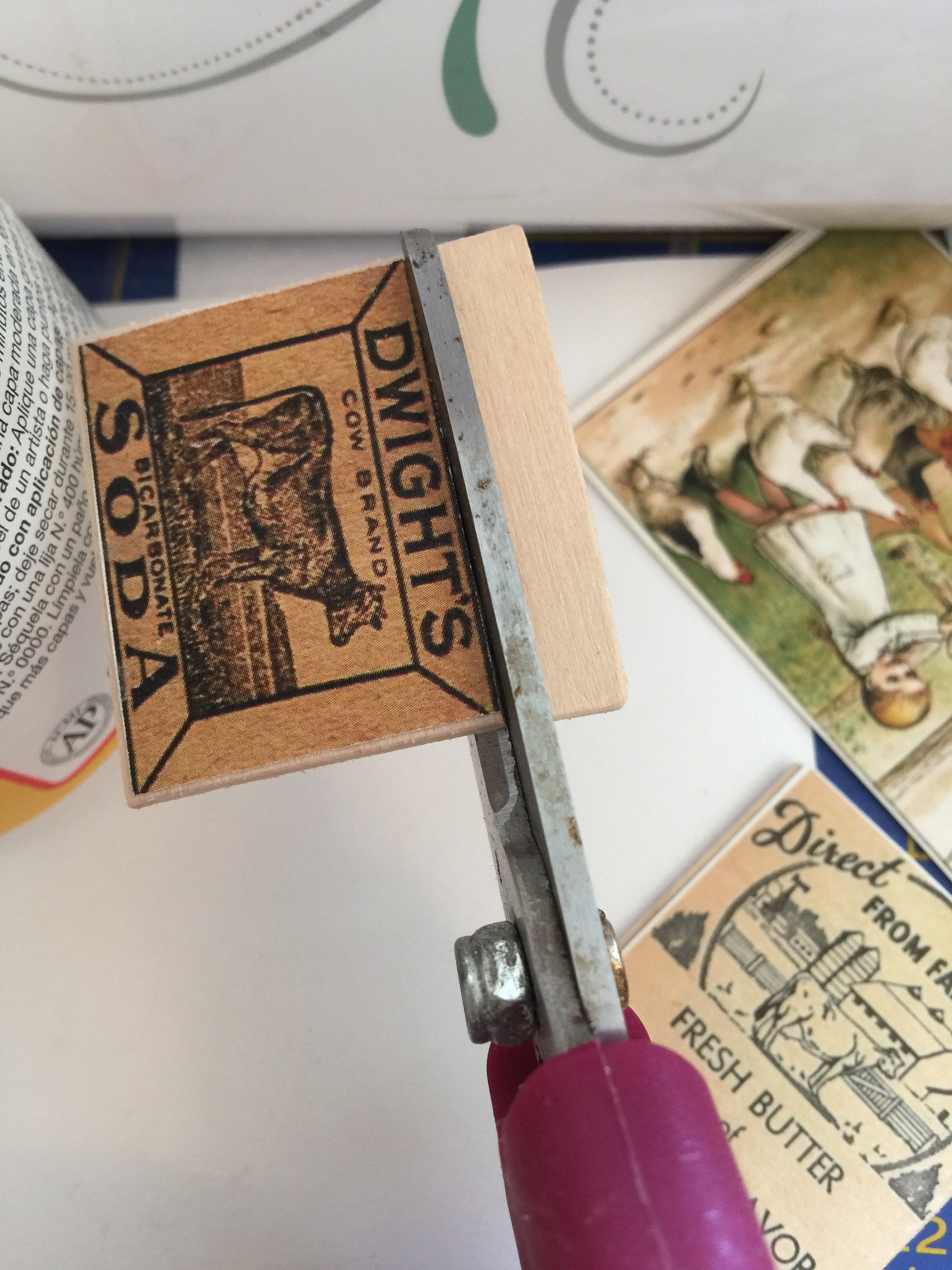 I found the larger graphic below and I used a larger piece of wood. Brushing glue onto the wood, I then attached the graphic to the wet  glued side of the wood.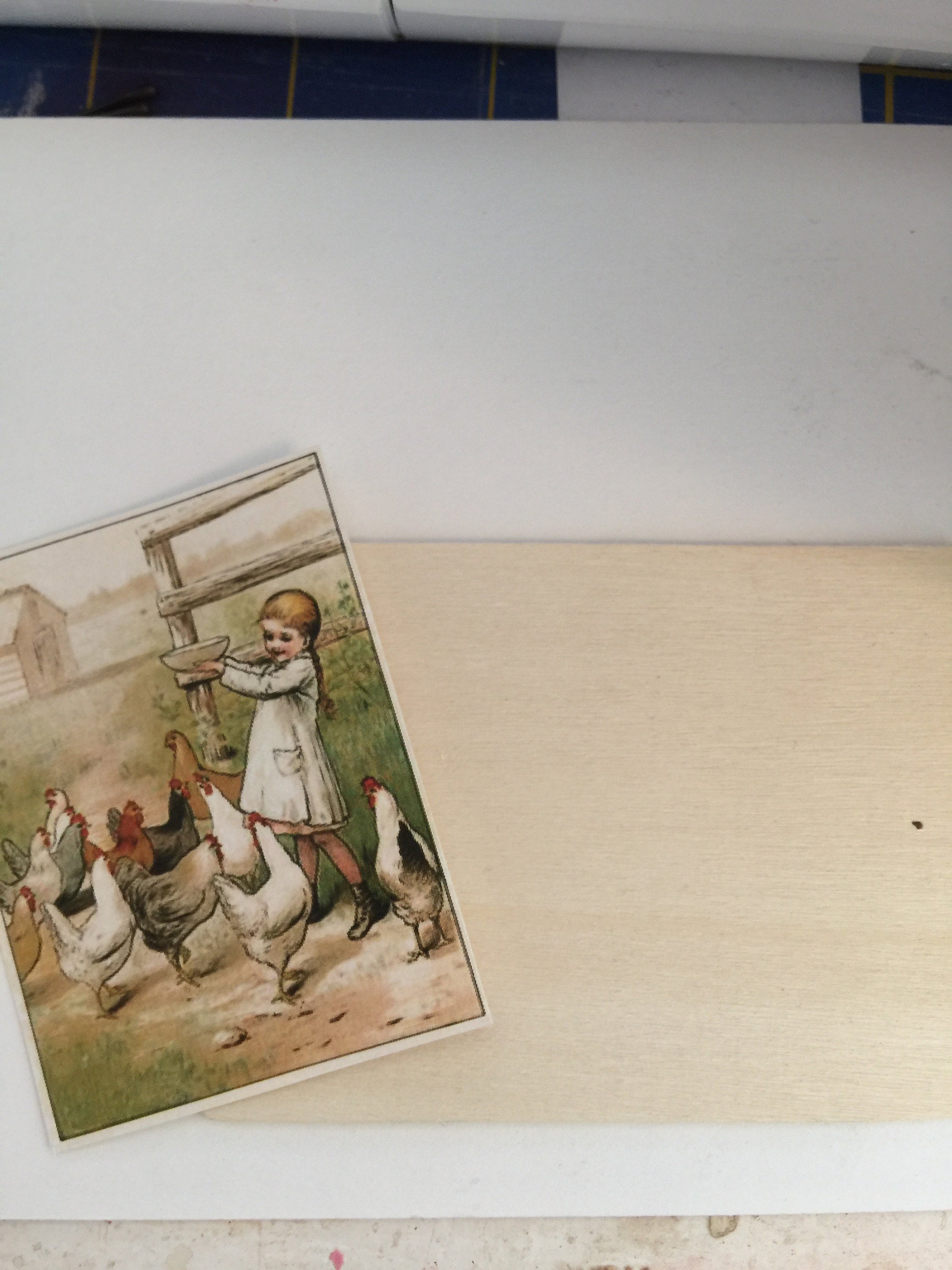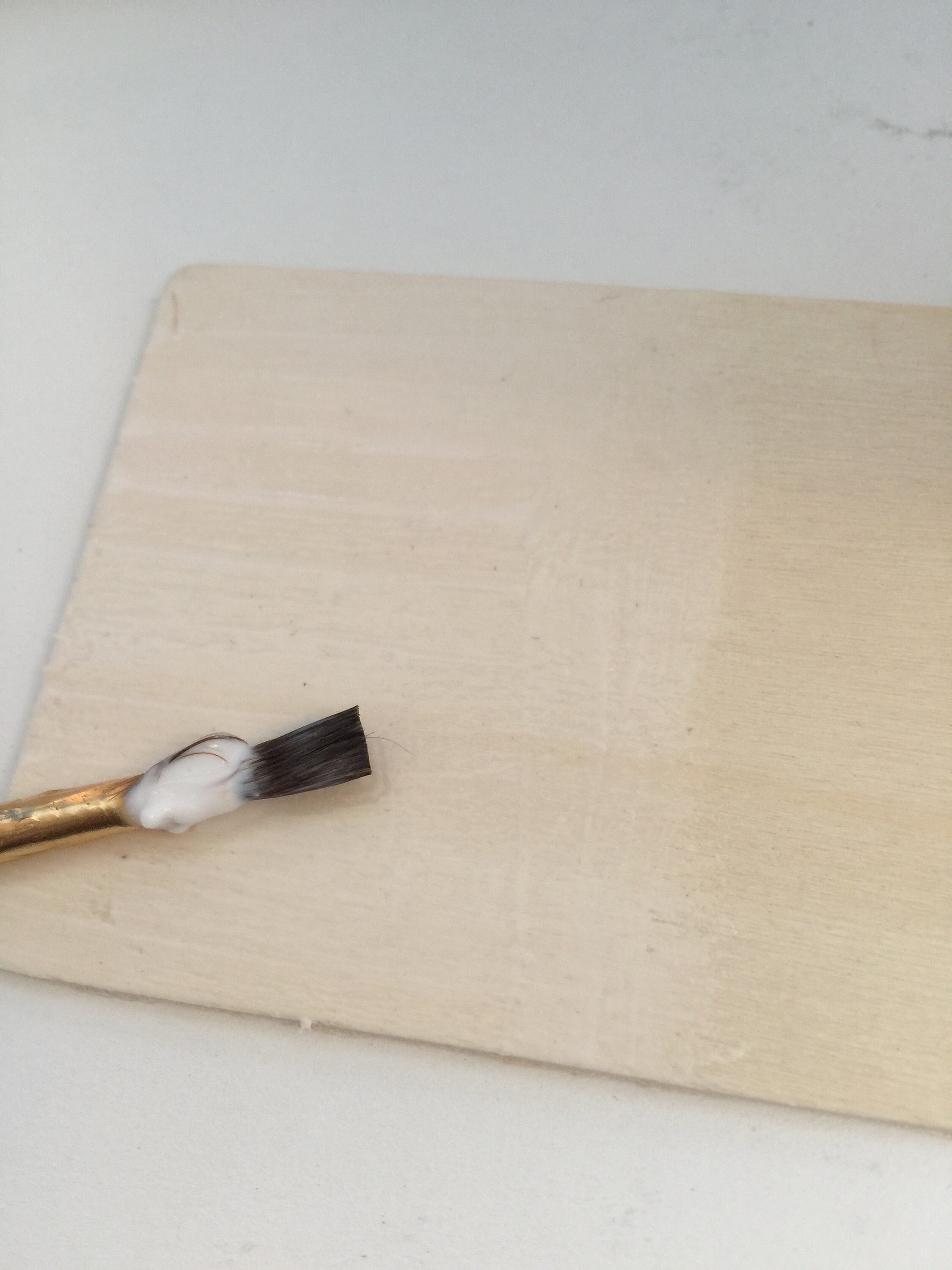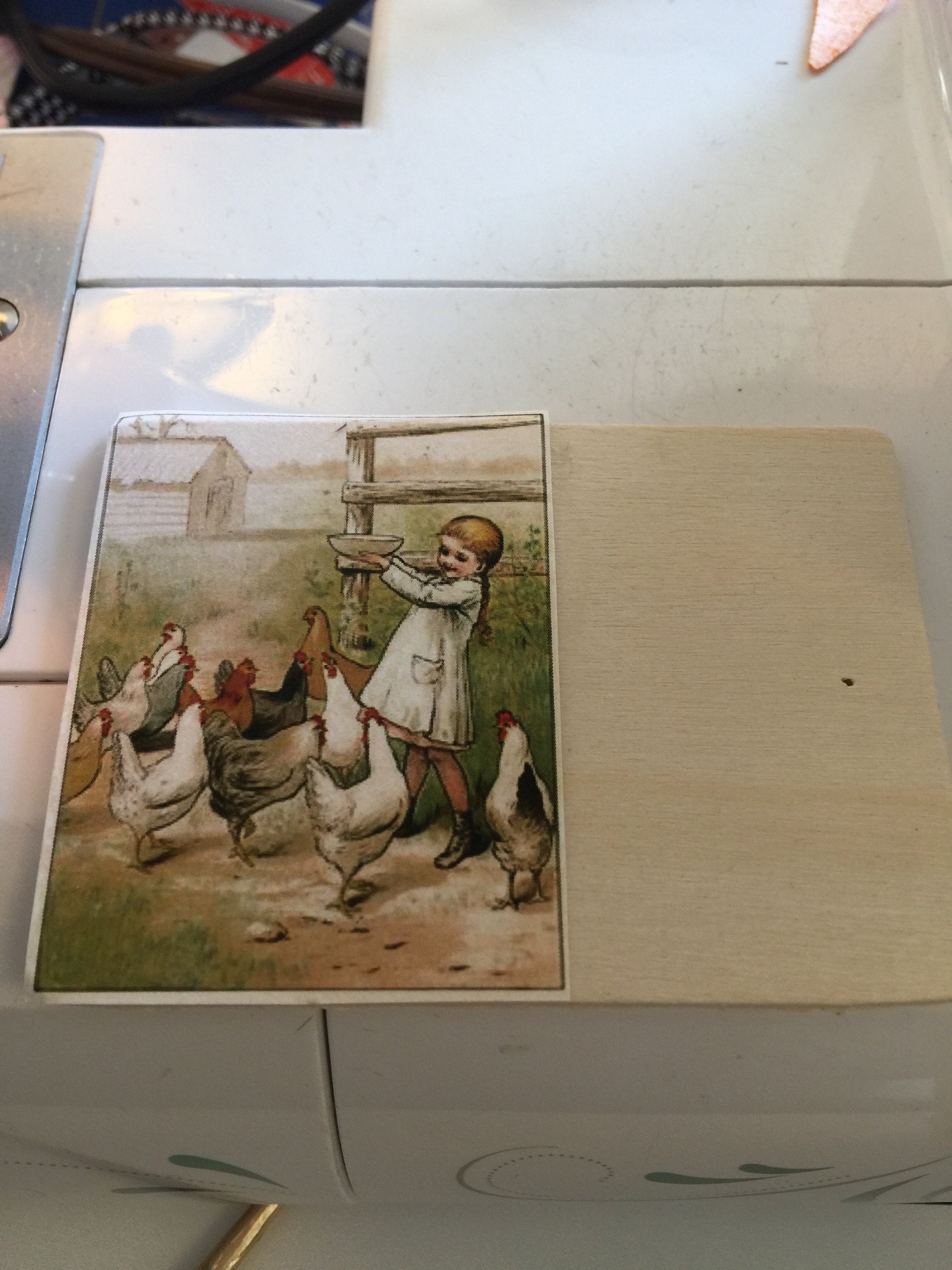 This wood was thicker so I had to use a craft knife to cut the wood away from the graphic.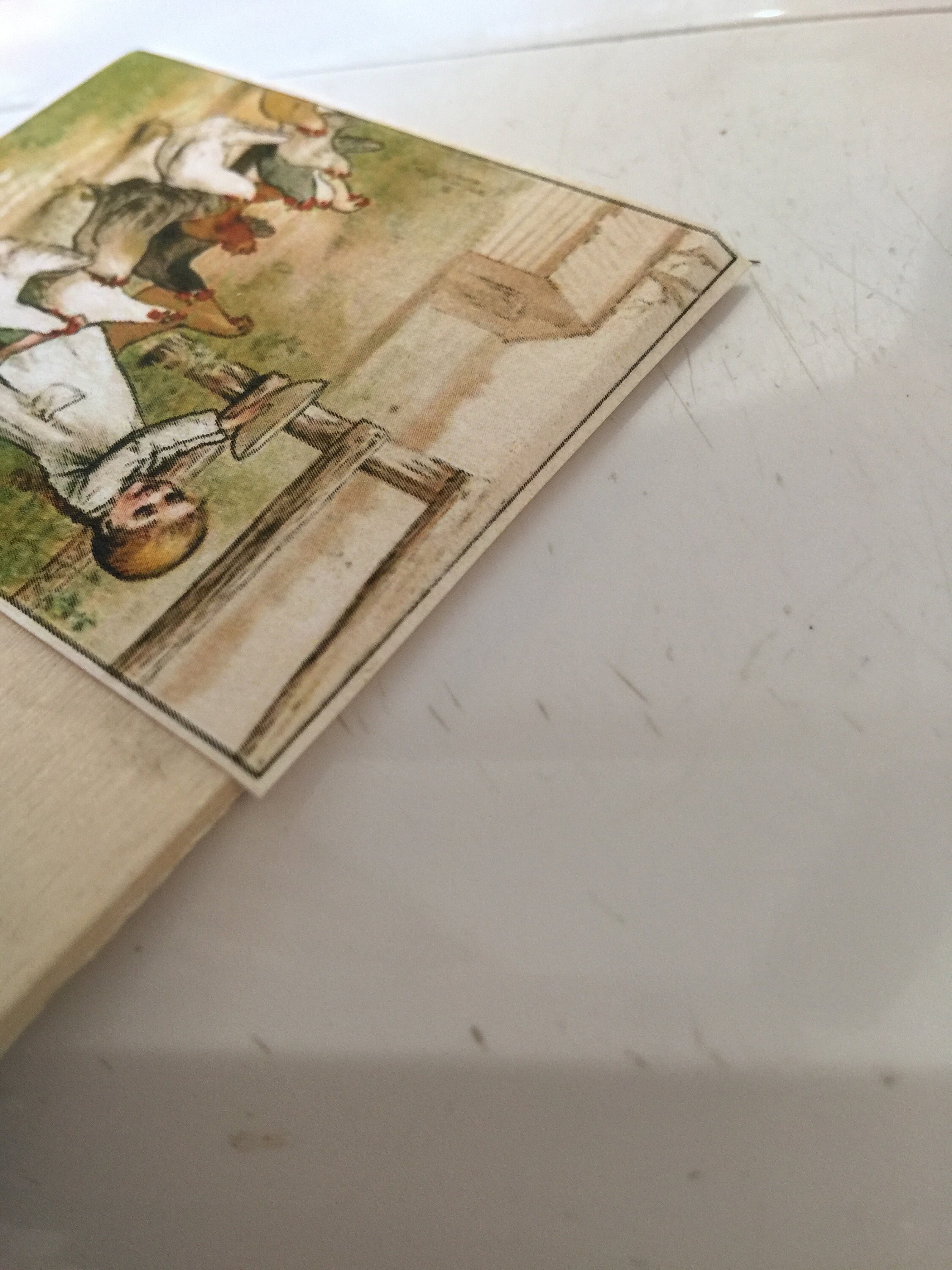 Using scissors I cut the excess paper from the edge.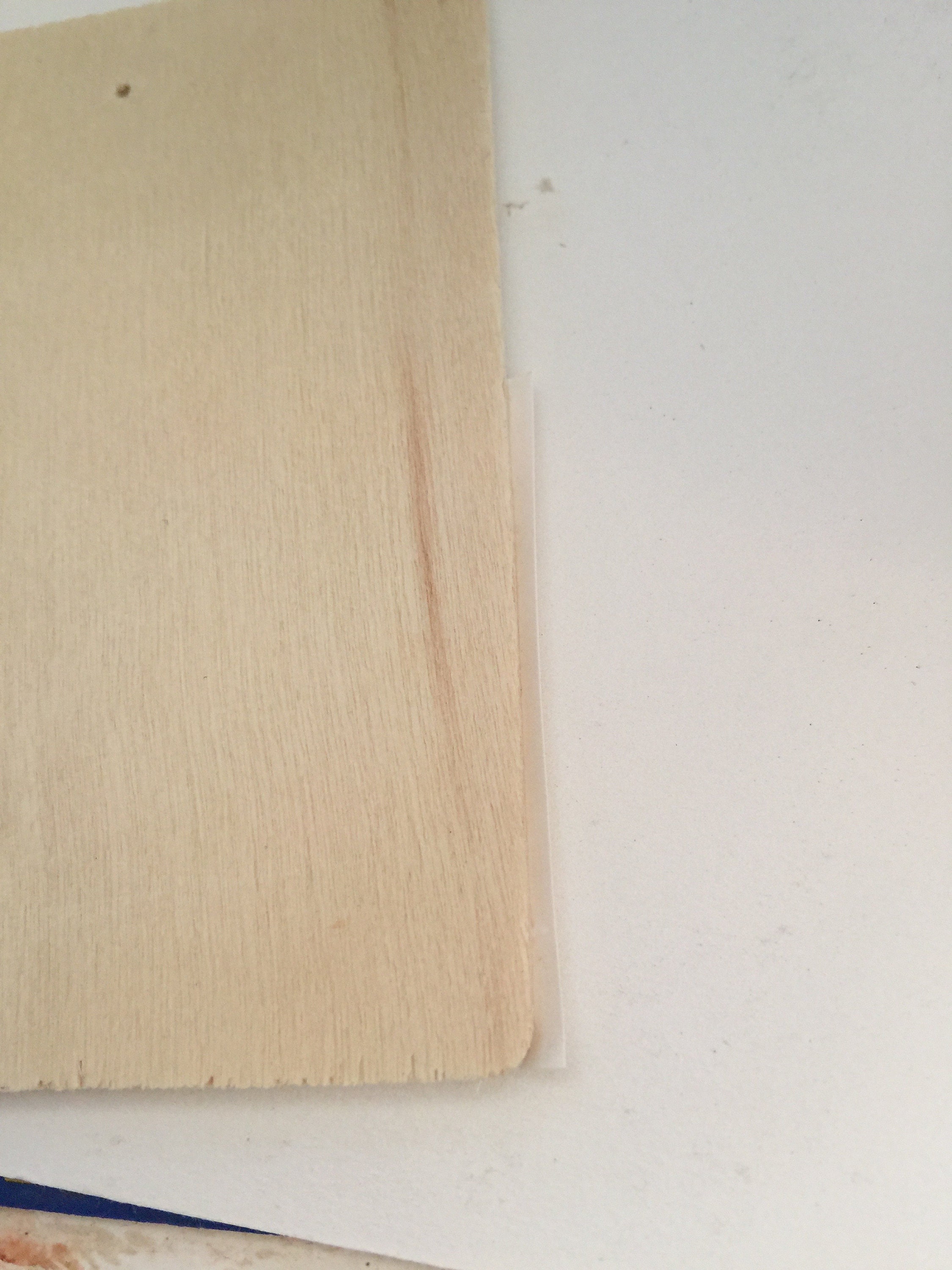 After the glue had dried I Used a bit of sandpaper and sanded the edges of the graphic and wood. Now would be the time to softly use the chalks to darken the edges of the wood for a distressed or aged look. Brush on the sides of the edges using a soft brush, or cotton ball, or tissue. I've even used a stamp pad that I have carefully run across the edges of the picture. The stamp pad is much more of an intense color and isn't easily removed if a mistake is made.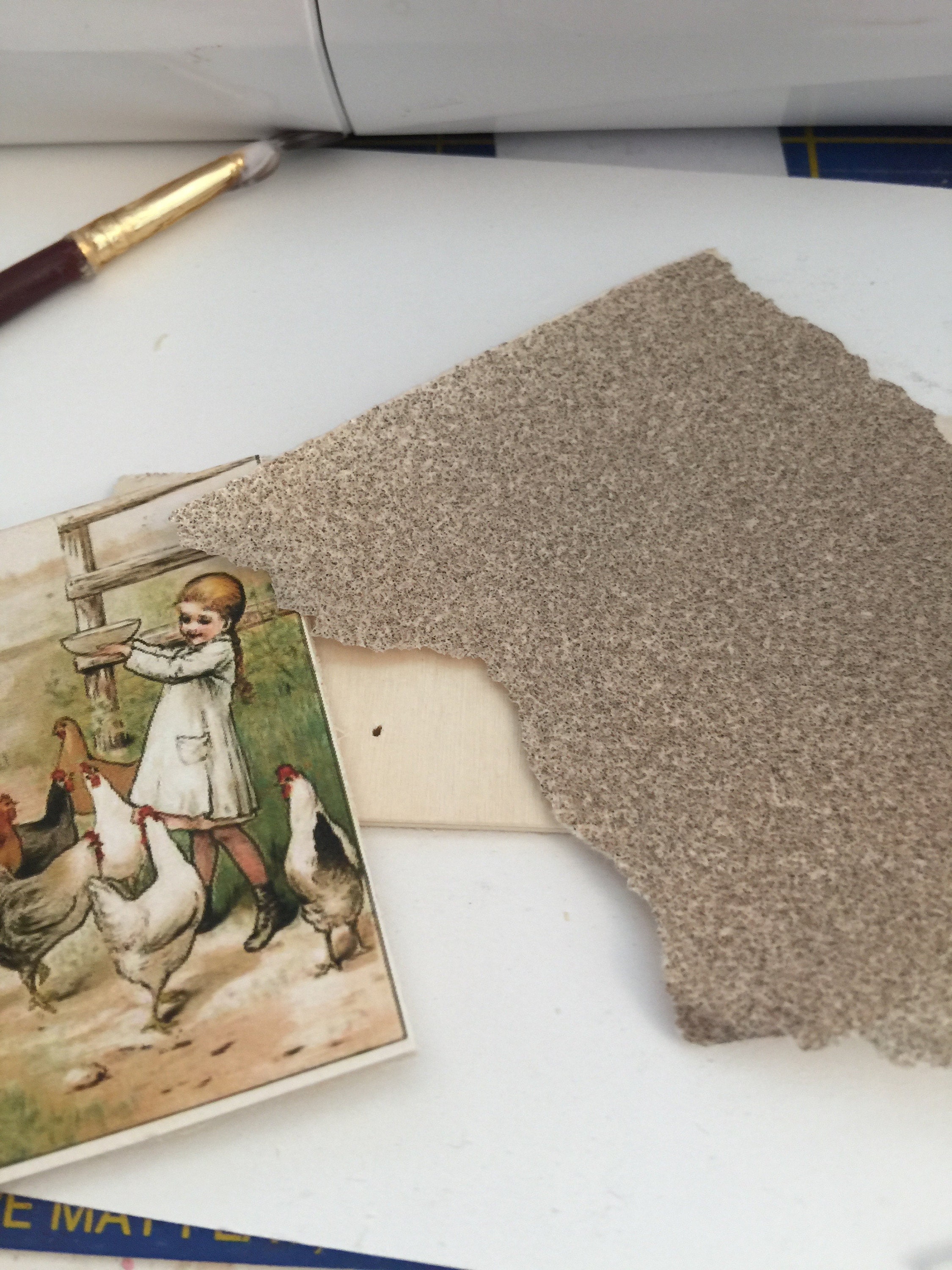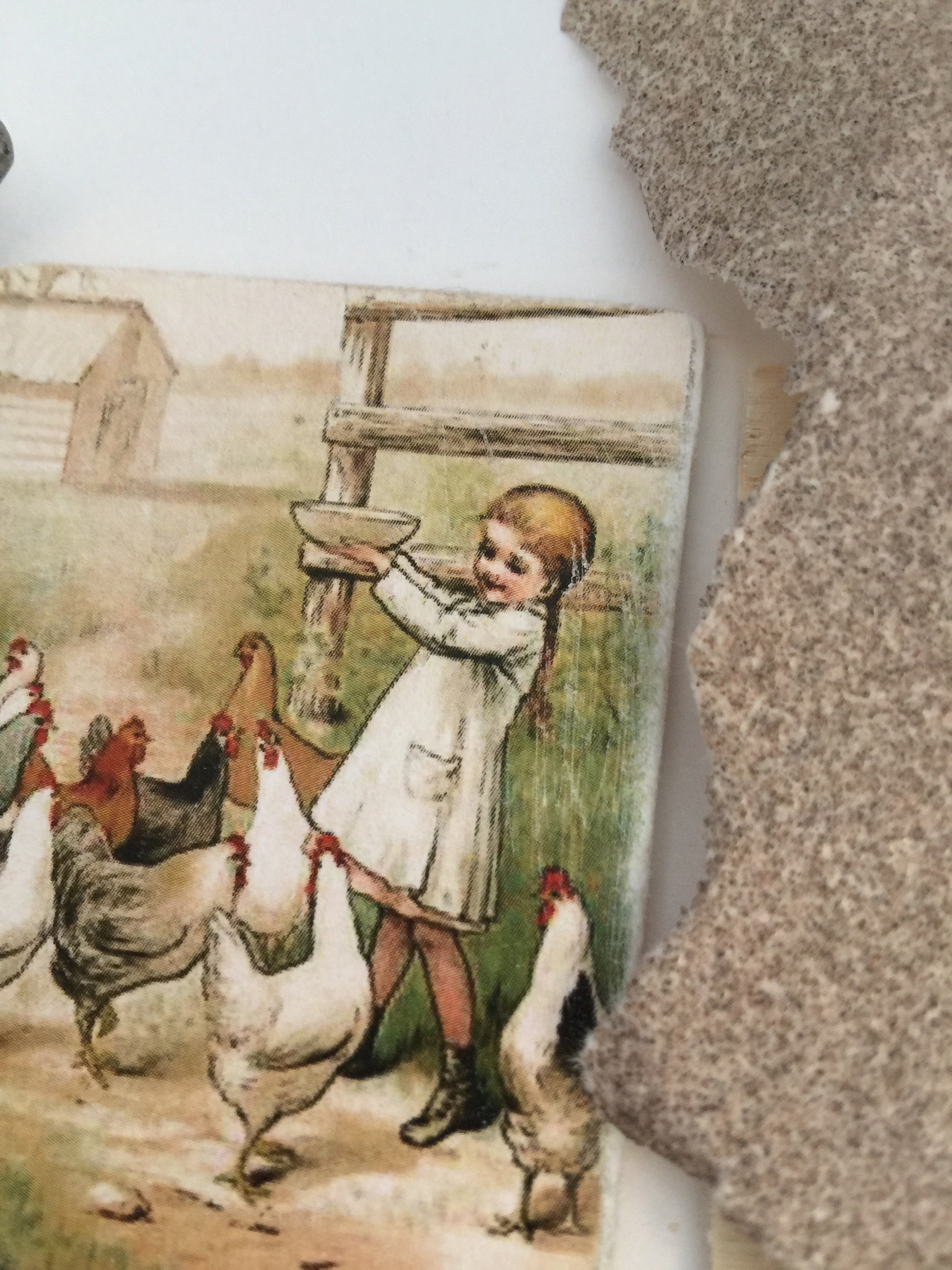 When using a craft knife the wood edges can be rough, so sanding the edges lightly will smooth the edges.
I've read blog posts too where little frames have been made using a craft knife and wooden coffee stirring sticks. That is a brilliant idea and I cant wait to try it!
(The bake sign below was edged using a dark antique brown stamp pad on the edges.)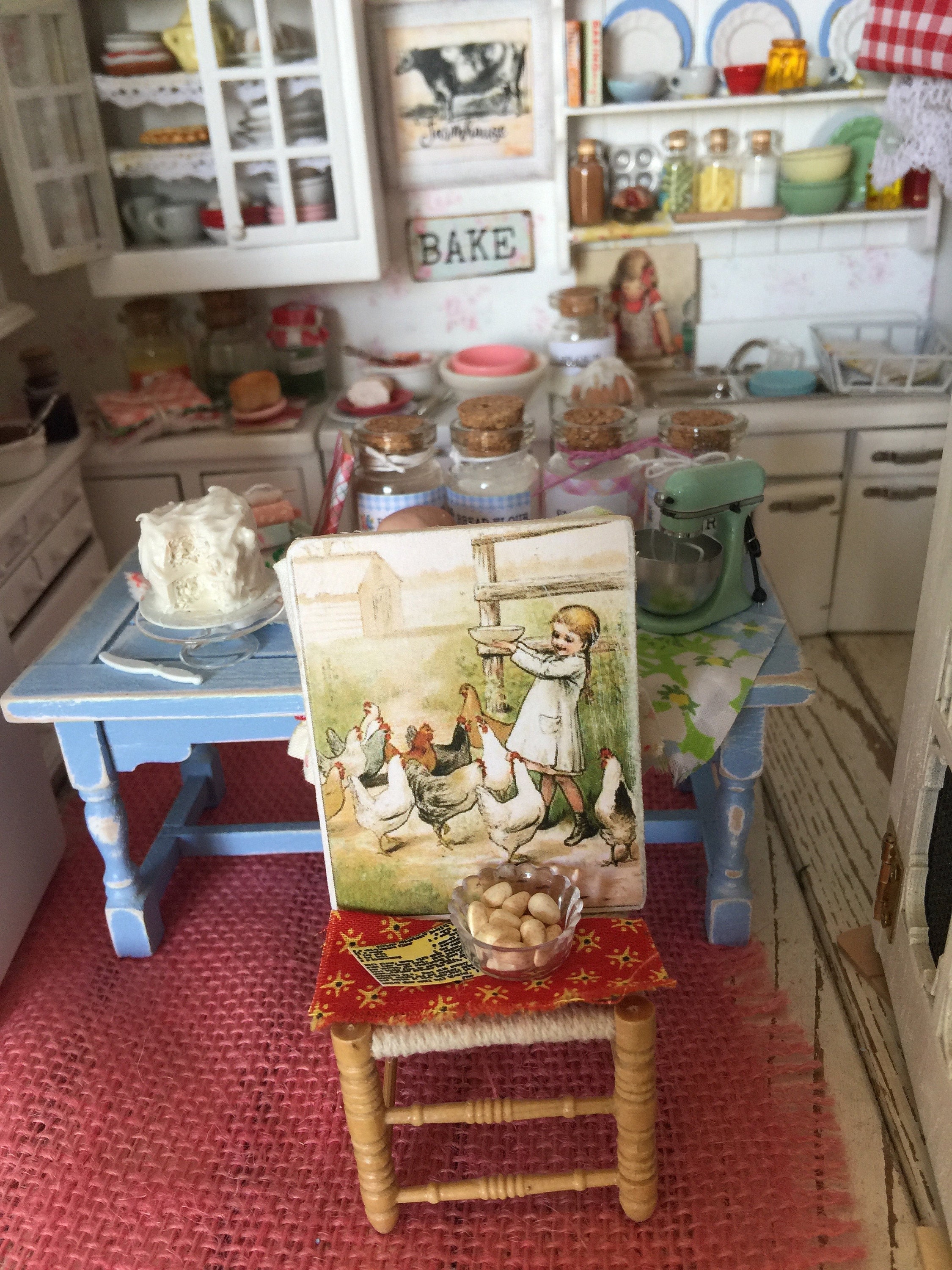 The other thing I like to do (process not shown) is to type words that would be on signs in a regular home. Then I cut the words out and decoupage them to wood backing similar to the process just shown. The wood backing below is part of a package of wood rectangles found at the craft store. Look in the unfinished wood section of a craft store. There are packages of square wood pieces, and packages of rectangle sized pieces. They are all small and perfect for this project.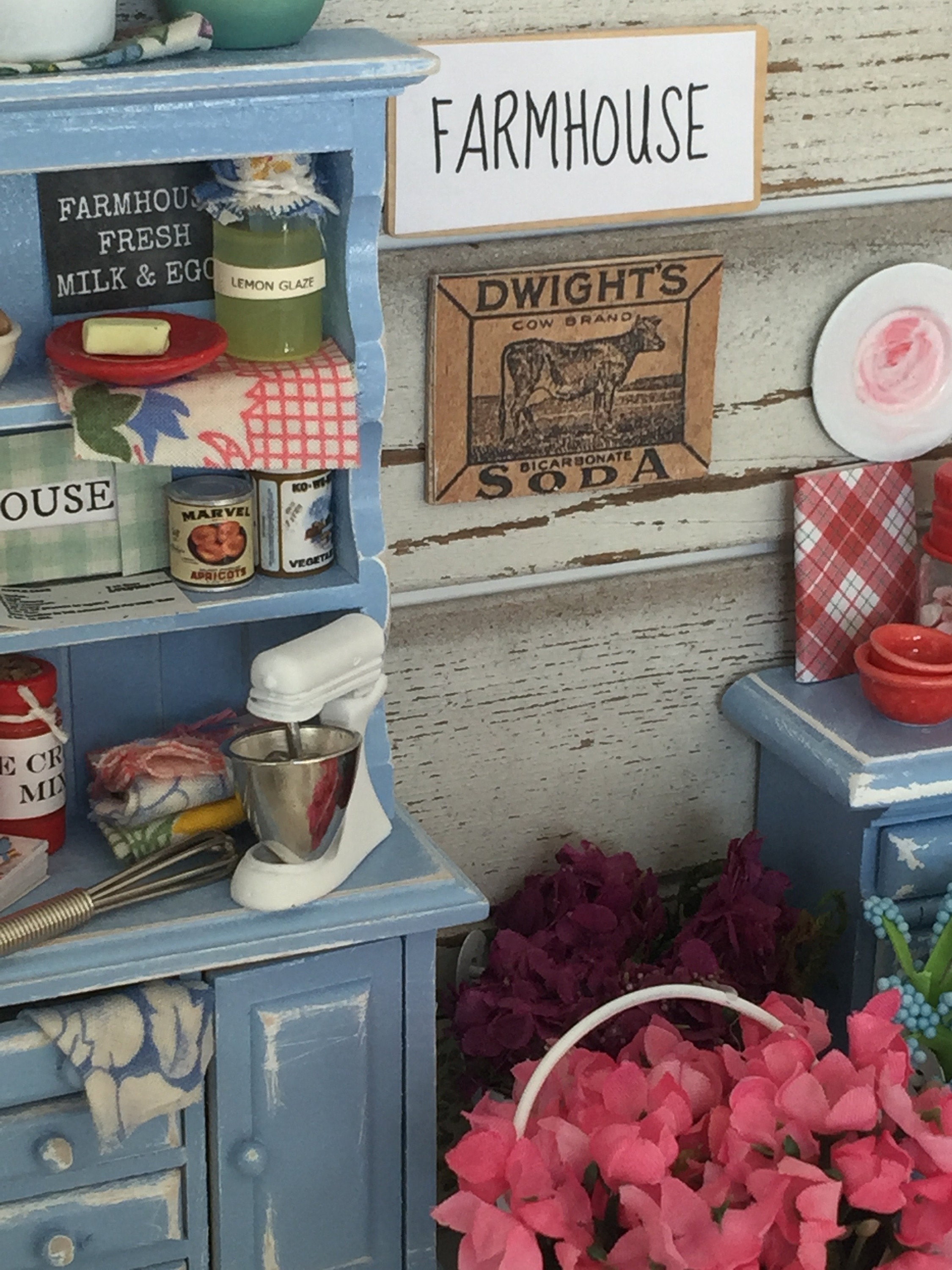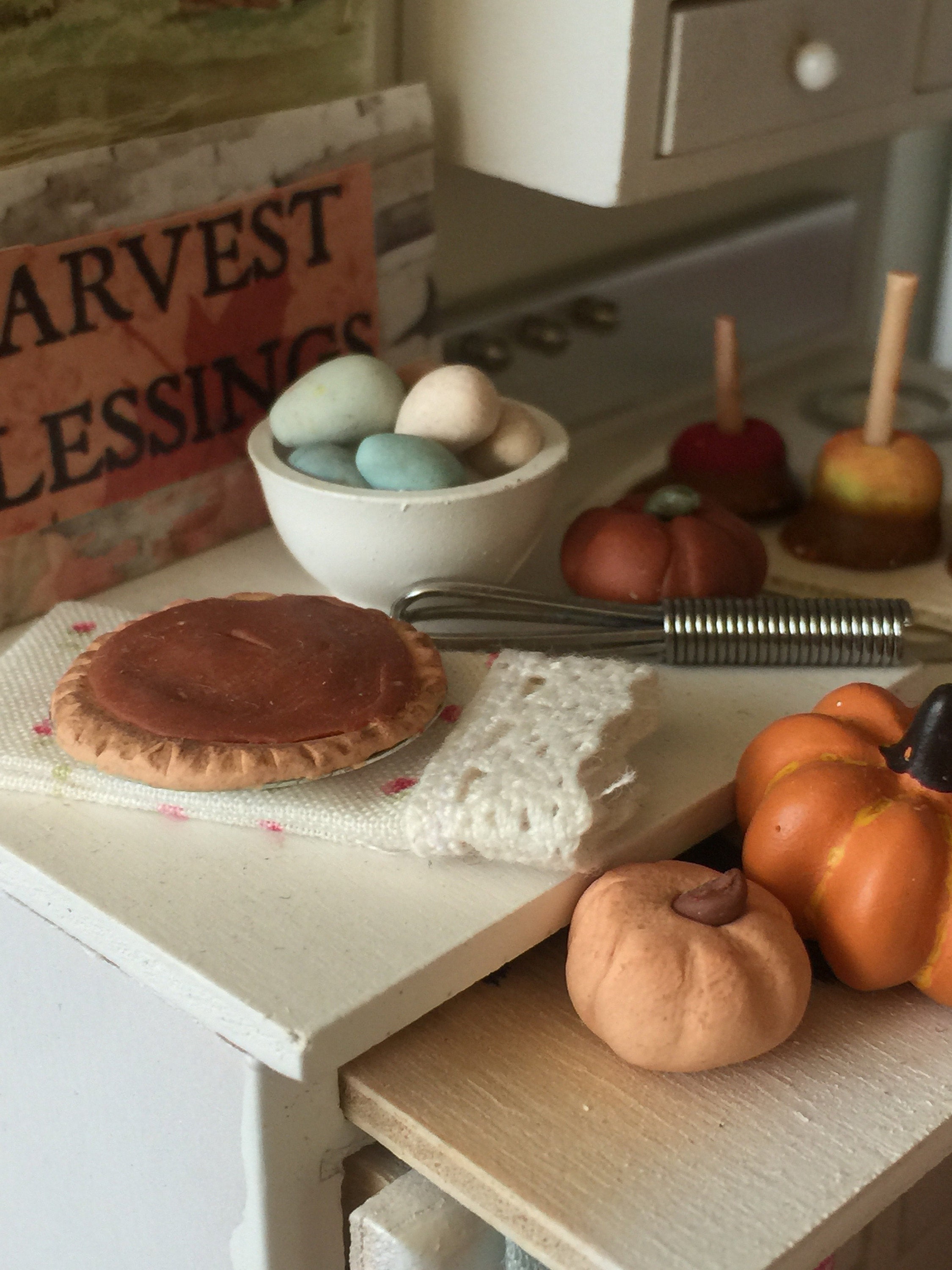 Another very easy thing to do is to print out words onto colored card stock. Above I used patterned fall scrap book paper to give a Fall colored look. Then I follow the same process of attatching  to a wood background. 
The lightweight pictures are easily placed on a wall using double sided tape or other choice of attachments.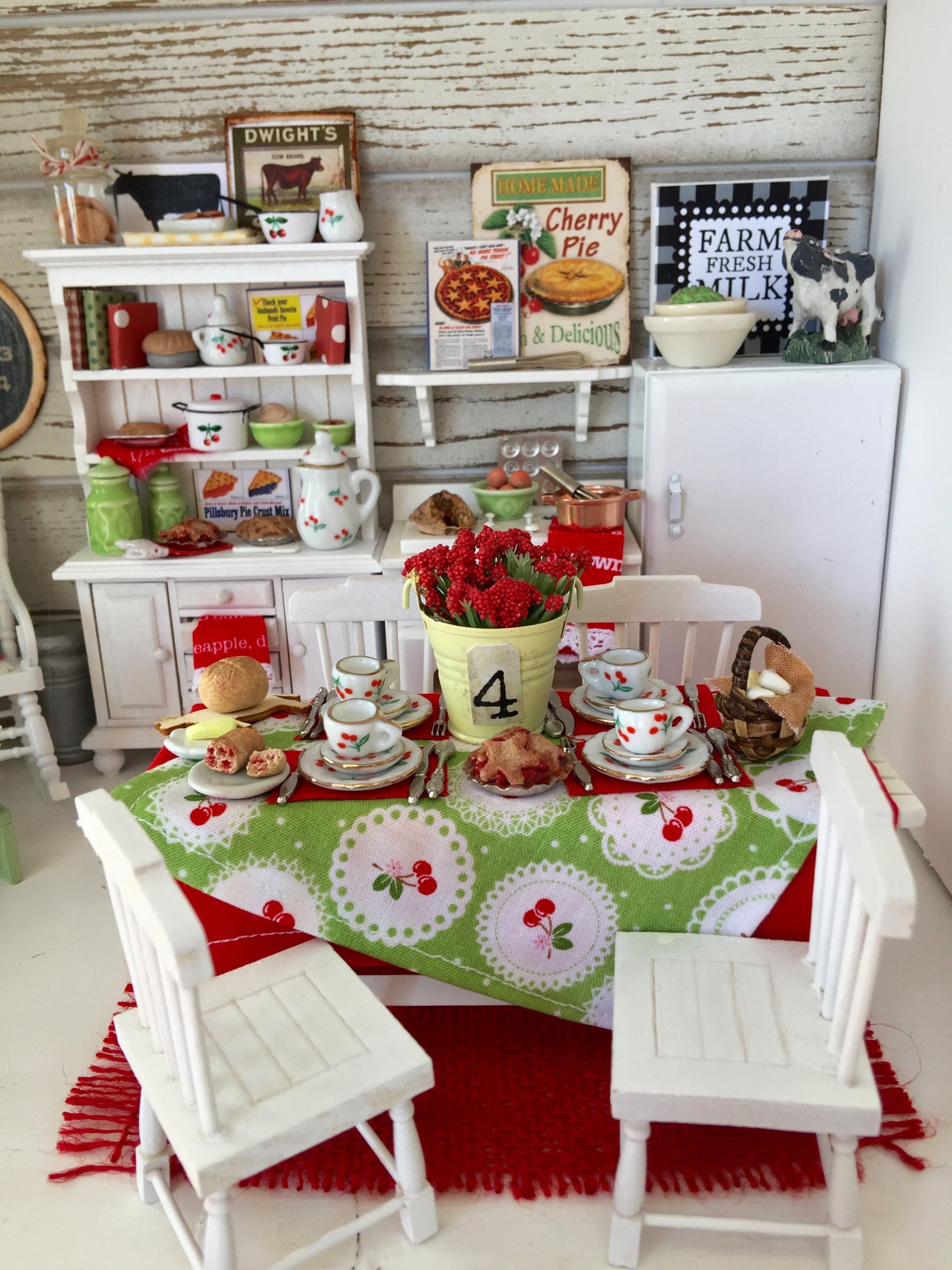 The last little tip I want to leave you with is  layering pictures and items when creating a miniature room. It makes it look more realistic looking especially when leaning towards a farmhouse look.
The recipe for this is:
1 large and taller picture towards the back, with a shorter medium sized picture, frame, or mirror placed in front.
Then place a smaller shorter item or accessory in front for a grouping.
Think in terms of odd numbers or Large, Medium, Small items.
If you look at some of my older pictures (things that sold already)  in my Etsy shop, of bedroom  or hutch styled items  you'll see this decorating recipe in many of my pictures. 
There will be a chest of drawers with 3-5 items placed on top... Most of the time.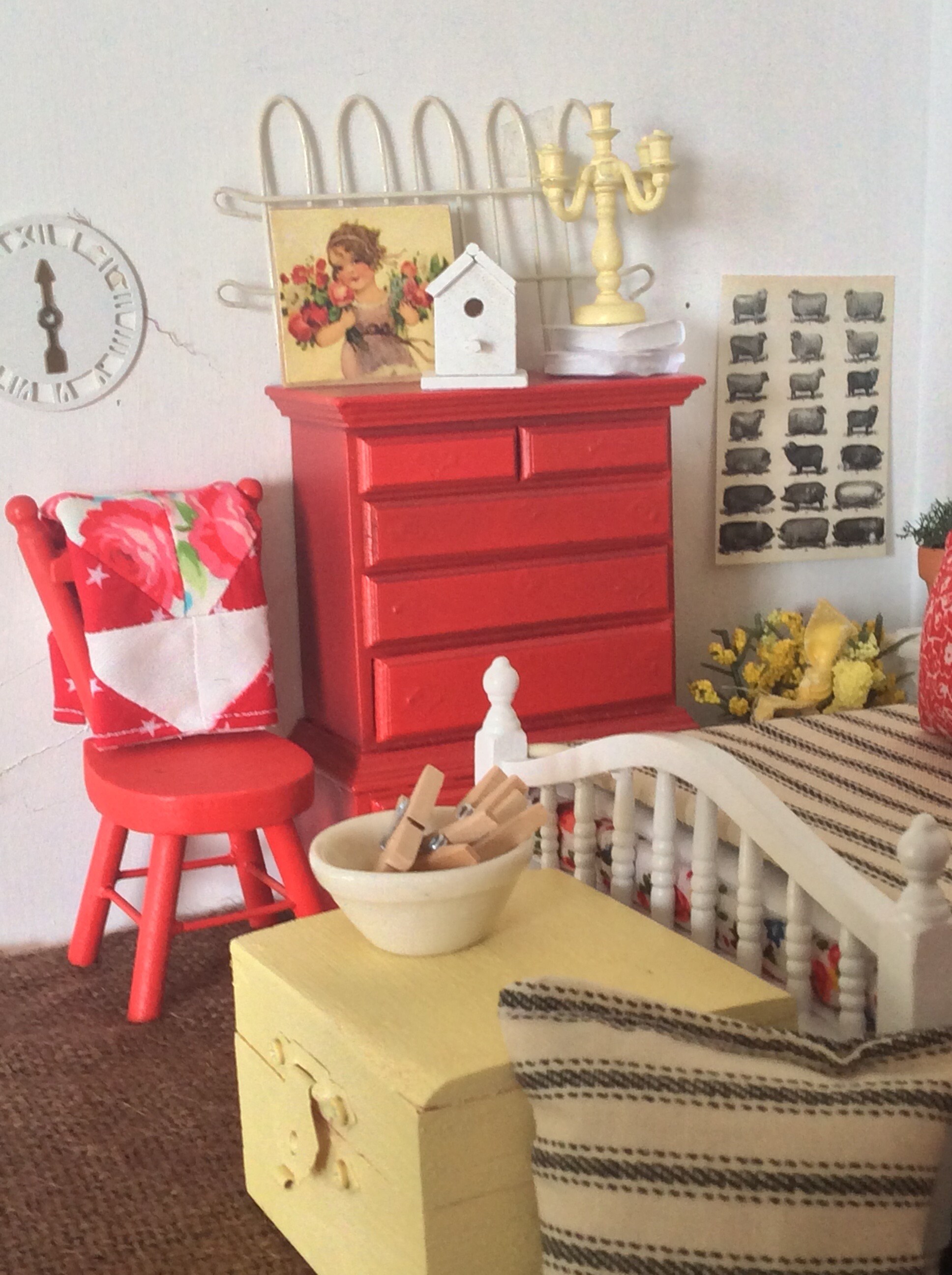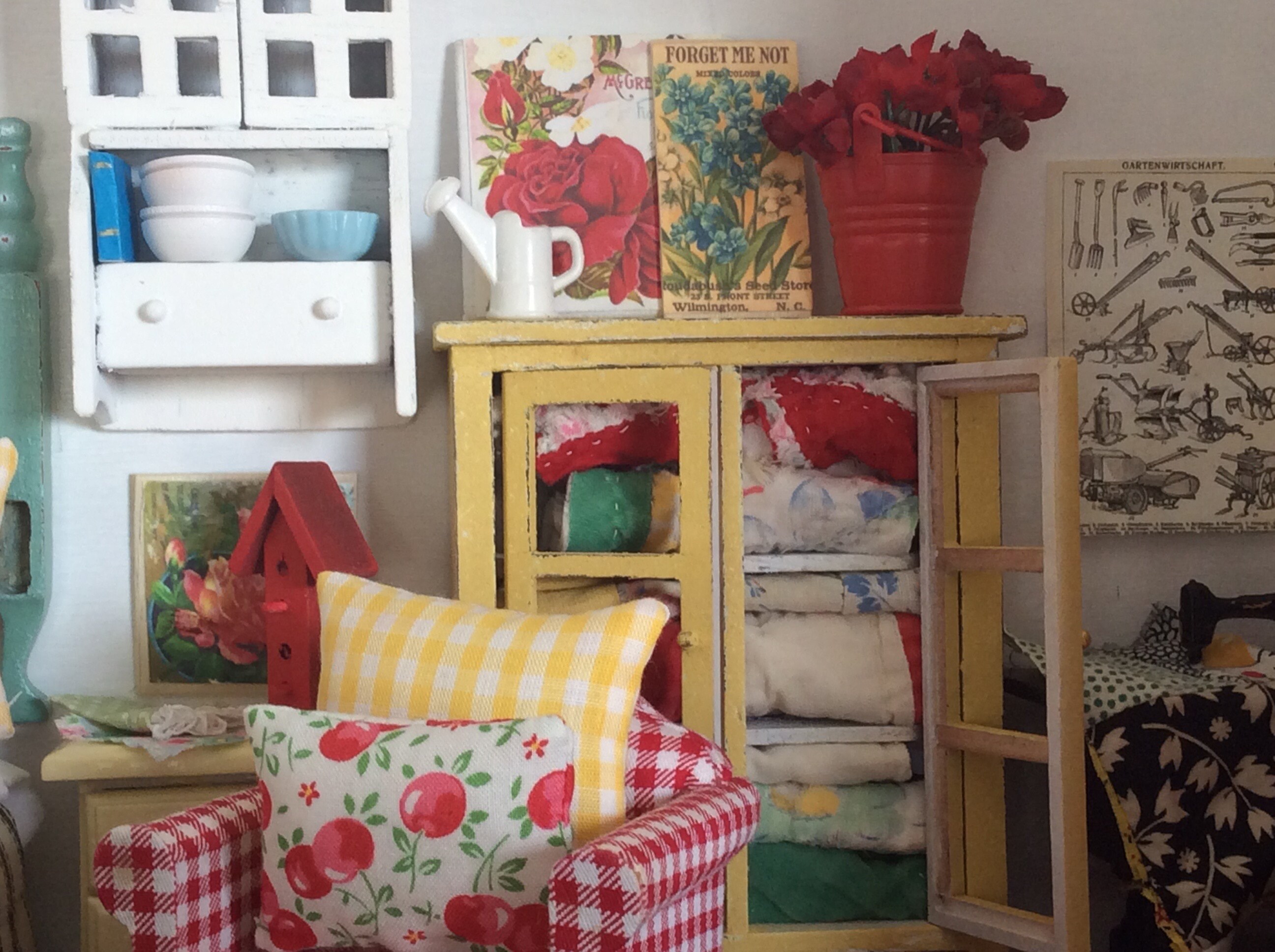 Thank you for following along. Again my little Ebook is pretty detailed about decorating on a budget, and making as many things as possible. Found here in my Etsy Shop. 
I like to share how I look at something and then go about making those items!
Have a blessed week!
Debbie Booth