Hey everyone!  I thought it would be fun to share with you my love of Gingerbread cookies and Gingerbread themed Christmas decorating1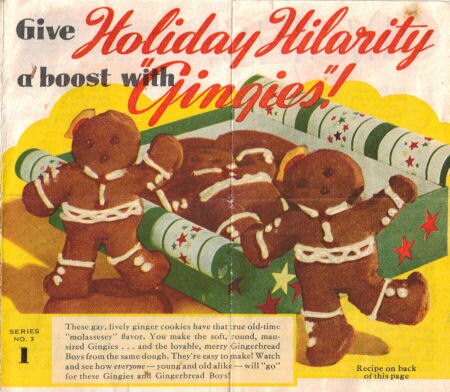 Over the years I have collected quite a few Gingerbread ornaments and cookie baking themed ornaments. And of course there are Gingerbread  houses, but we are focusing more on ornaments and accessories. 
Below I will give you a list of things you might already have, or can look for when decorating a small tree or Gingerbread theme!  I also share a few miniature ideas as well.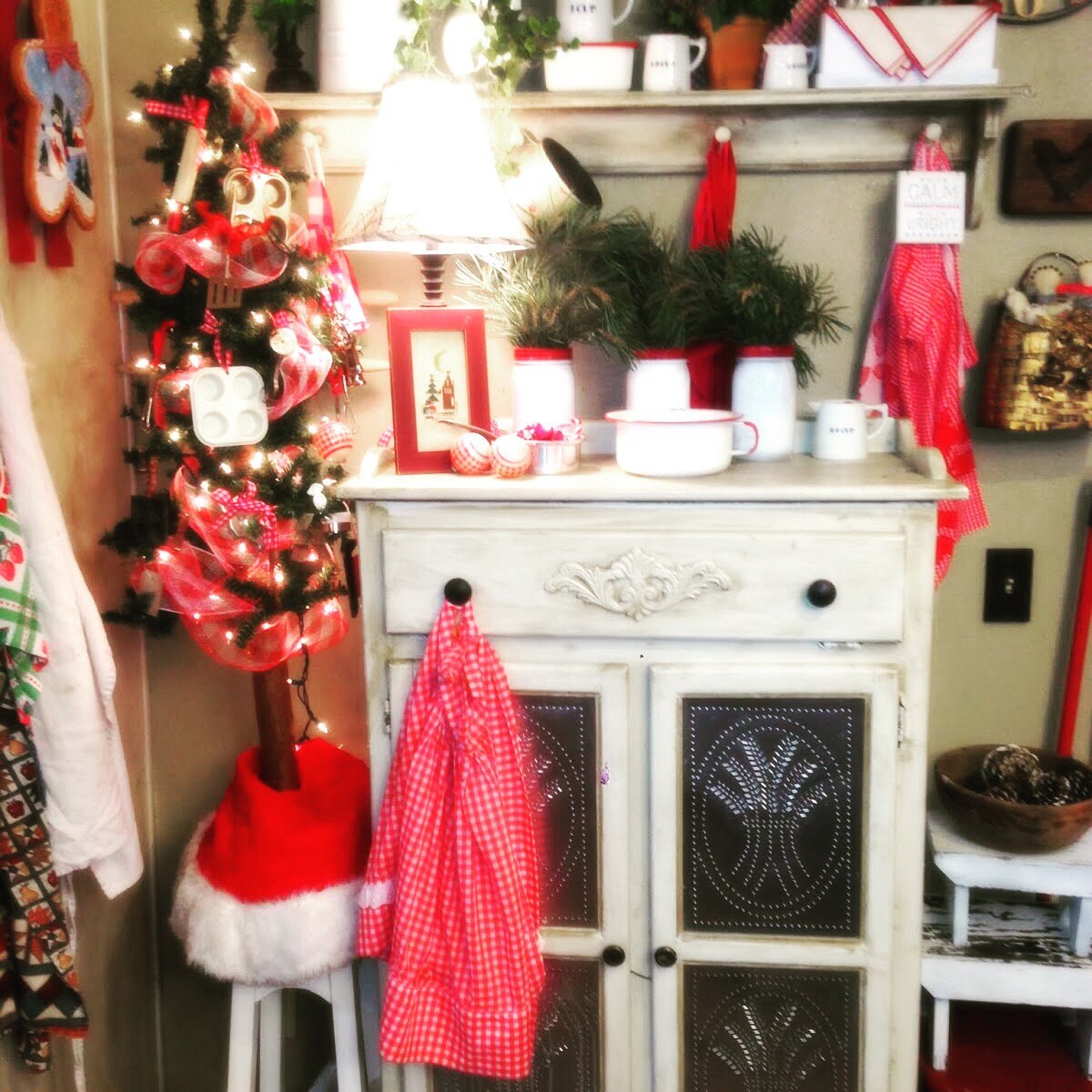 I decorated a Christmas tree kind of prim style in my kitchen for Christmas and decorated it with Gingerbread ornaments and baking theme ornaments.
I found several little items in the toy department. Packages of little baking items for kids to play with. They were so small though I purchased them and attached, with glue, a ribbon hanger to hang them on my tree.
Everything was small and worked perfect for my tree. 
 But here is a list of items and ideas you can use for decorating with a Gingerbread theme.
1.  *muffin tin
2.  *spatula
3.  *small bowl
4.  *small cookbook
5.  *baking sheet
6.  *whisk
7.  *cookie cutters, especially gingerbread men and women
8.  *wooden spoon
9.  *small rolling pin
10. *small cake pan
11.  *small skillet
12.  Apron
13.  Old vintage recipe cards, cookie recipe cards
14.  Gingerbread cookies made from salt dough, adding ginerbread and cinnamon to make them dark. Recipe HERE
15. WREATH - glue gingerbread cookies, vintage recipe cards, and cookie cutters to. Add red and white gingham check ribbon bows.
16. Set out pretend Gingerbread cookies on a plate with a recipe near it for a small vignette.
17.  Rolling pins in a canister, with tied bow and gingerbread cookie cutter hanging from it.
18.  Gingerbread decorated Christmas tree.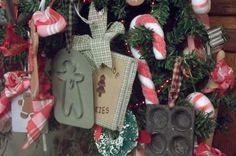 19.  Gingerbread themed Hot Cocoa Bar. Glass canisters filled with hot cocoa, marshmallows and gingersnaps, or gingerbread cookies. (FILL TINY CANISTERS WITH REAL GINGER for a realistic look!)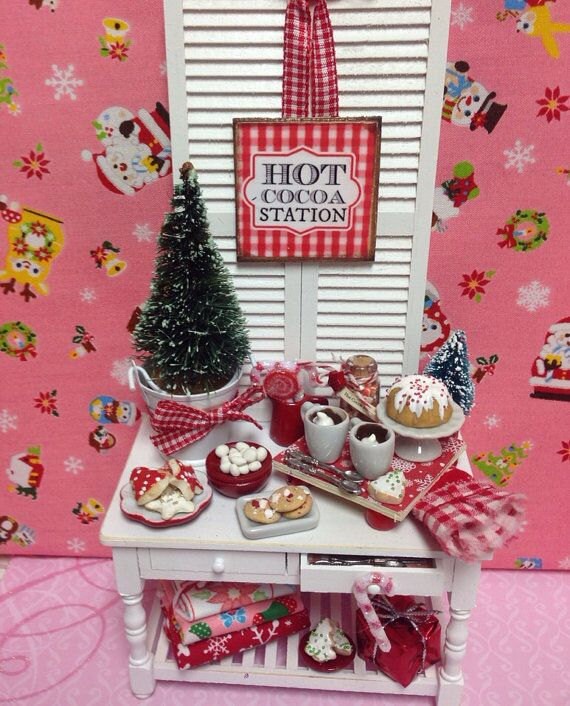 20. Vintage plate filled with gingerbread and cookie recipe cards, and cookie cutters.
21.  Glass jar filled with gingerbread 'pretend' cookies
22. Glass jar filled with old cookie cutters
23.  Glass Cloche sitting over a plate that is filled with pretend gingerbread cookies, cookie cutters, and recipe cards, small rolling pin, and metal measuring spoons for a Gingerbread themed vignette.
24. Use old vintage spice tins, ginger, cloves, cinnamon, and nutmeg. Place in an old basket, or small red pyrex dish.
25. Use an old vintage toy stove, with a small metal cookie sheet and place small pretend gingerbread cookies on the little toy cookie sheet.(Here is an old post from my old blog showing how to use a vintage toy stove in a vignette for decorating with. It is Valentine oriented, but you'll get the idea with the stove.) HERE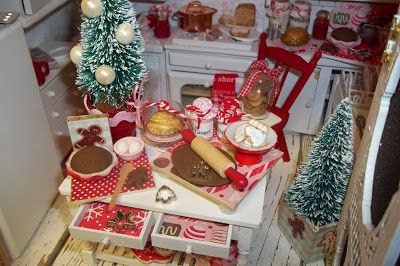 *26. Add or glue pretend gingerbread cookie with a bow around its neck to the side of an old frame and make it a Christmas frame.
There are so many more ideas! Walk through the Christmas ornament aisle and the toy aisle for more ideas.
Here are some very old pictures of Christmas decorating years ago with a Gingerbread theme. I created a small vignette using an old vintage toy stove 
that I have since purchased more little cake and pie pans for. I placed my gingerbread gal next to it. The Sewing pattern to make her, her clothes and some great ideas for little accessories that go with her and fit in her pocket can be found here @ Gingerbread Doll Pattern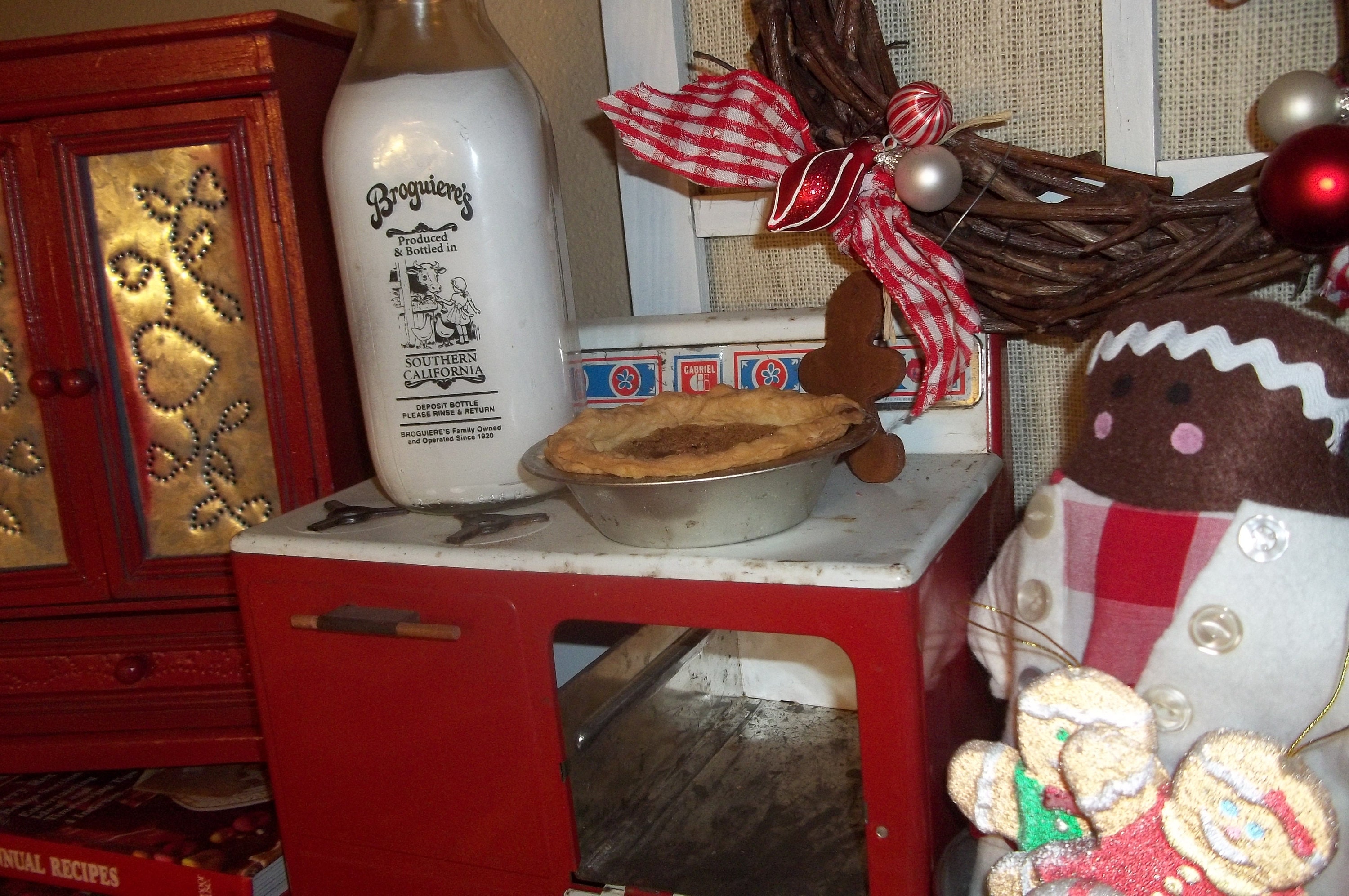 I also found little peppermint candy ornaments, a vintage toy measuring cup, small metal cookie cutters that I tied with red and white checked ribbon bows and hung on the tree. More small baking ornaments, like spatulas, small dollhouse miniature baking items I glued a hanger to and just hung on the tree.
These pictures are pretty old and before blogging....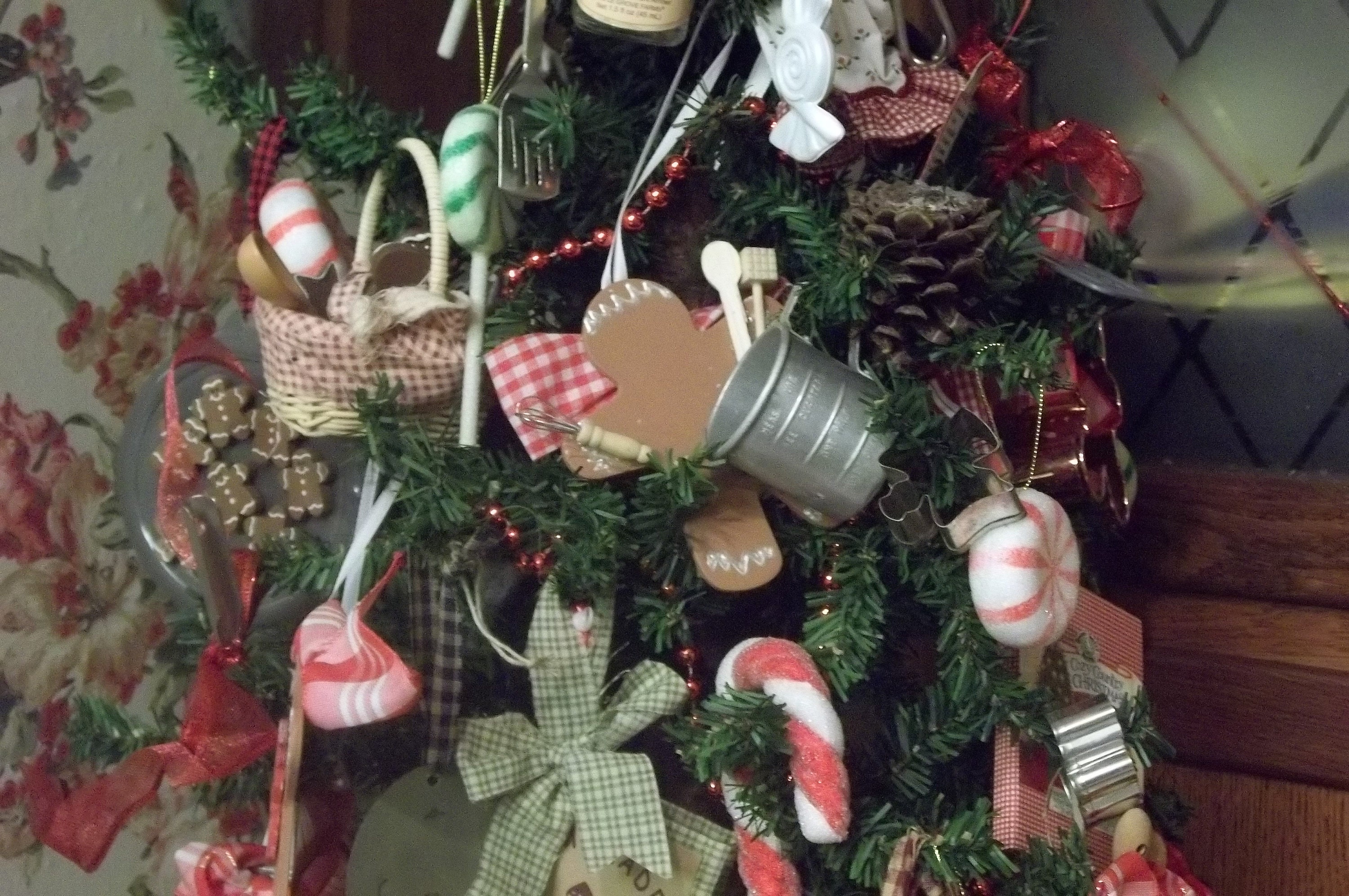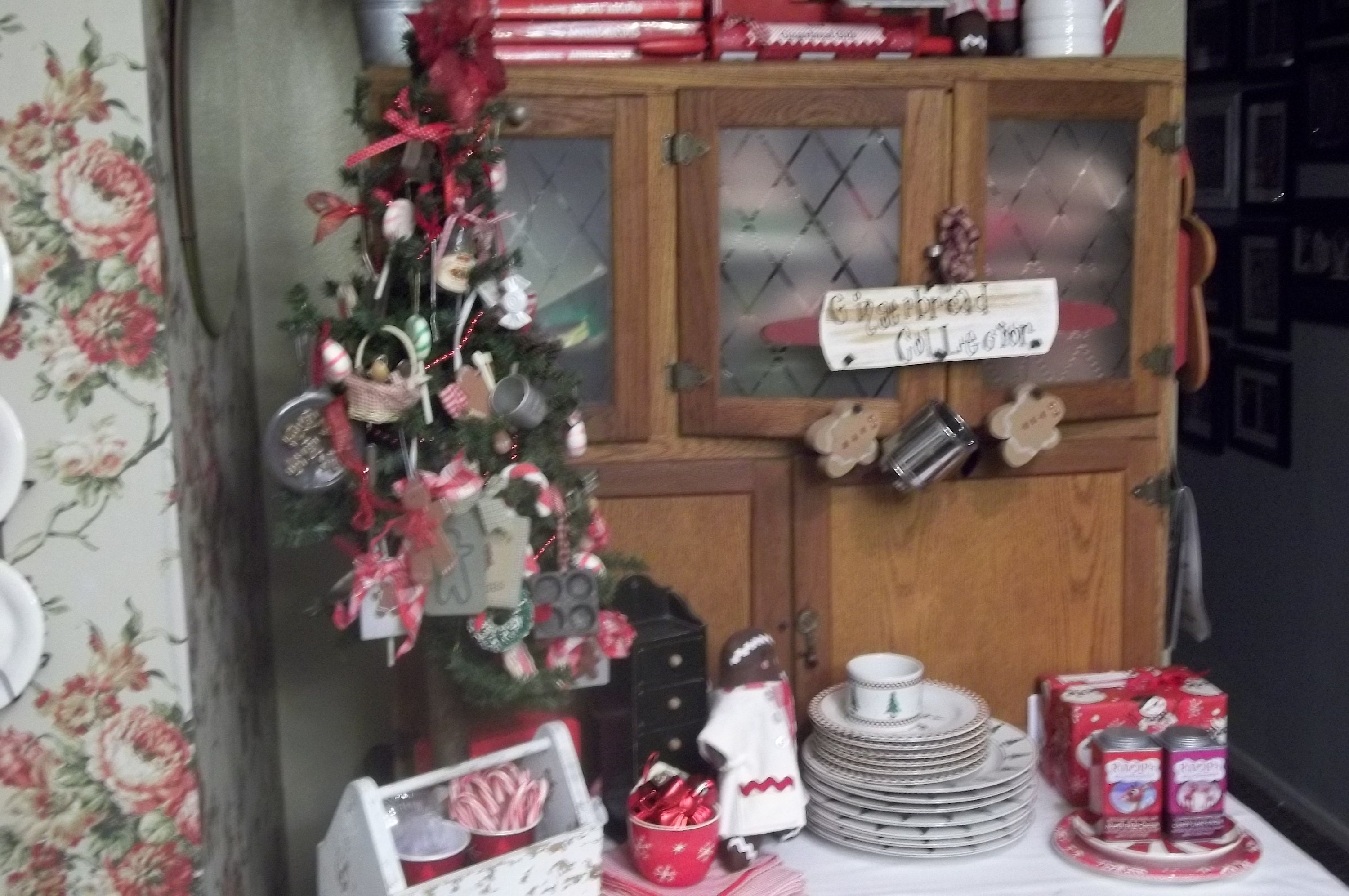 Gingerbread feltie/softie doll toys are marvelous for little ones to play with and to add to your gingerbread decor.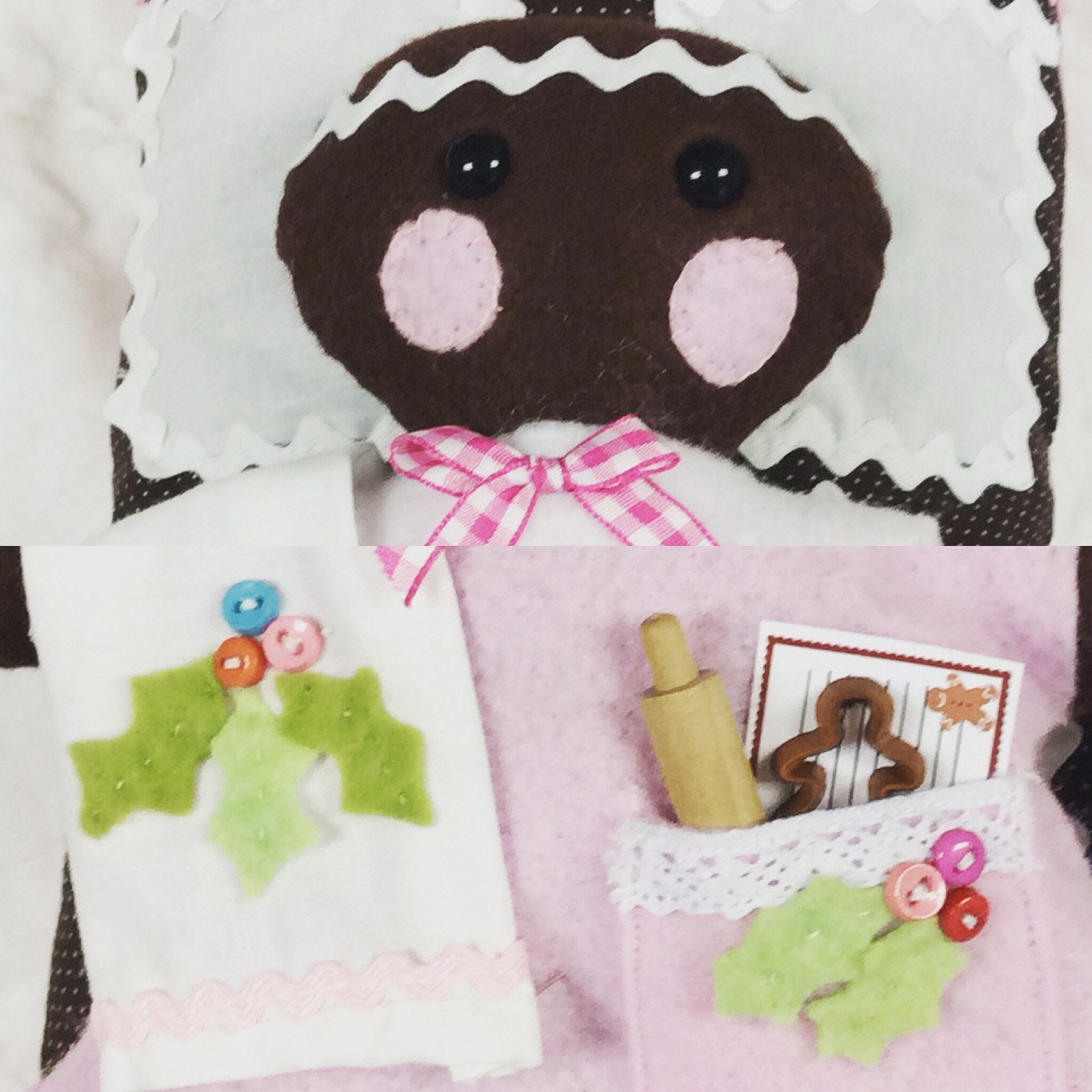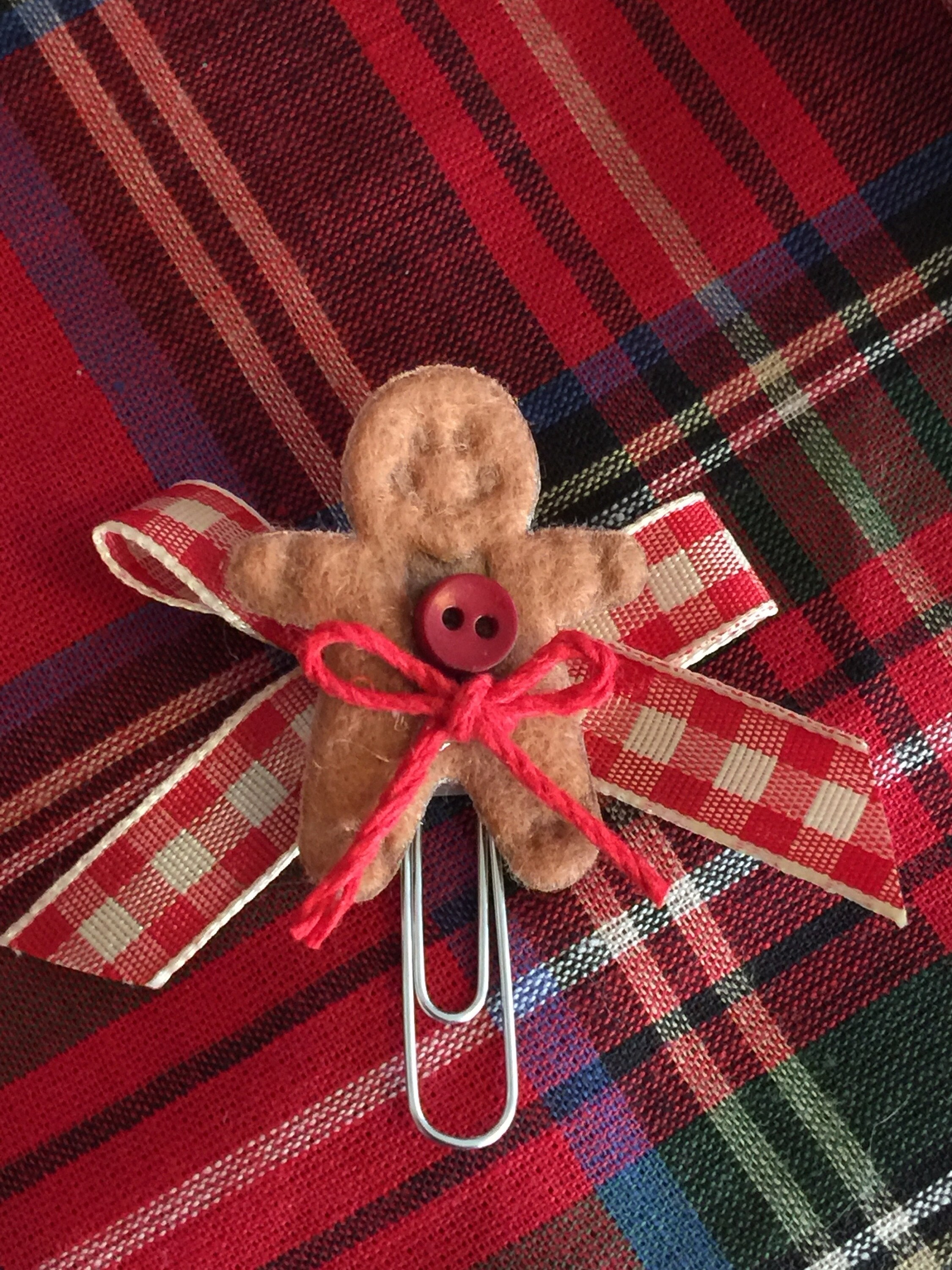 I love decorating my planner for Christmas. I had several little gingerbread pieces, buttons, miniature baking items and clipart.  So I trimmed some ribbon, made some bows, and layered them, gluing them as I went to a paper clip for a planner clip.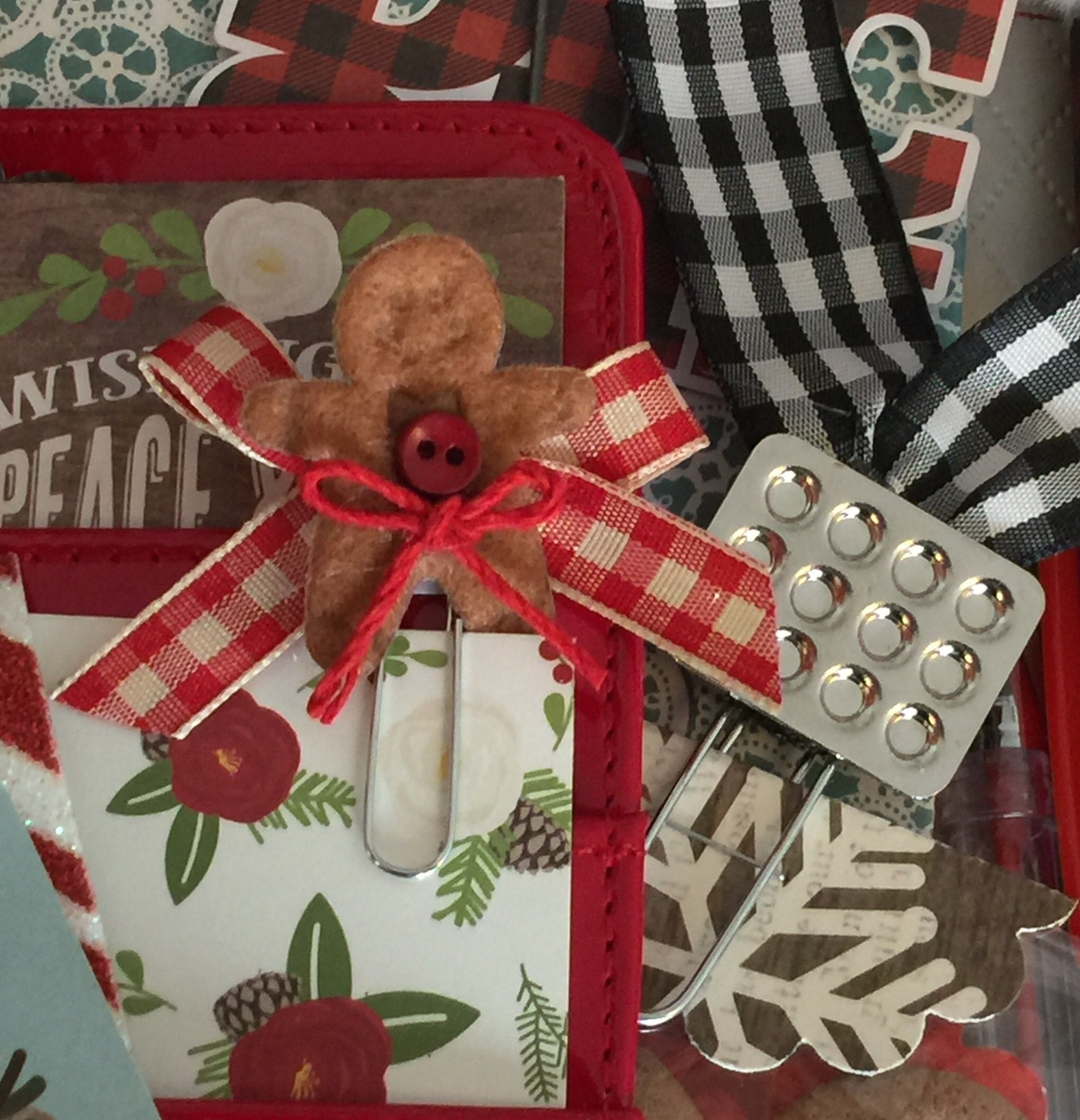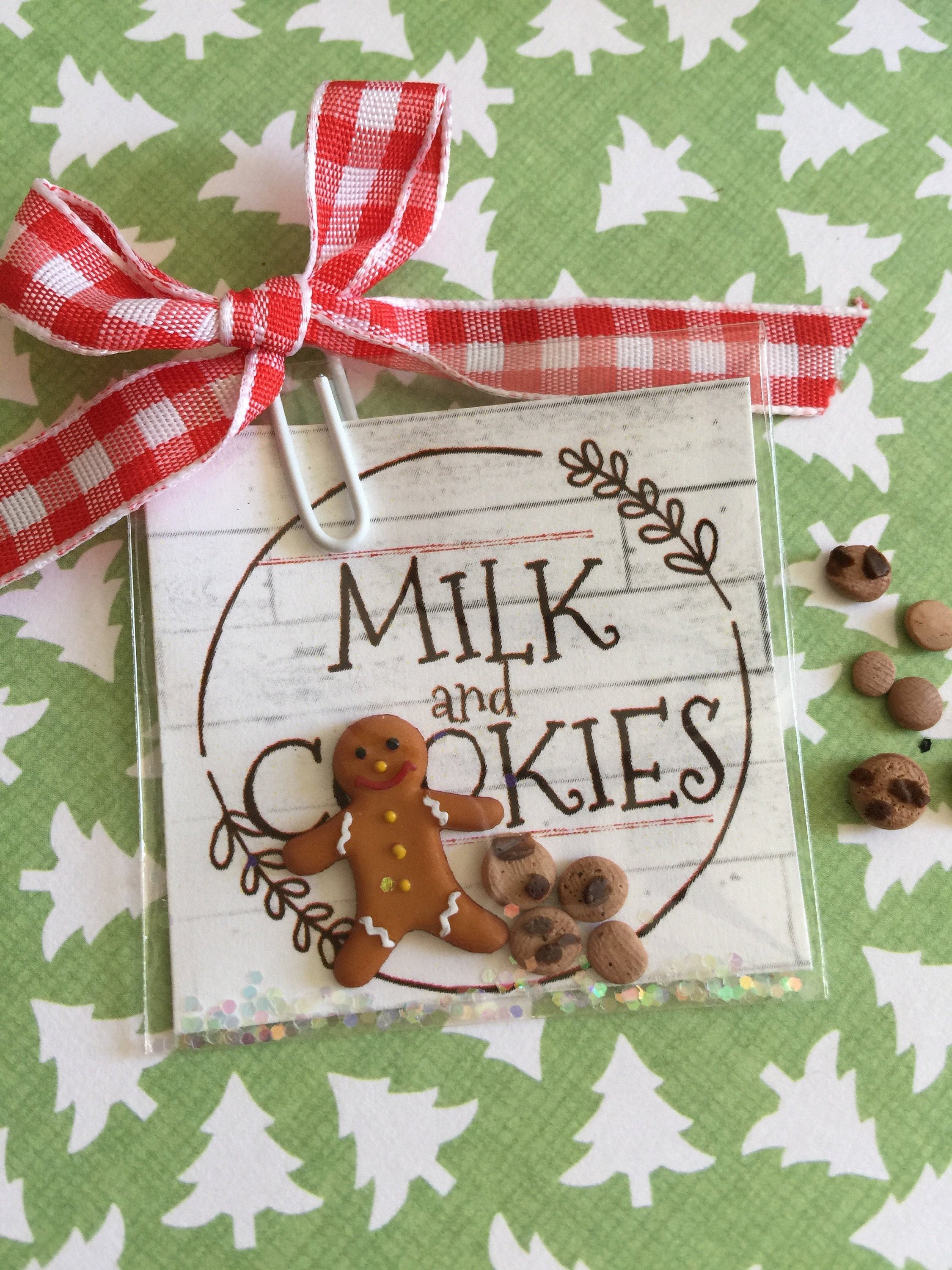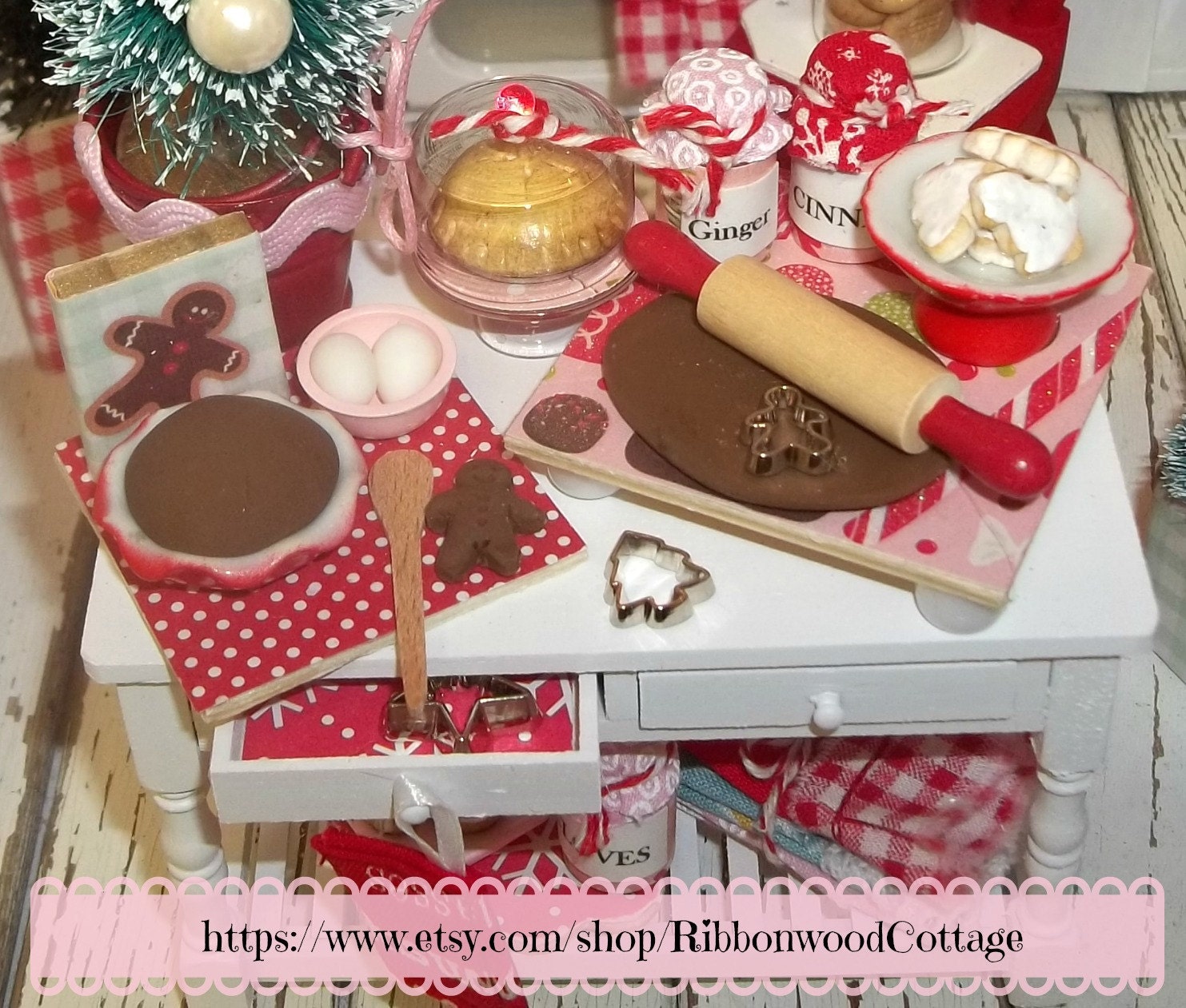 To create a miniature gingerbread baking scene just purchase some brown fimo clay, dollhouse bowls or plates. Flatten out a small piece of clay and lay a cookie cutter and rolling pin on top.
Also looking in the scrapbook section at paper, and finding Christmas designs, or gingerbread cookie themed paper will help too when decorating. I covered a little cutting board and rectangle wood piece and then added little trees, rolling pins, glass jars I added labels to, a bowl of eggs and cookie cutters.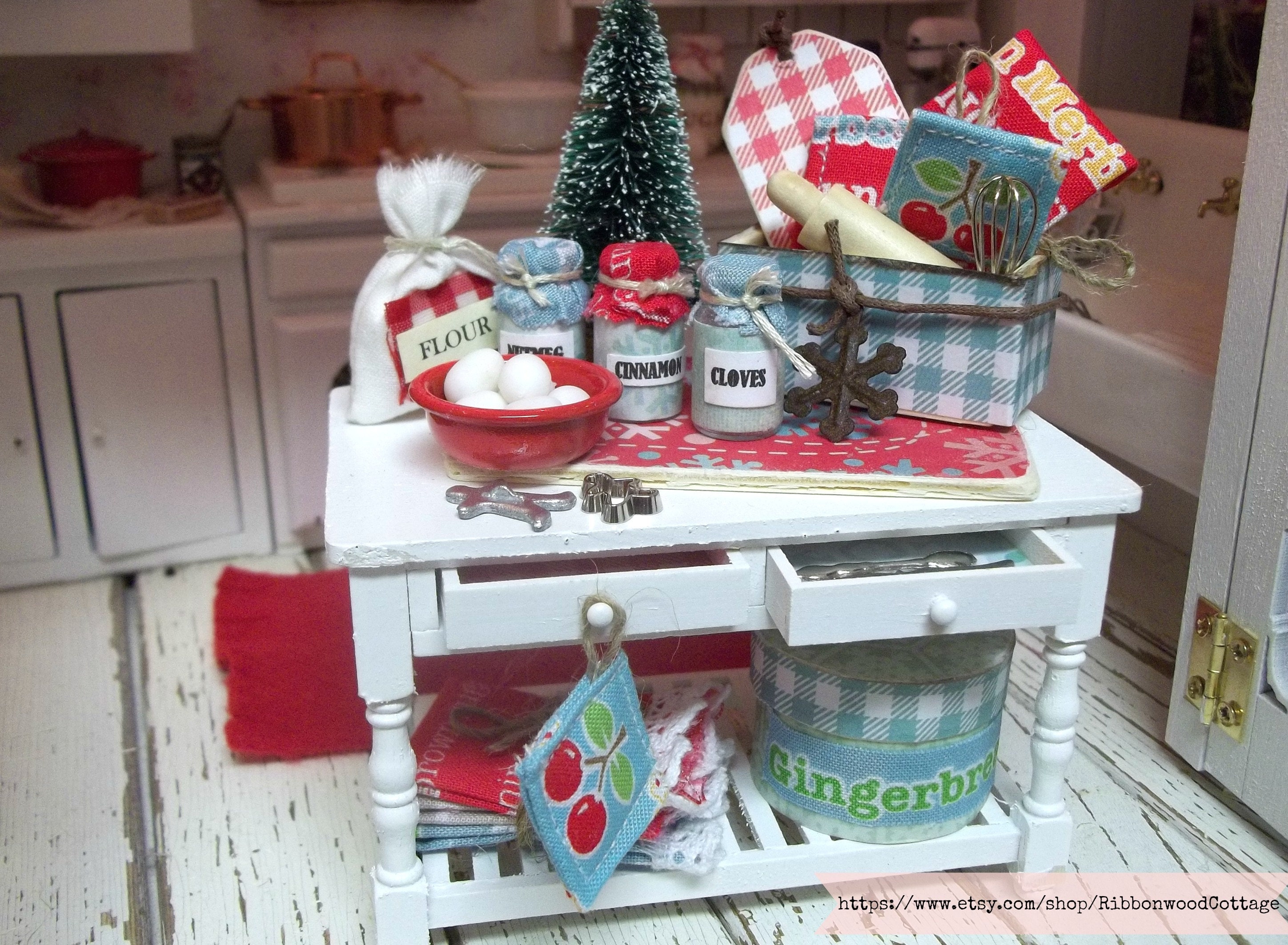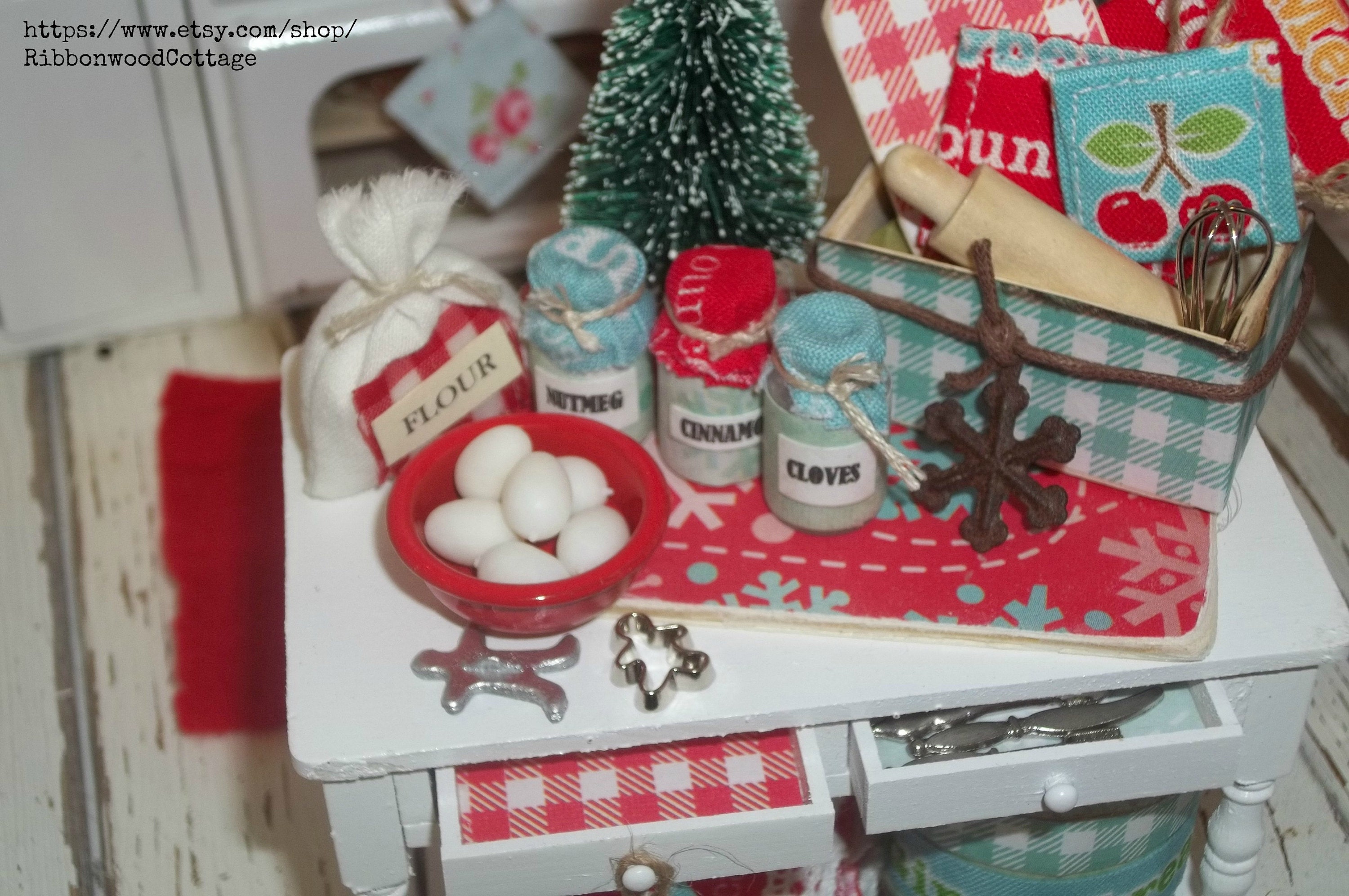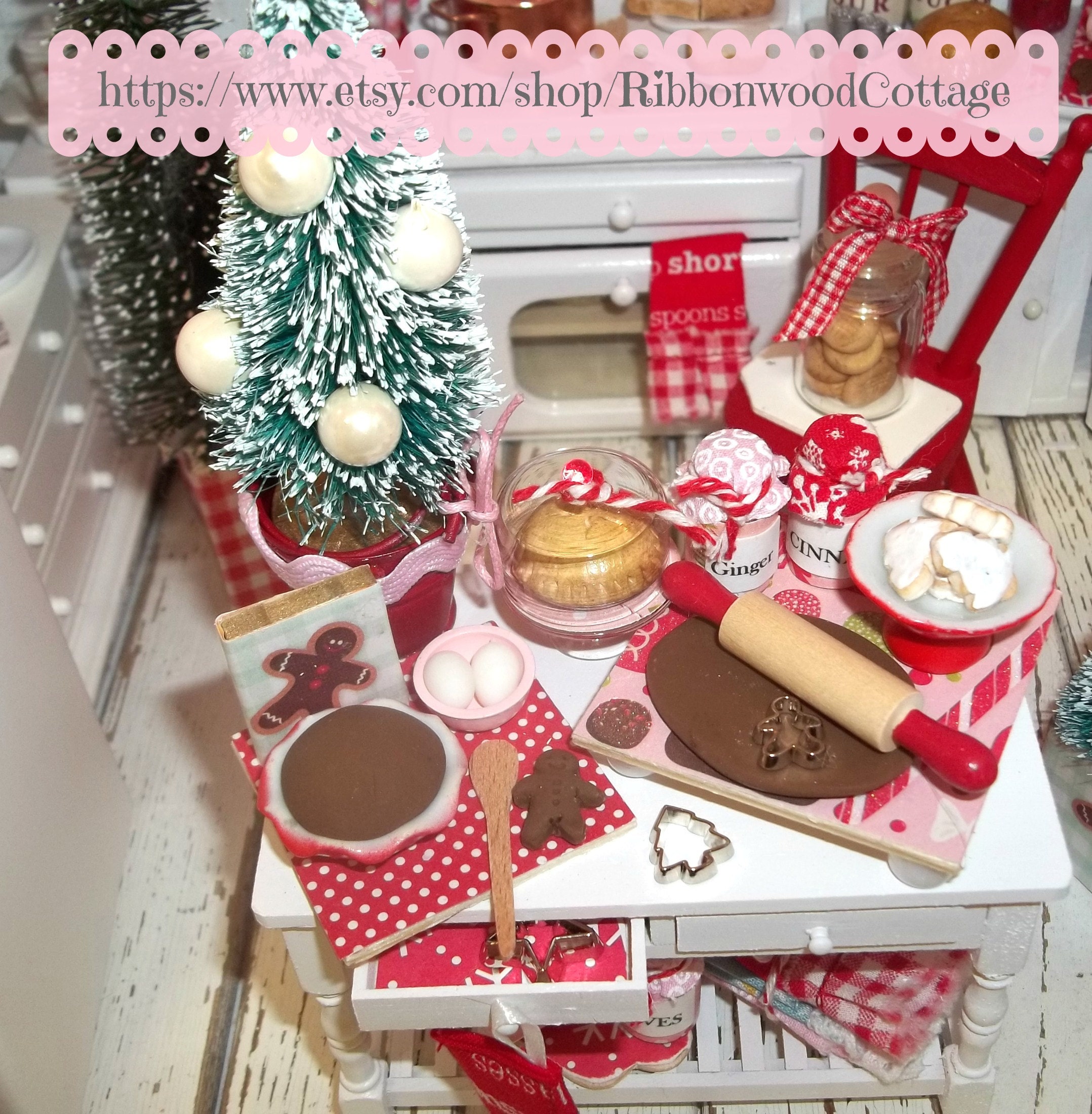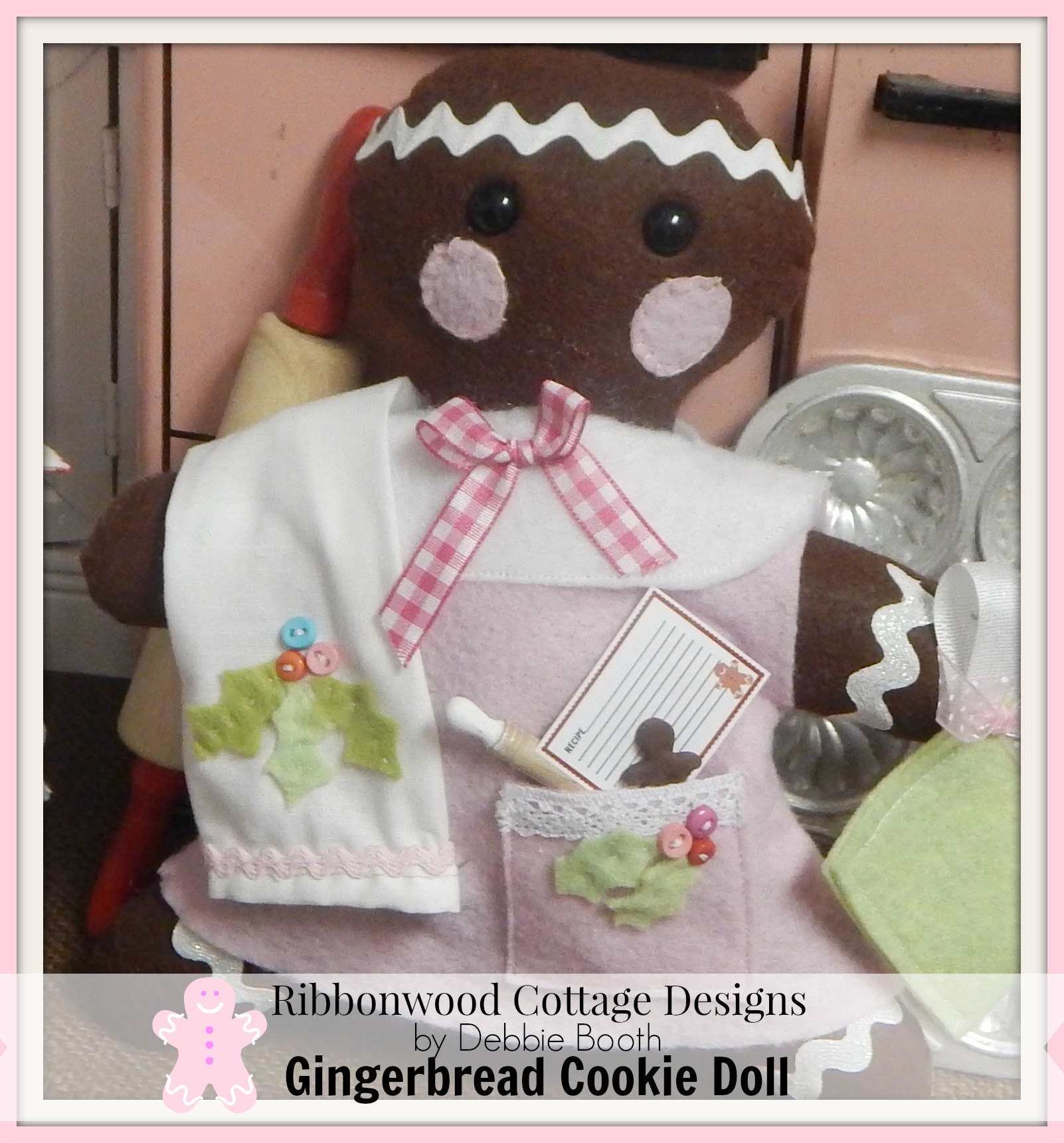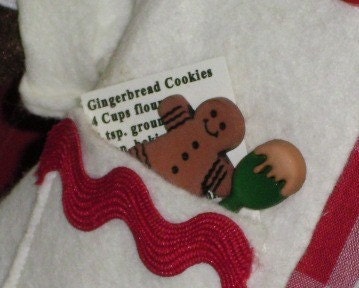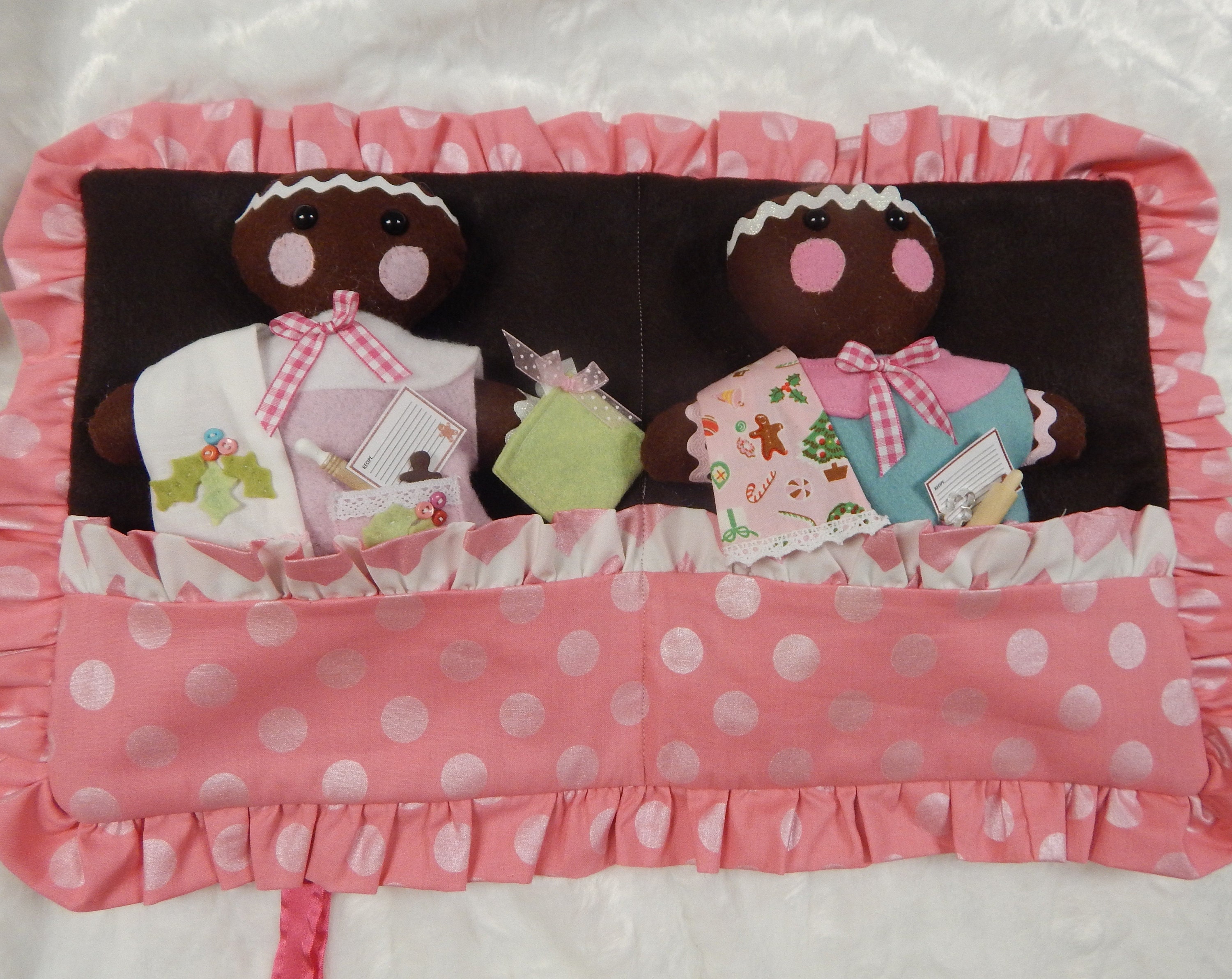 Simple Ruffled Doll Carrier Pattern
And the little gingerbread girl needs a house to come home to so I started making little gingerbread house pillows. Super simple and cute. Great for using up your fabric and button stash too.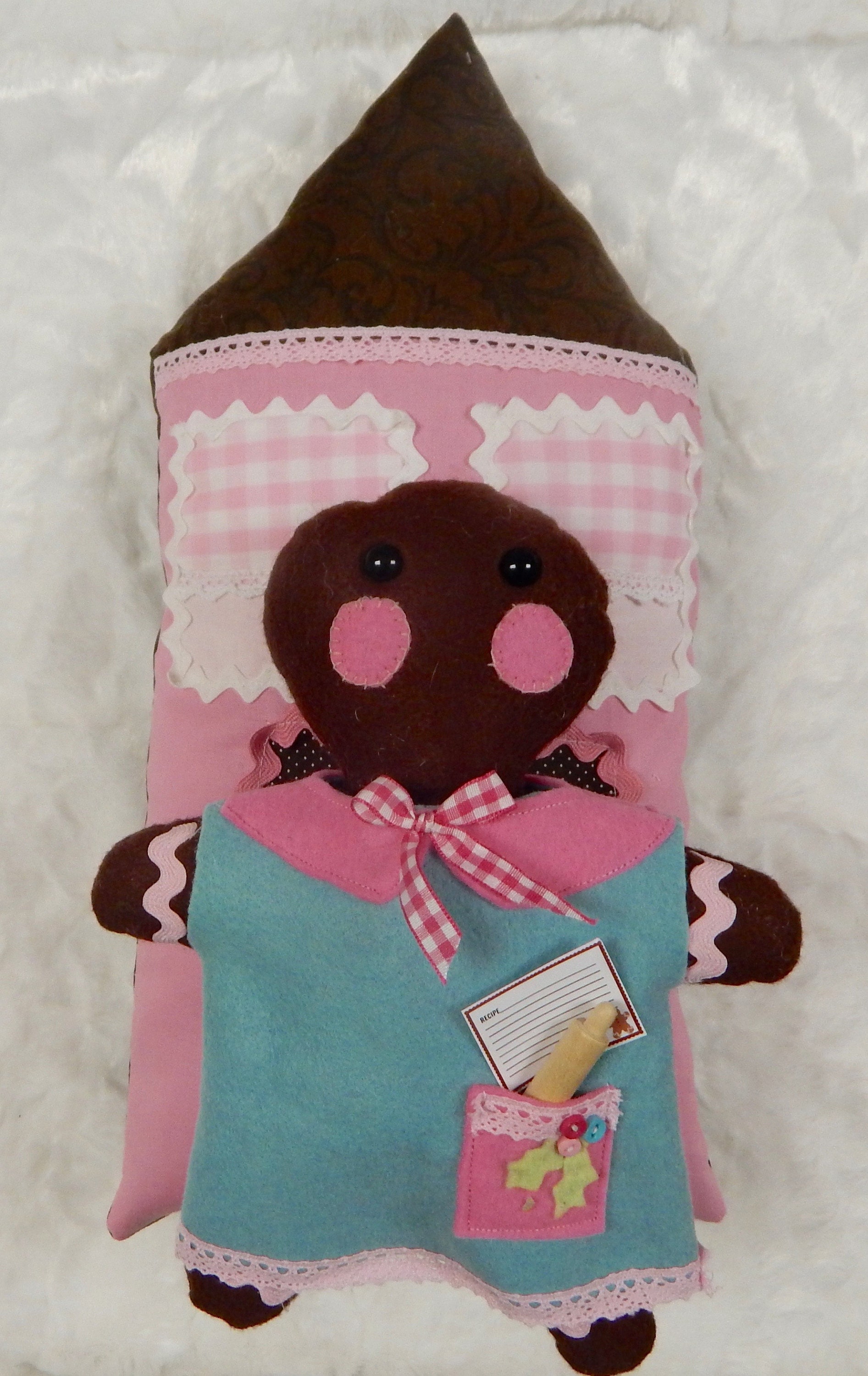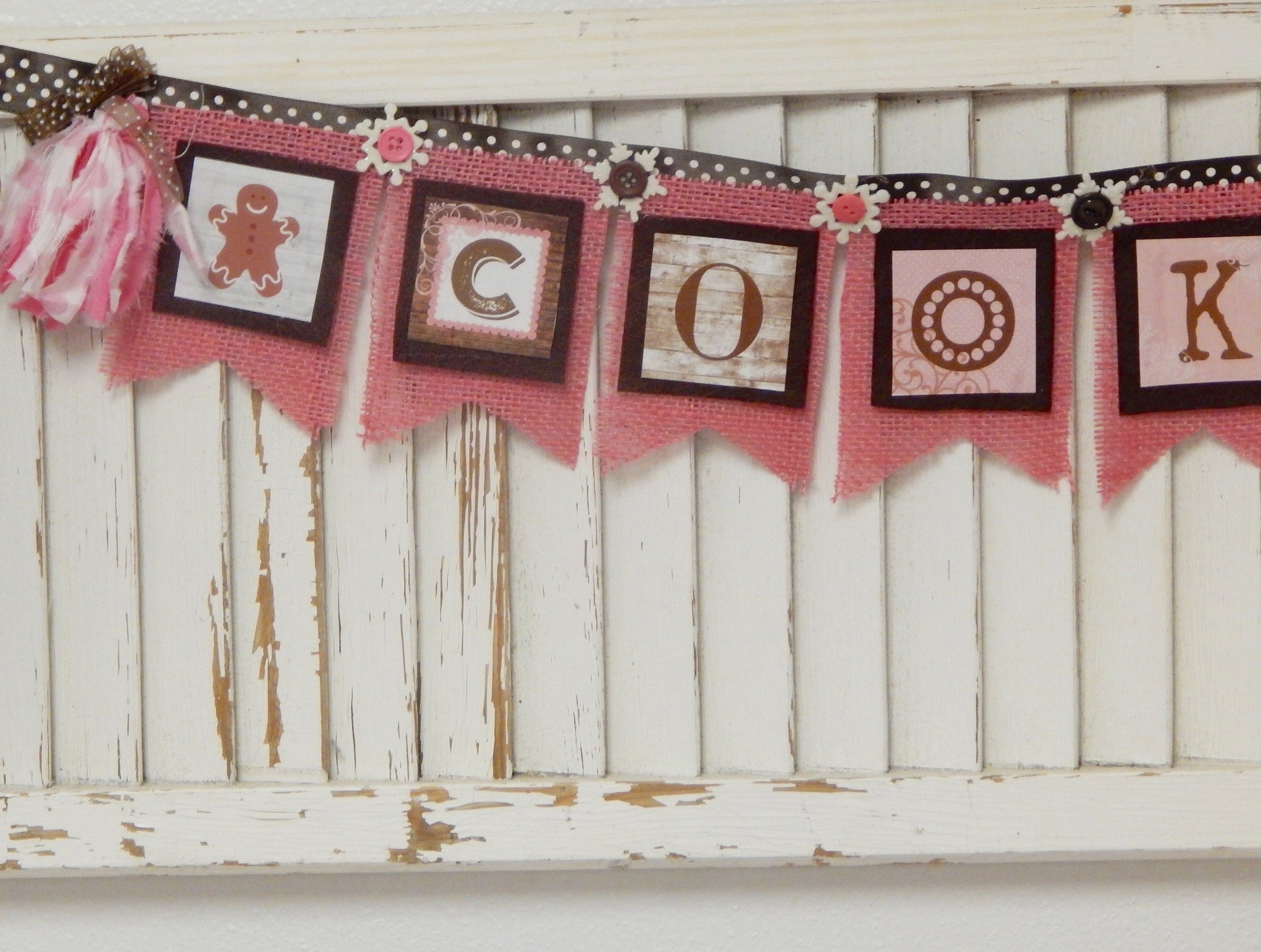 When making my little vignette at my house, I felt like it needed something above it, so I made a printable cookie banner. Directions and download are here
But one of my favorite things is this simple Printable I created for making little signs or decorating your planner with at Christmas. How fun is this? All things baking.
There are so many little packages of gingerbread cookies, buttons, rolling pins and rusty bells, I kind of went a little crazy with this project. That is why it is one of my favorites.
Printable is available here Gingerbread Bakery Printable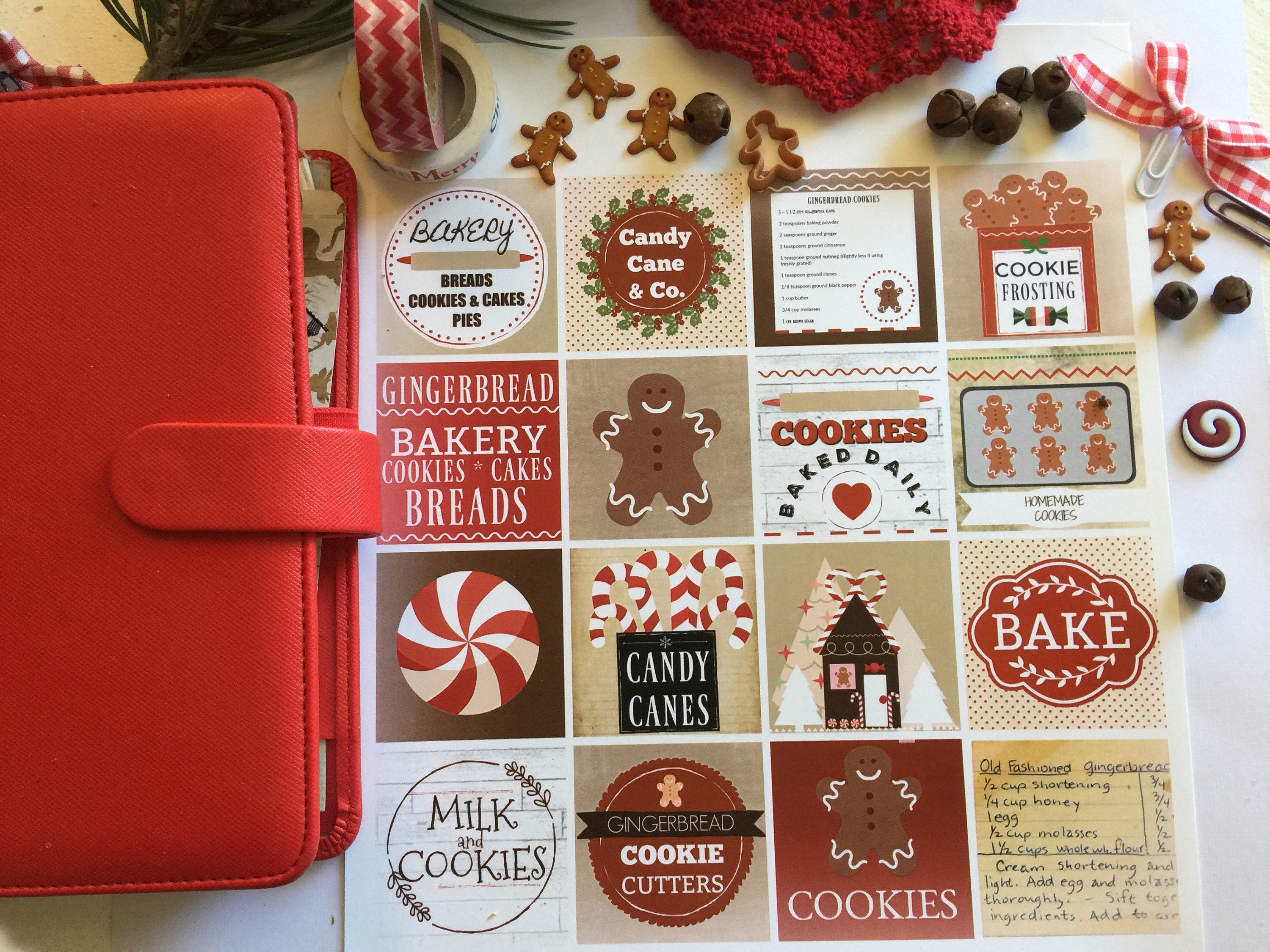 I printed it all out on white card stock paper, and then started embellishing it.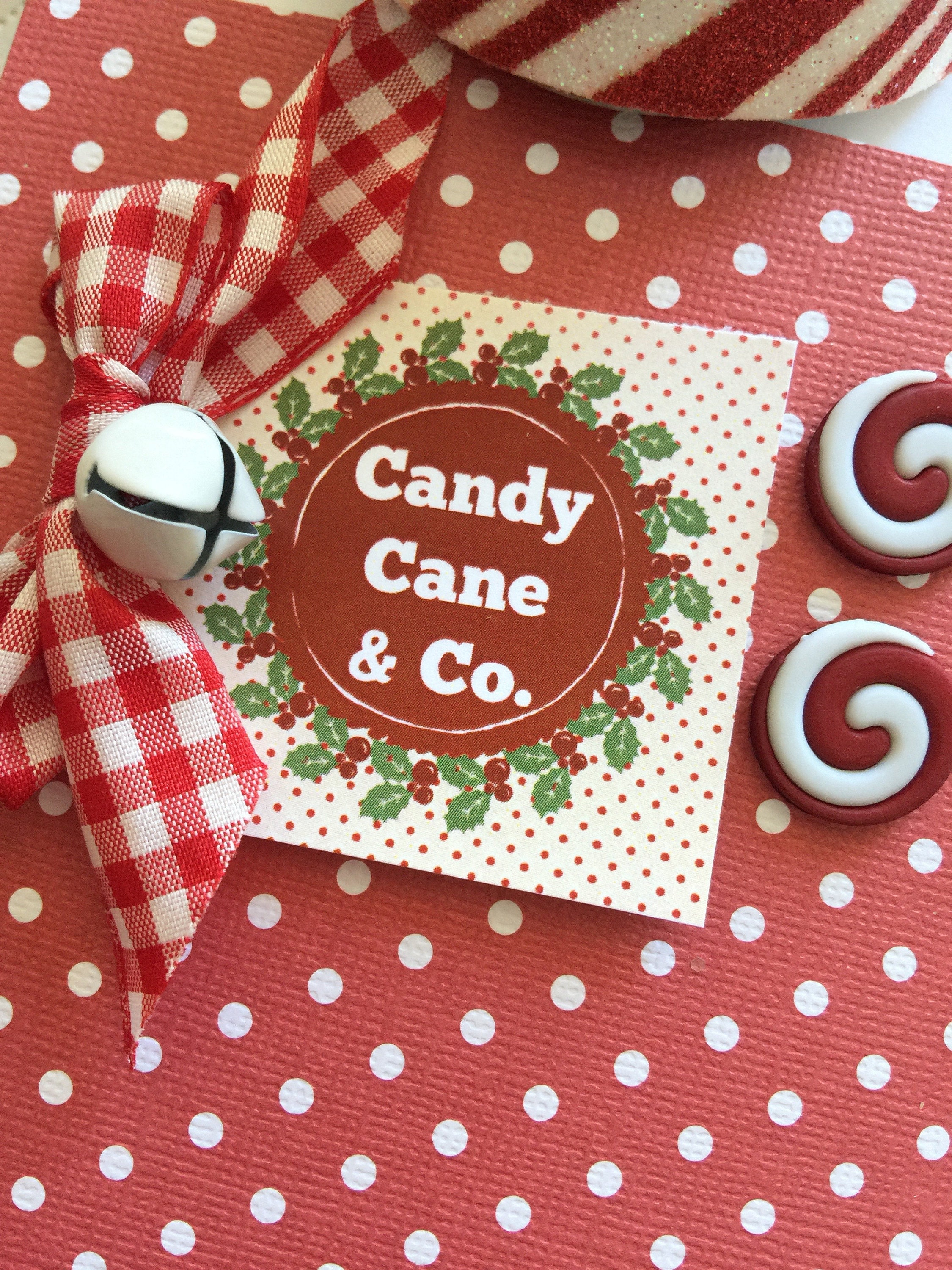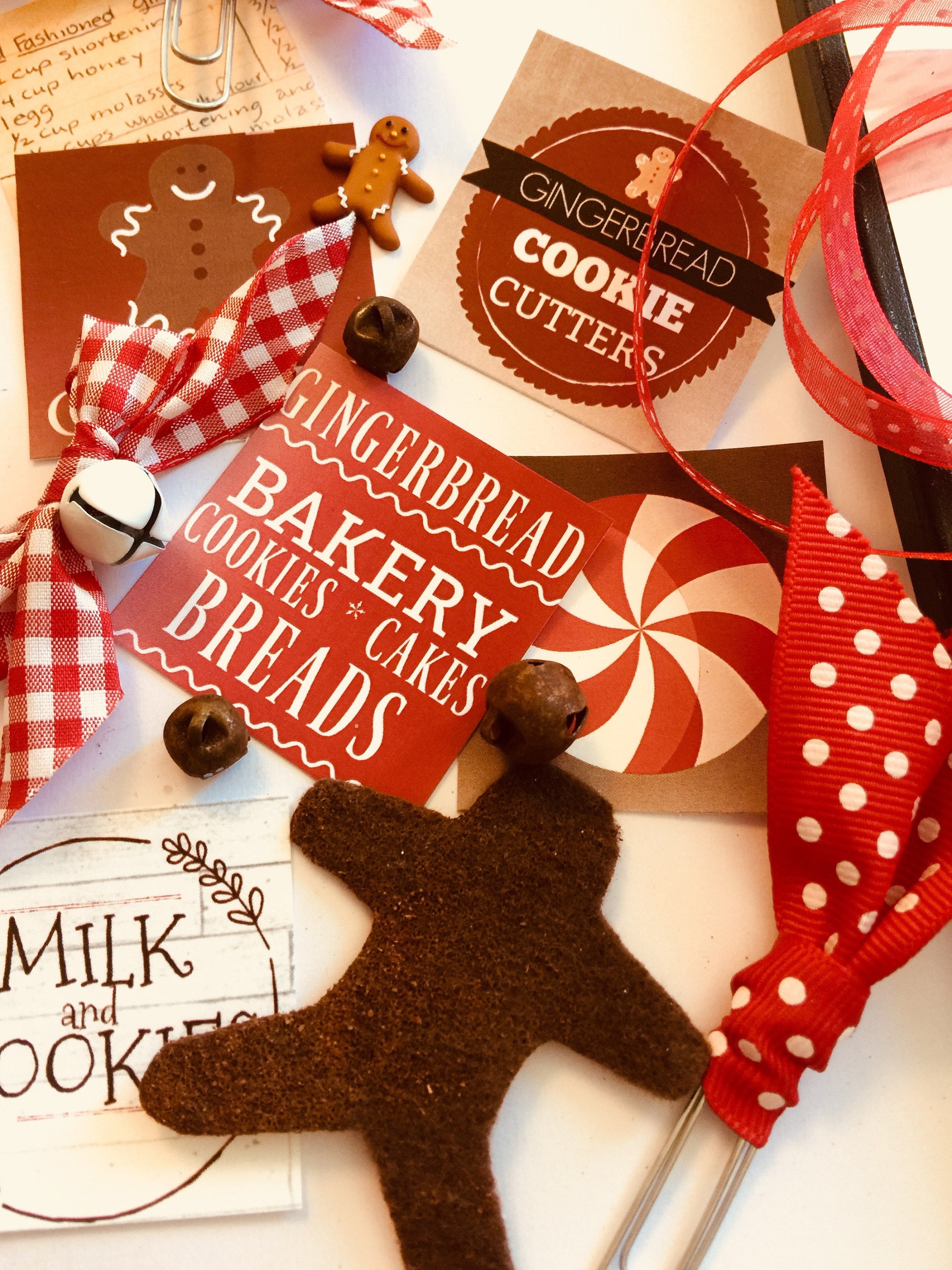 The craft store had little clear bags so I used them to place a square design in, added a bit of snow glitter and a tiny cookie cutter. Folded over the back of the clear bag (it had a sticky back closure) and made my own little shaker card for my planner.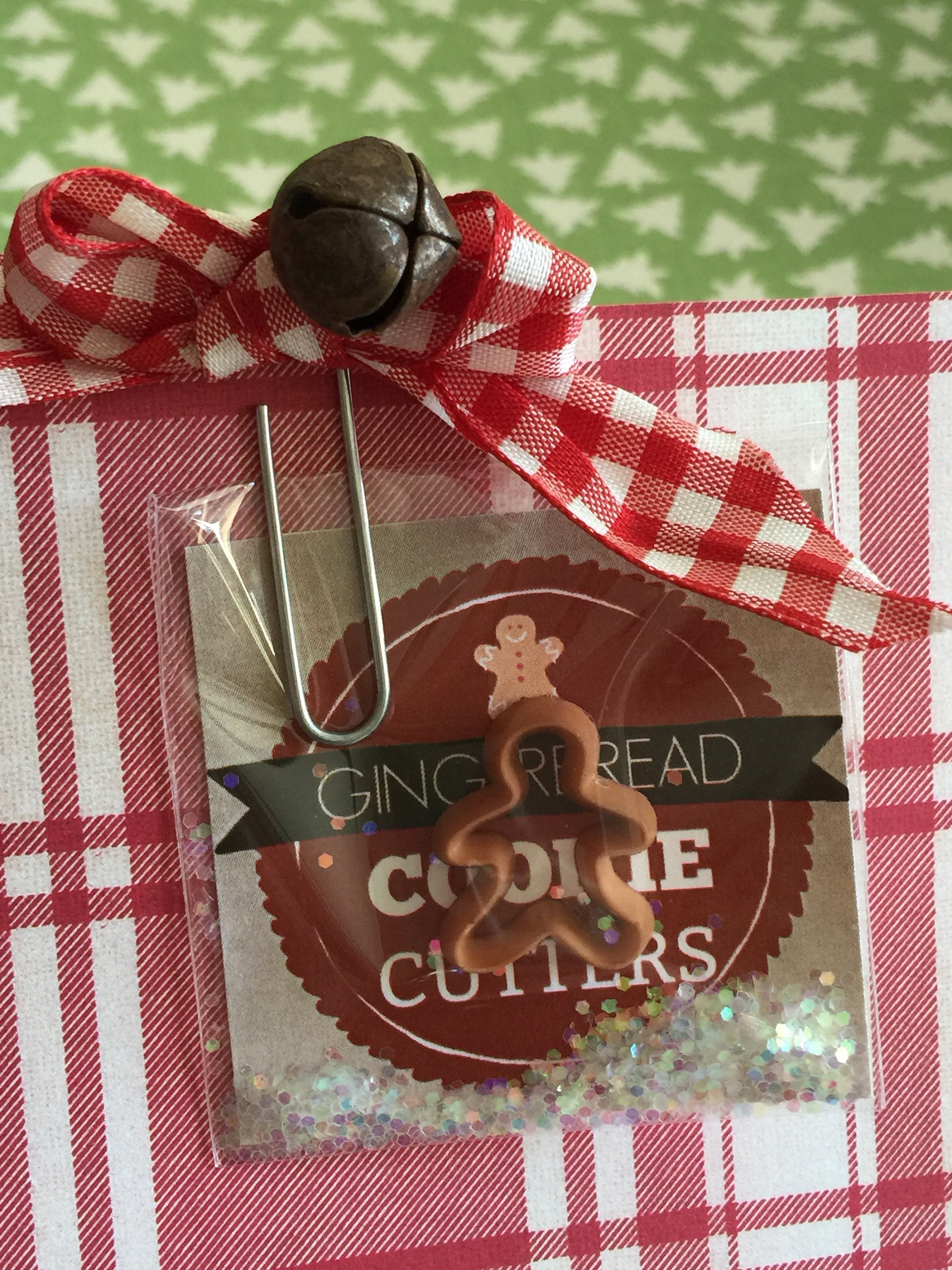 This is a free printable for you all.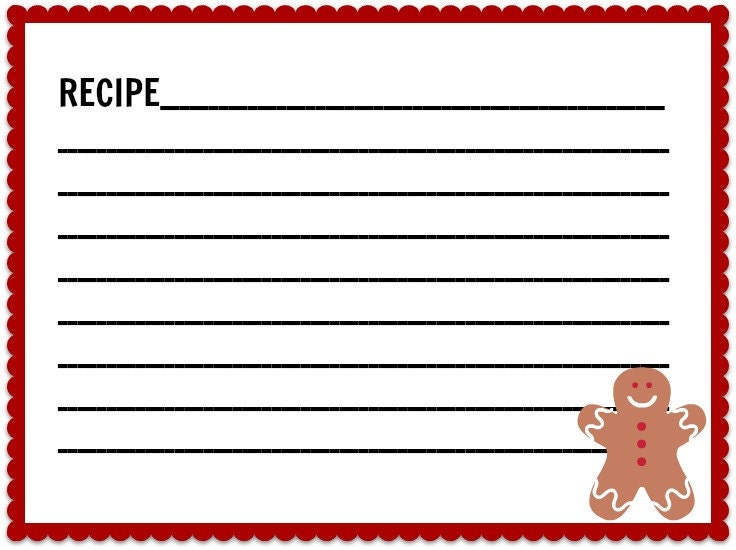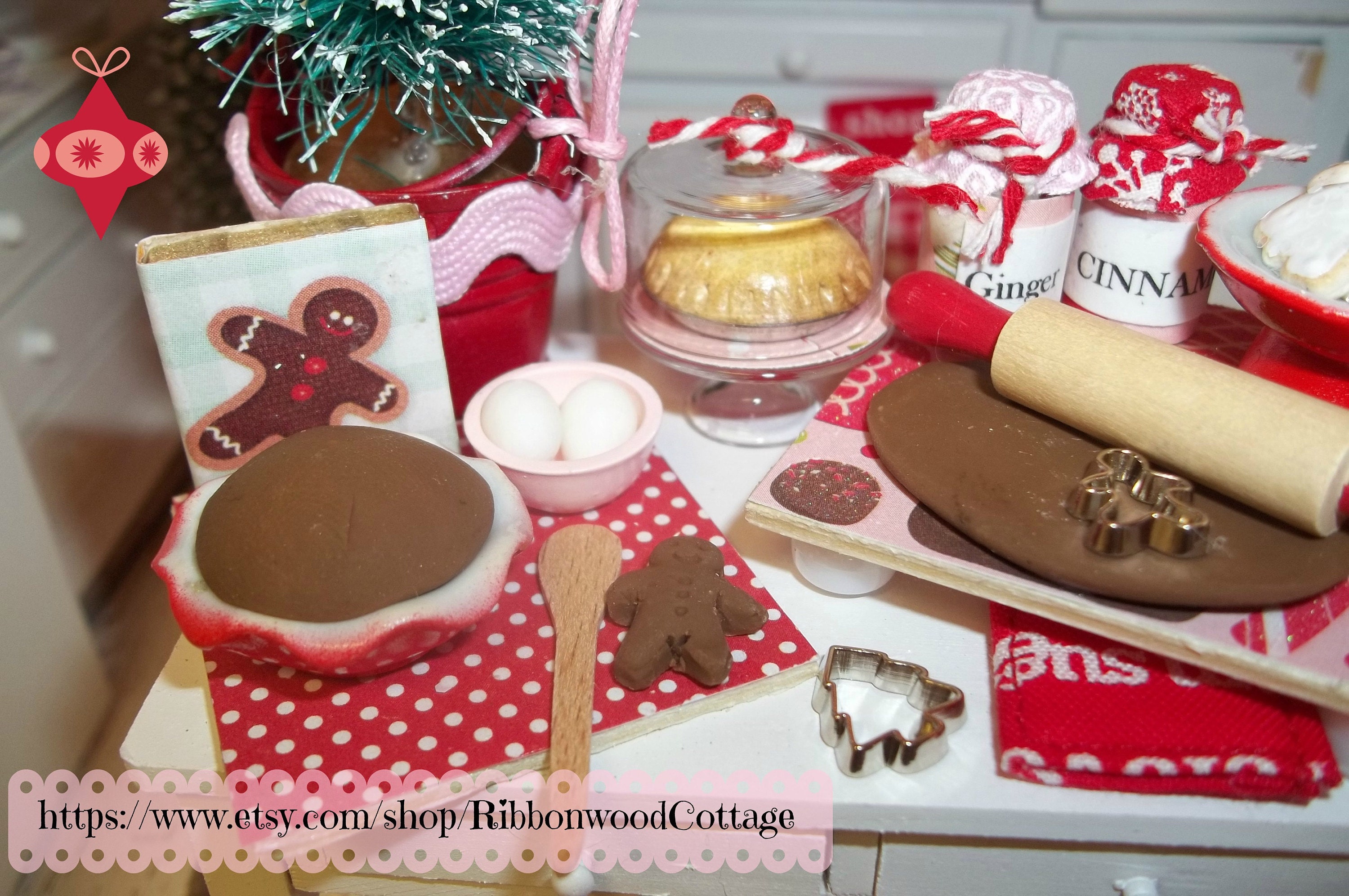 A year or two ago I made a little gingerbread bed set. The fabric was from a box of vintage scraps I found, and I only had a small amount but I loved how it turned out.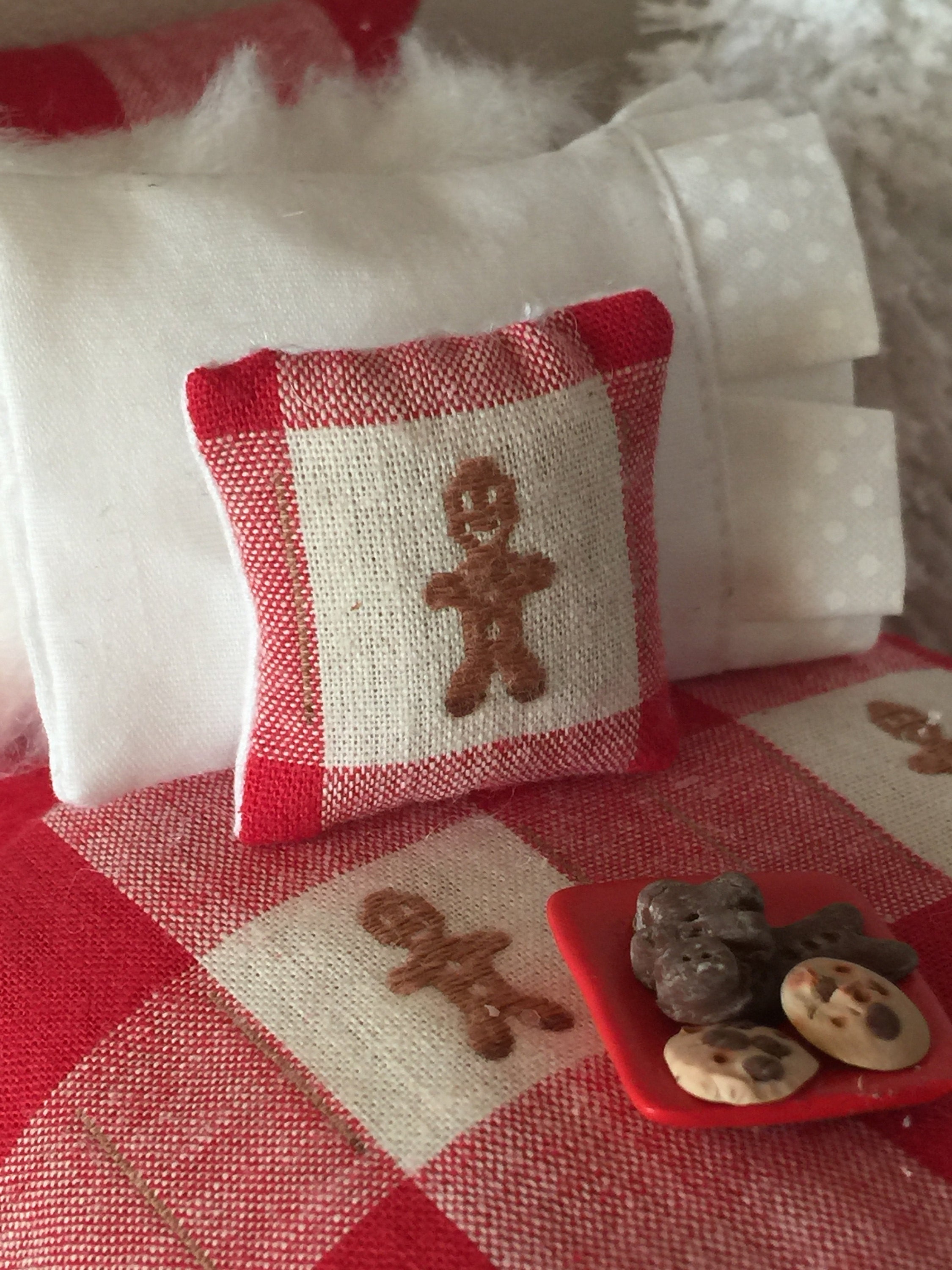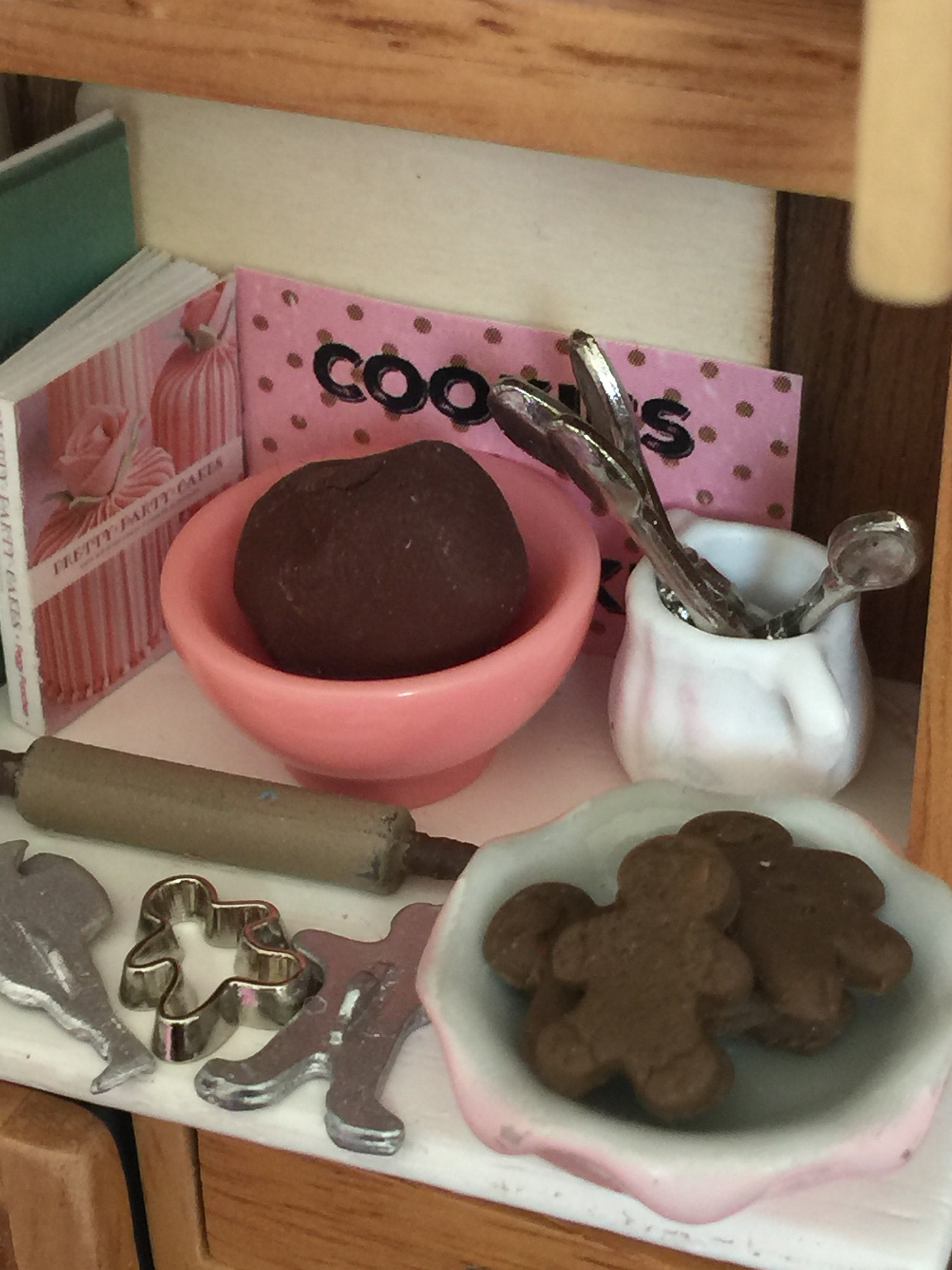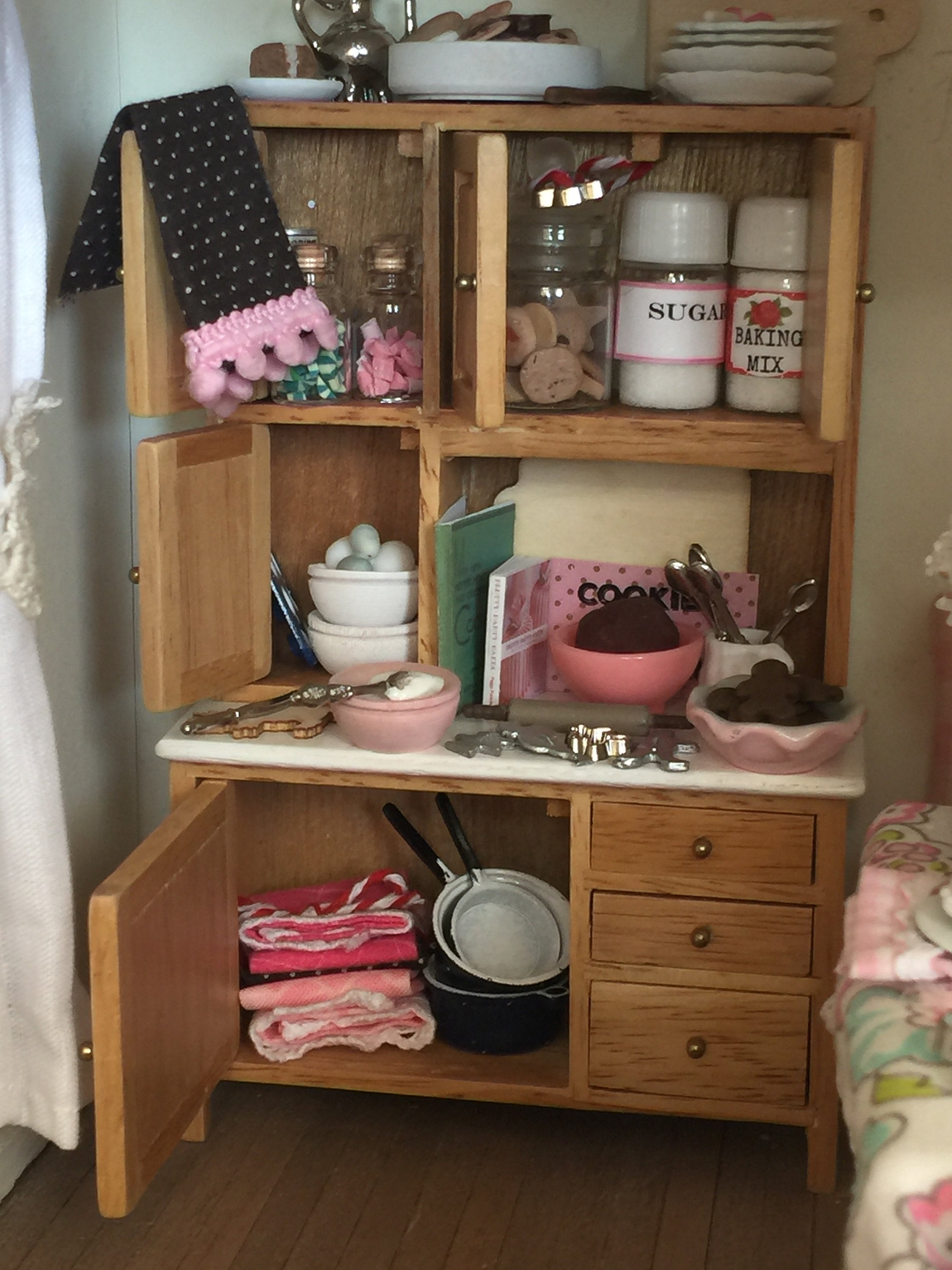 Little gingerbread cookies can be made using gingerbread cookie cutters and dark brown fimo or polymer clay. There are also Youtube videos for making tiny cookies....probably 100 of them. Watch and learn. It is a fun thing to do when creating a small dollhouse sized scene for Christmas!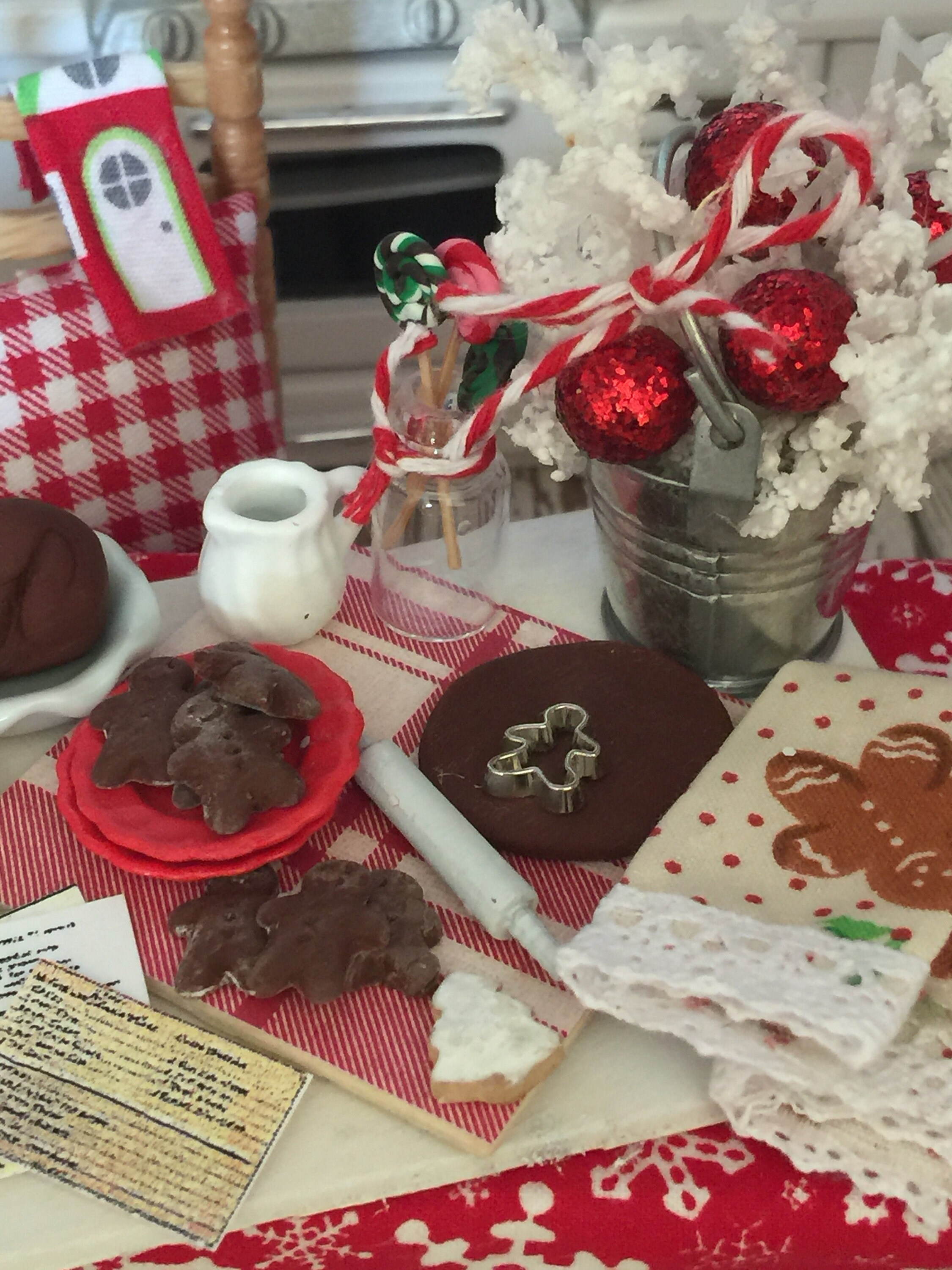 BE SURE to sign up for my Ribbonwood Cottage VIP Newsletter HERE
You'll receive free printables, ideas, coupon codes for sales in shop, free patterns and more for each season.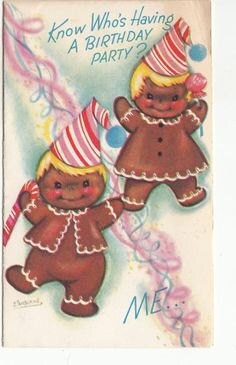 Enjoy!!!
Blessings,
Debbie Booth