Hey everyone! It has been fun pulling out some of my favorite fabrics and working on a little Valentine's day project.
Miniature pillows are a quick way to add a little holiday flavor to a doll room, diorama, miniature vignette or dollhouse.
What you will need:
Cotton fabric with tiny prints, flowers, or designs
White cotton fabric (fat quarter)
Thread
Sewing machine (can be hand sewn too)
1/4" wide white cotton lace (flat) about 6"
Heat n' Bond or Wonder Under - Paper backed interfacing used for applique)
Tiny amount of polyester stuffing or fiberfill
Cut pillows first
2" x 2" Cut several, white cotton and  print design
Also cut 2" x 3" white cotton fabric
strips of cotton fabric with print on it 3/4" x 3"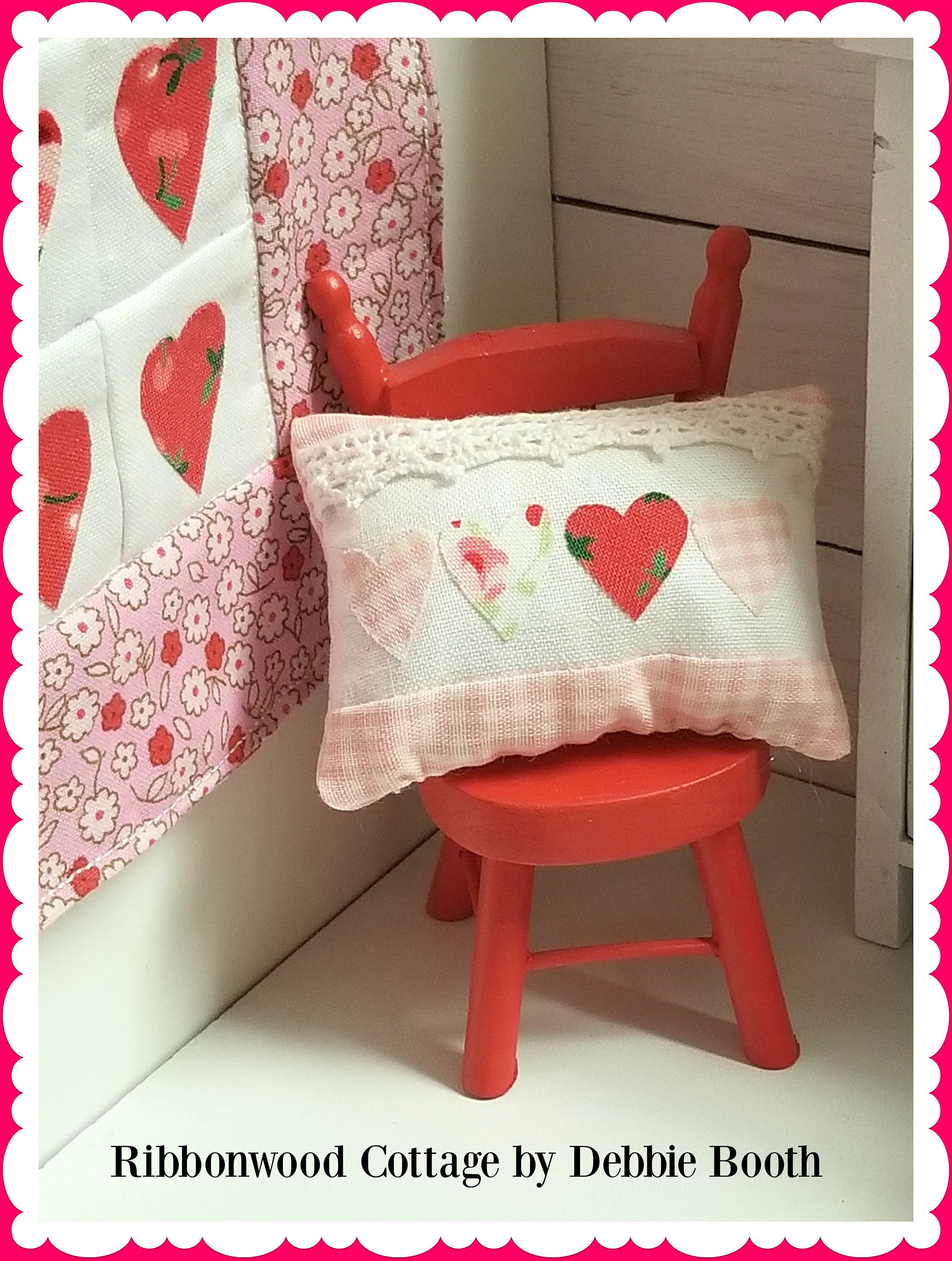 Press 2" squares or smaller of the Heat N Bond to the BACK of the cotton print.
I drew a small heart that was 3/4" tall and 3/4" wide for a square pillow and then even smaller hearts 1/2" x 1/2"(approximately!) for the hearts in a row pillow. 
Do you remember in elementary school folding a piece of paper in half? And drawing a half of a heart? Then when you opened up the paper it formed a heart?
YOu can use this technique and draw a very small heart. I tried to upload a heart but the size just wouldn't upload right.
Using small  pattern, trace several hearts on paper backed interfacing. This becomes the pattern. The heart can be traced after the interfacing is pressed to fabric or before.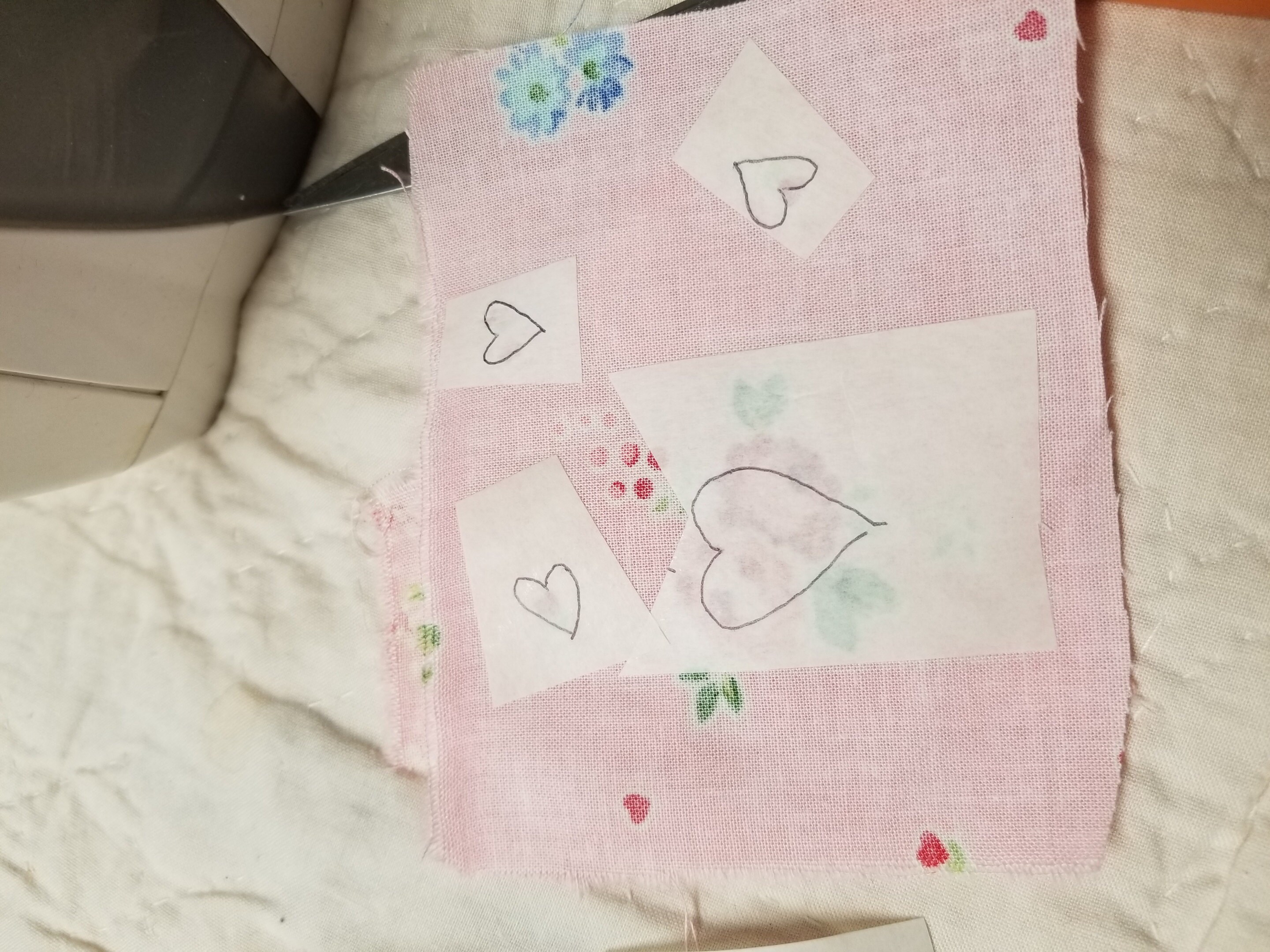 Once the paper is adhered to back of fabric, and heart design is drawn on paper, the heart design can then be cut out using sharp scissors. Place all the hearts in a bowl or coffee cup to keep them in one place ( and not on the floor!)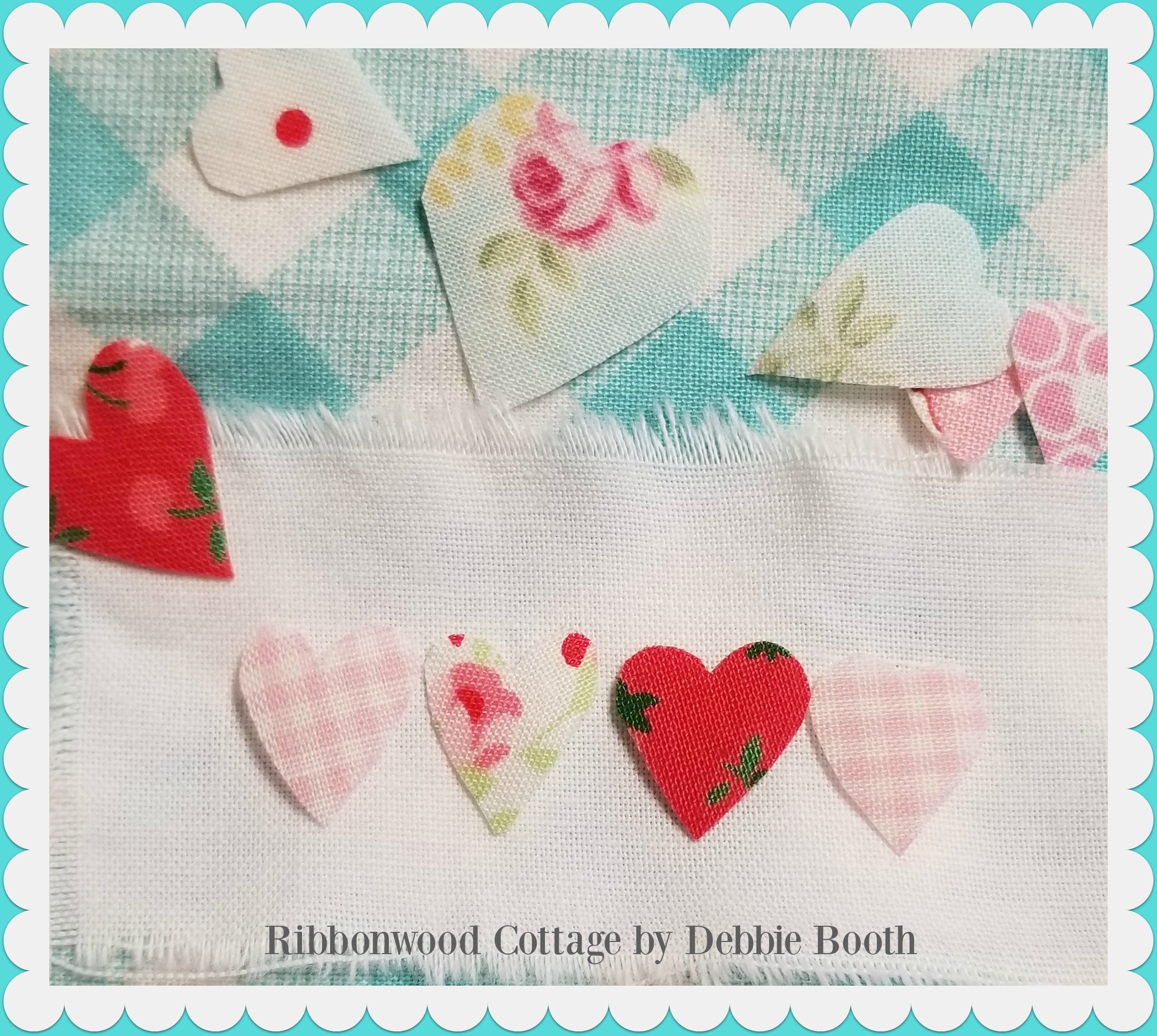 When all the hearts have been cut out, peel the paper off the back of the hearts and get the hearts ready to press on to the white cotton. When the paper is peeled off the back of the hearts, that sticky side is what is going to be pressed to the background fabric.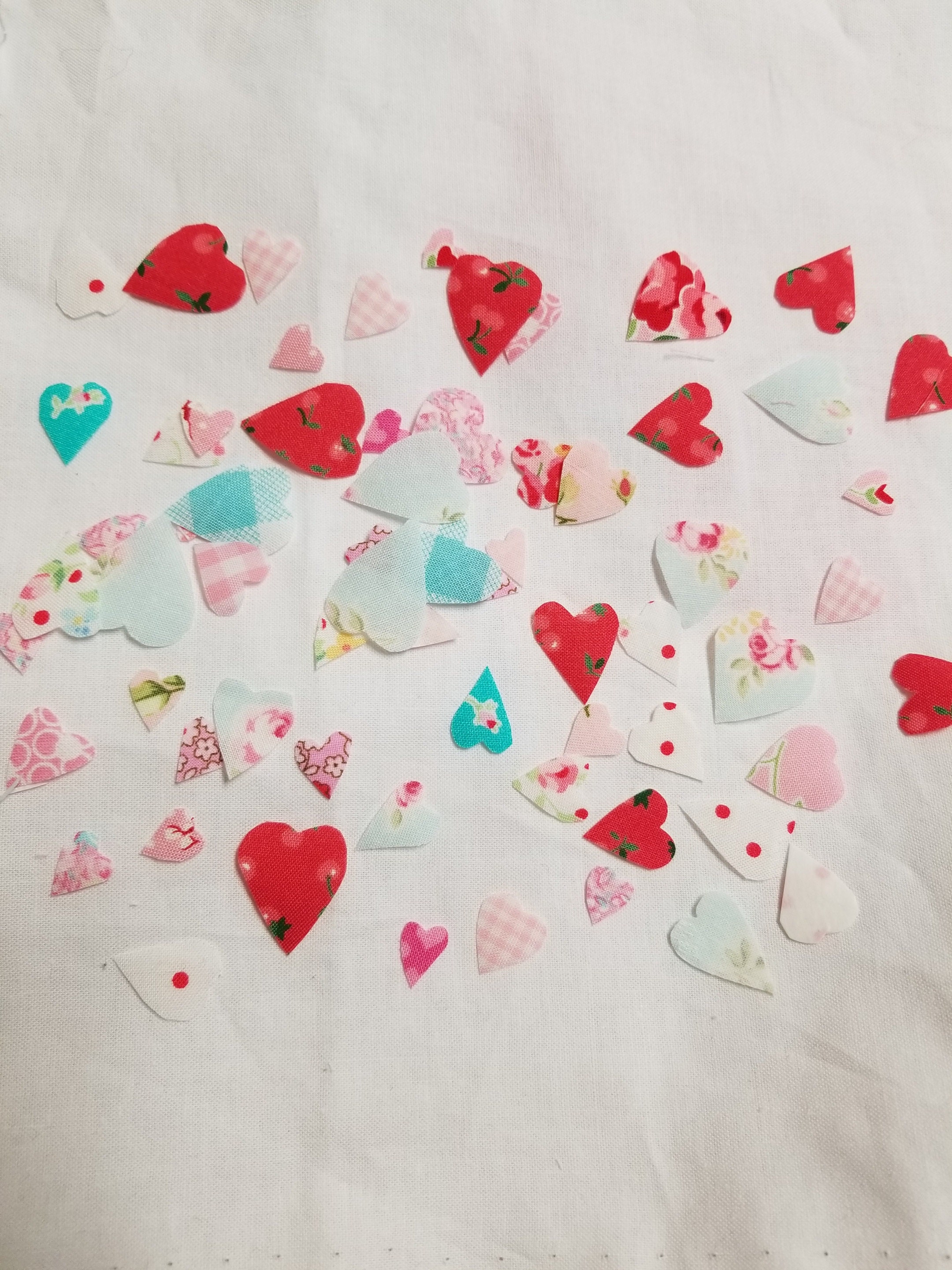 Cut the center white cotton fabric  1 1/2" x 2 1/2". This is the piece the hearts will be pressed to in a row.
Cut the other cotton print strips for the top and bottom of the pillow front 3/4" x 2 1/2"
Press 3 or 4 hearts in a row onto the white cotton. Center them first before adhering them to white cotton. Peel the paper off if that hasn't been done yet, and then press back into place. Press with iron. Pin the other 2 strips to the top and bottom of the pillow center front.  Sew all pieces together to form pillow front.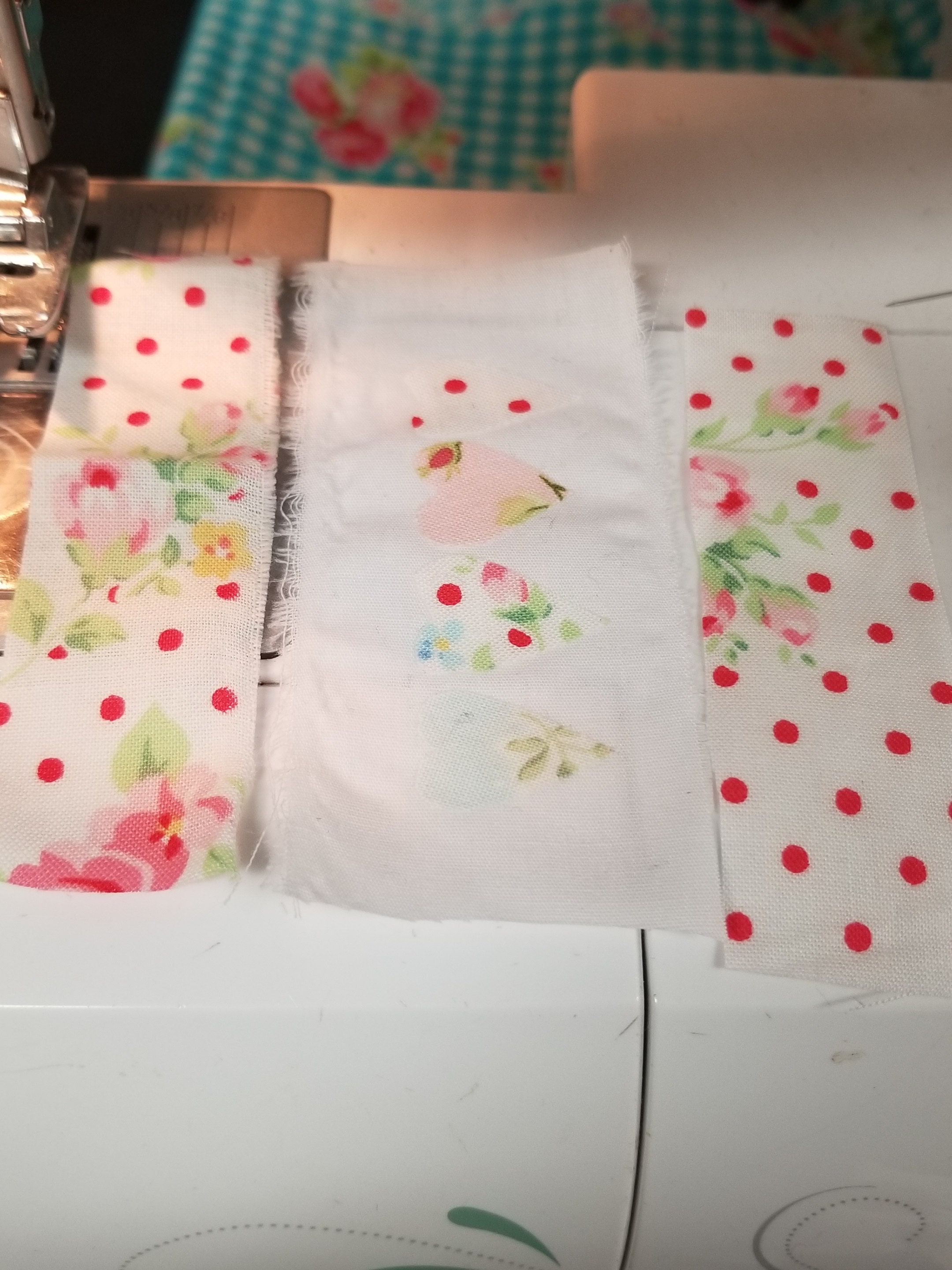 Trim threads and press open.   Place 1/4" wide flat cotton on top of seam where the white cotton and the print cotton meet. Sew in place and then trim threads.
Place pillow front face down onto a piece of white cotton. Cut white cotton by cutting around pillow front. Pin two pieces together and sew around pillow leaving a 2" opening on the bottom edge. Turn pillow right sides out. Work on corners so fabric is not bunched up. 
Stuff with a small amount of polyester stuffing. Pin opening closed. Hand sew closed.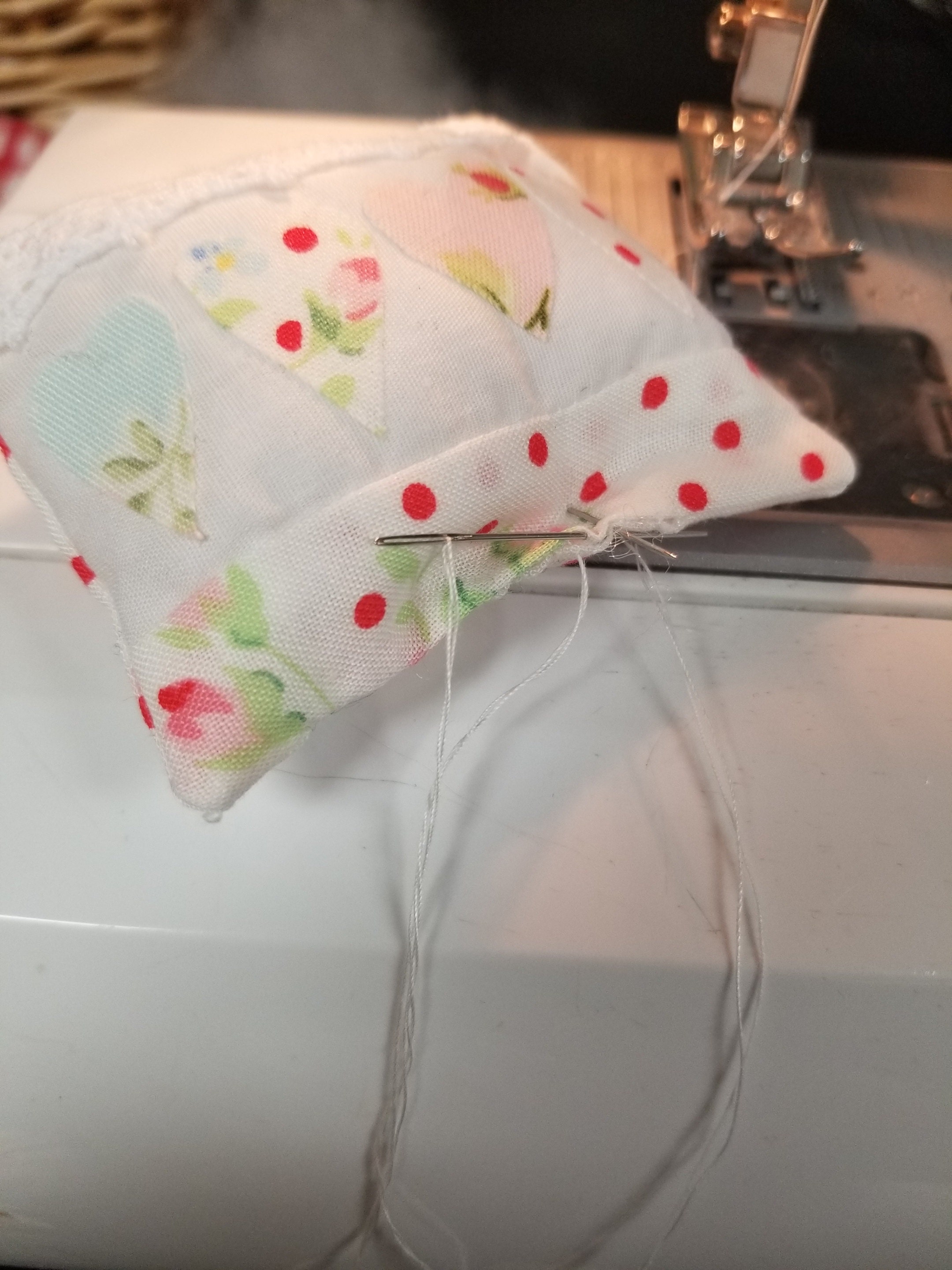 I made several pillows. Some were made without the additional fabric strips on top and bottom.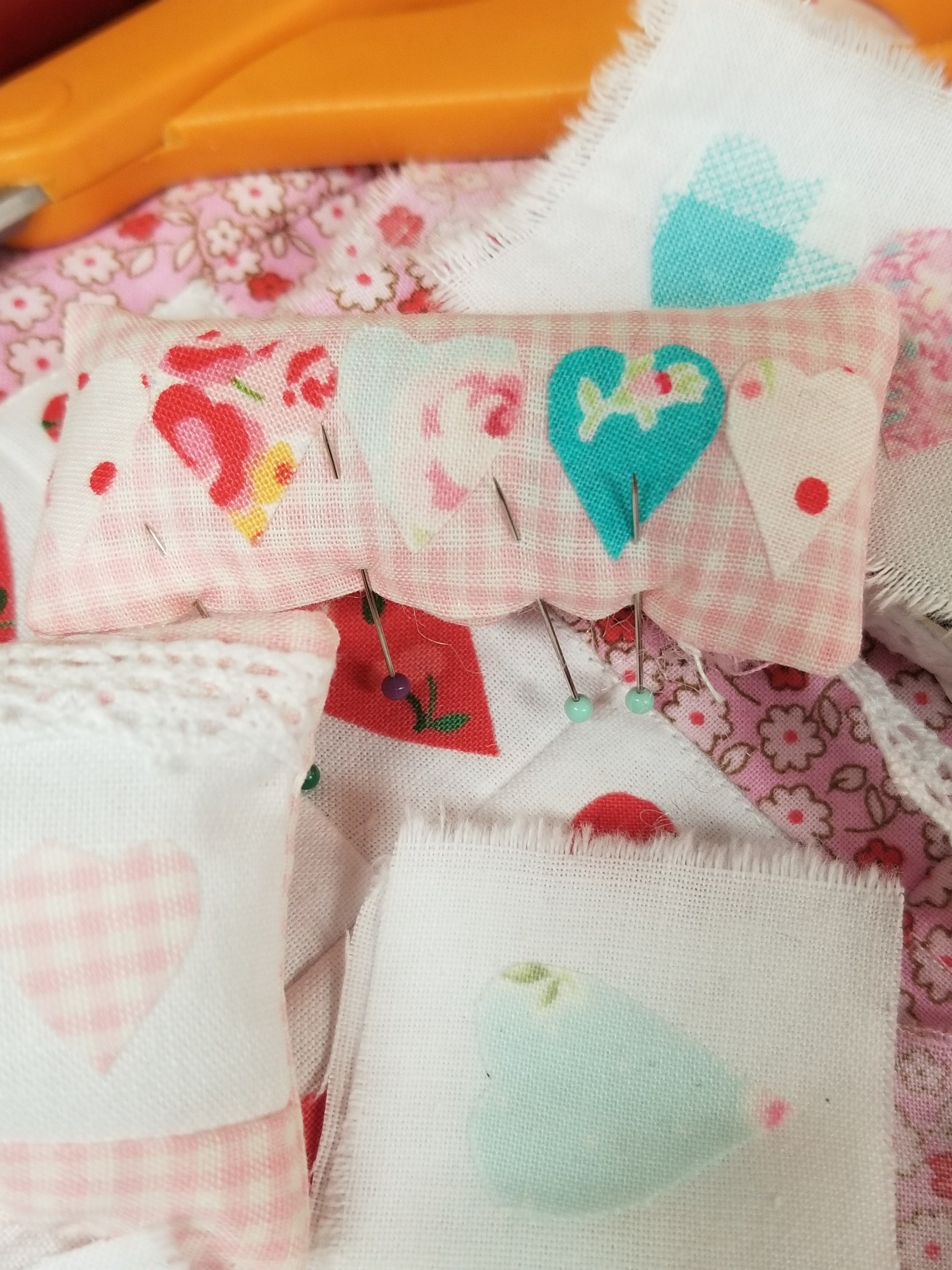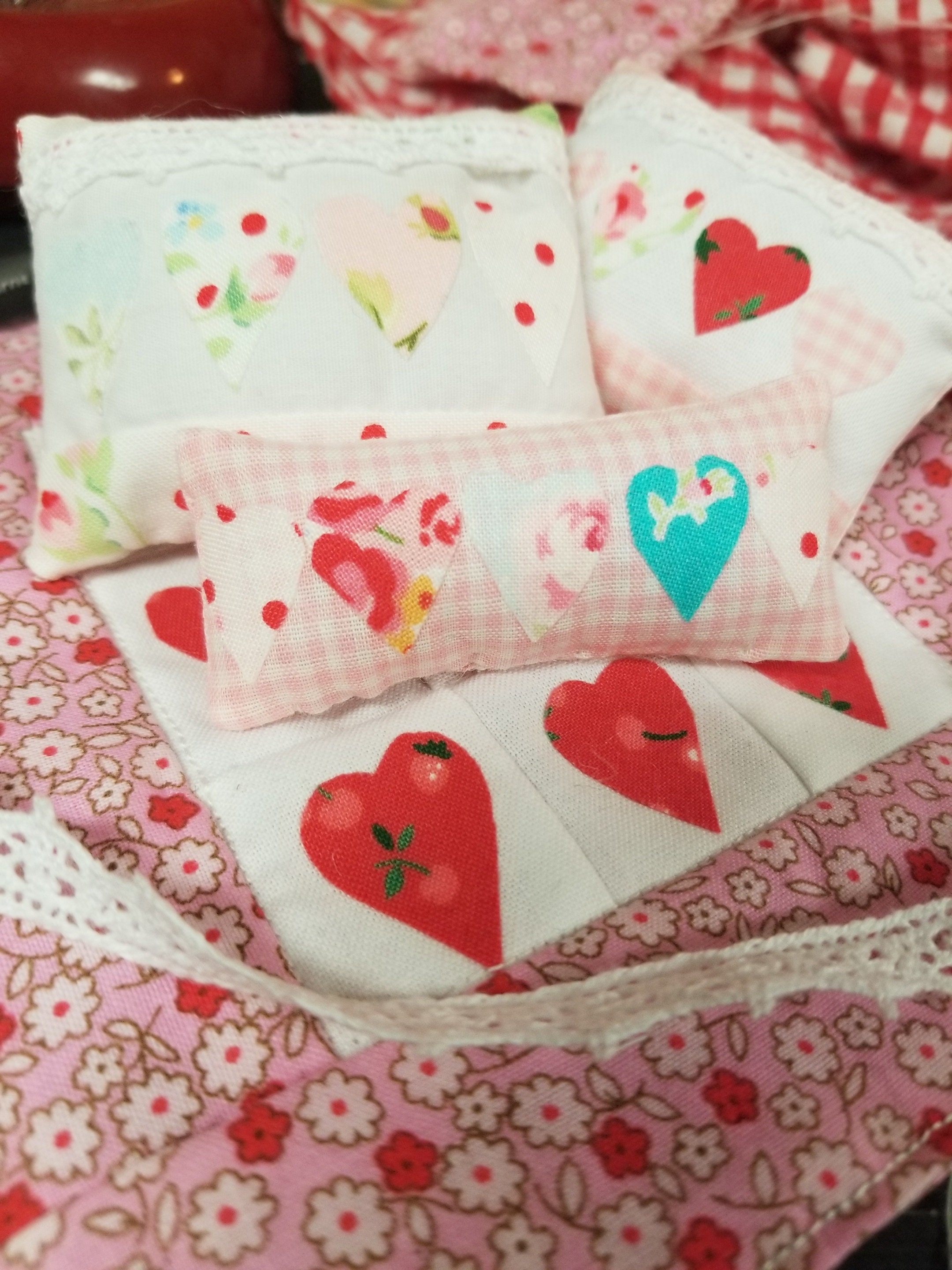 I have a brand new Valentine Miniature Decorating Ideas Ebook in my shop
HERE  for this and more projects to do. Many fun projects that are simple to make. I also included a section  filled with ideas for adding a little Valentine decorating to a miniature dollhouse, diorama or just a small decorative scene. I often put together miniature scenes on a shelf in my kitchen. It is a fun way to add miniatures outside of the traditional dollhouse scene.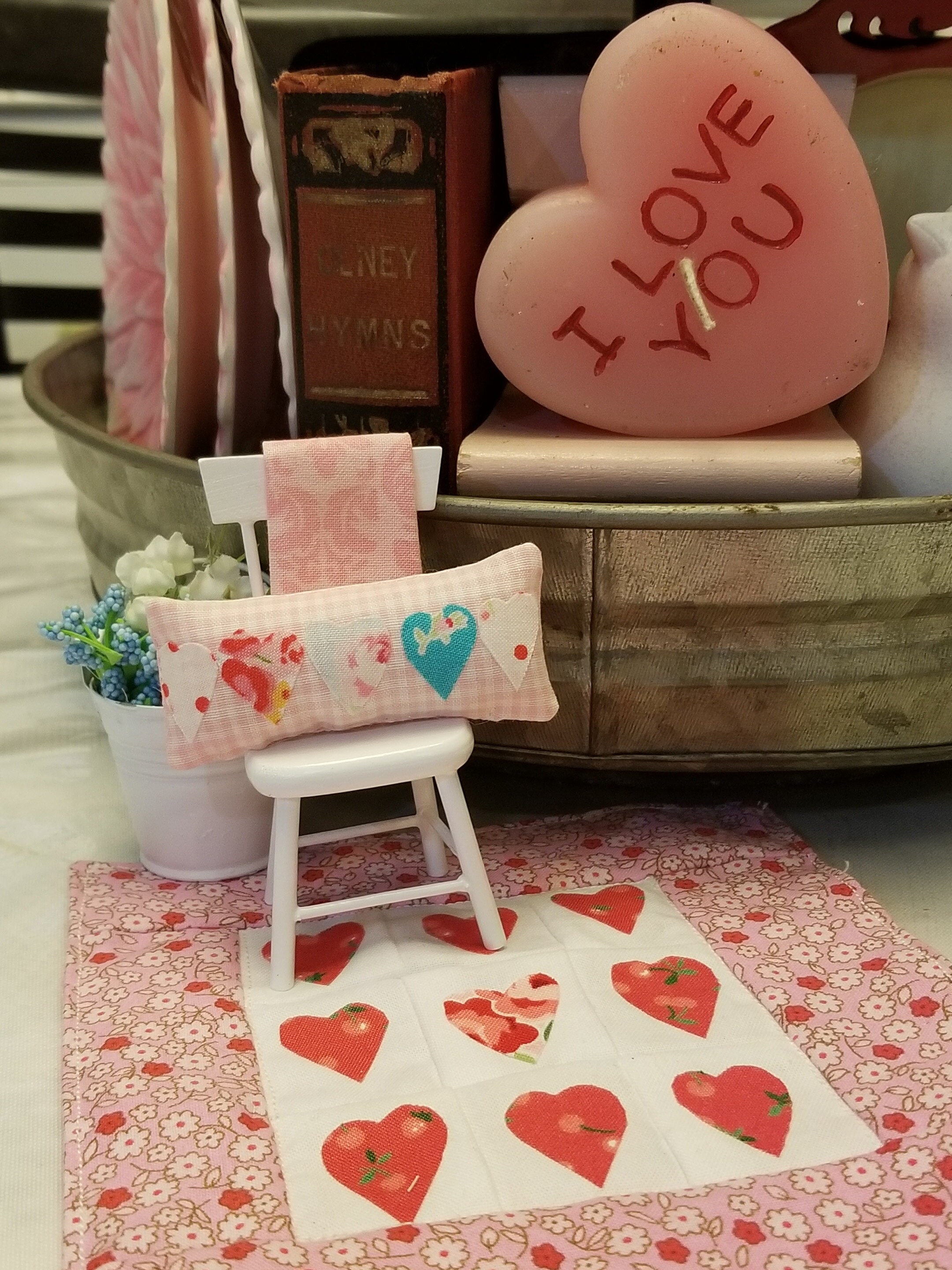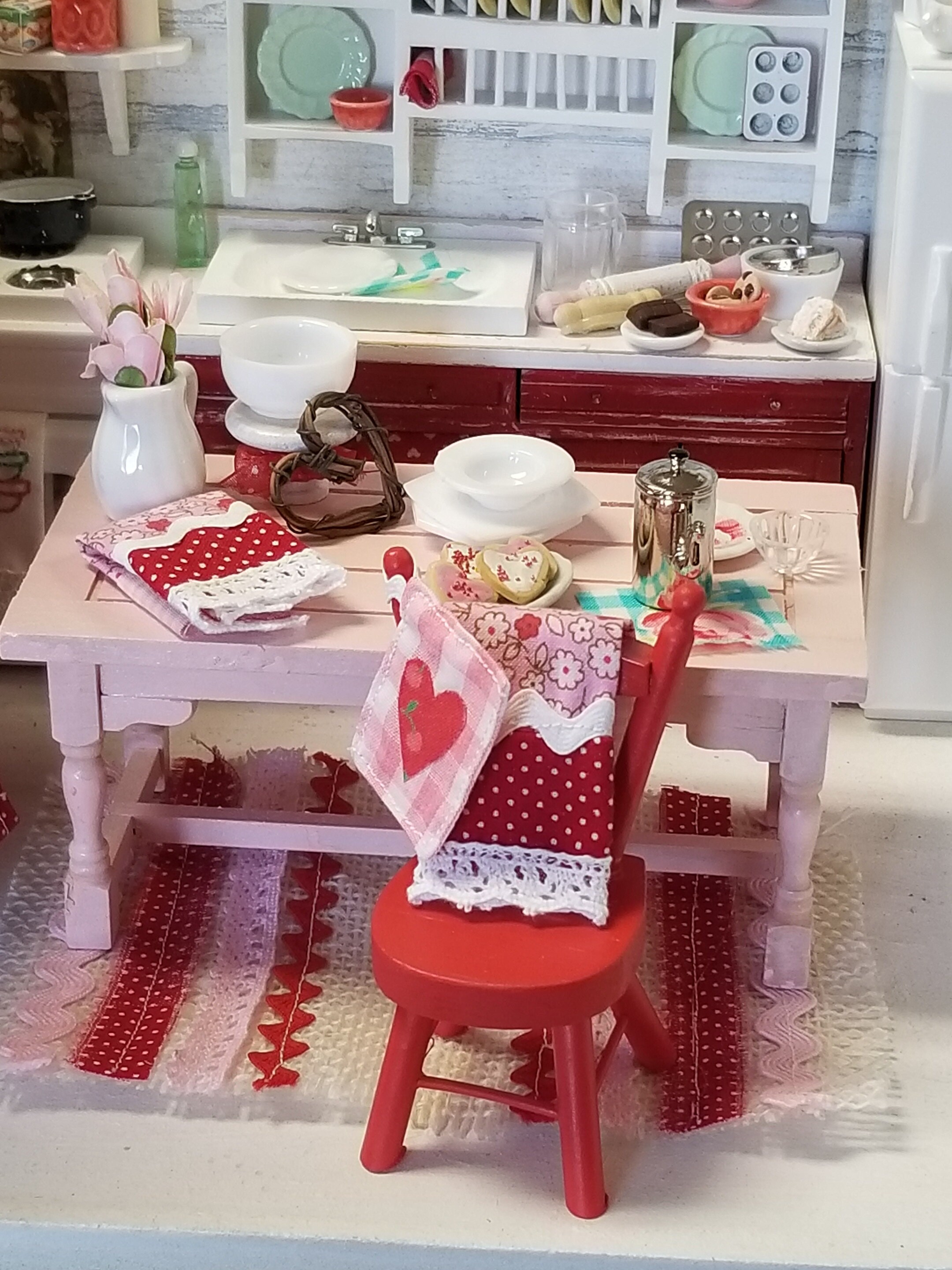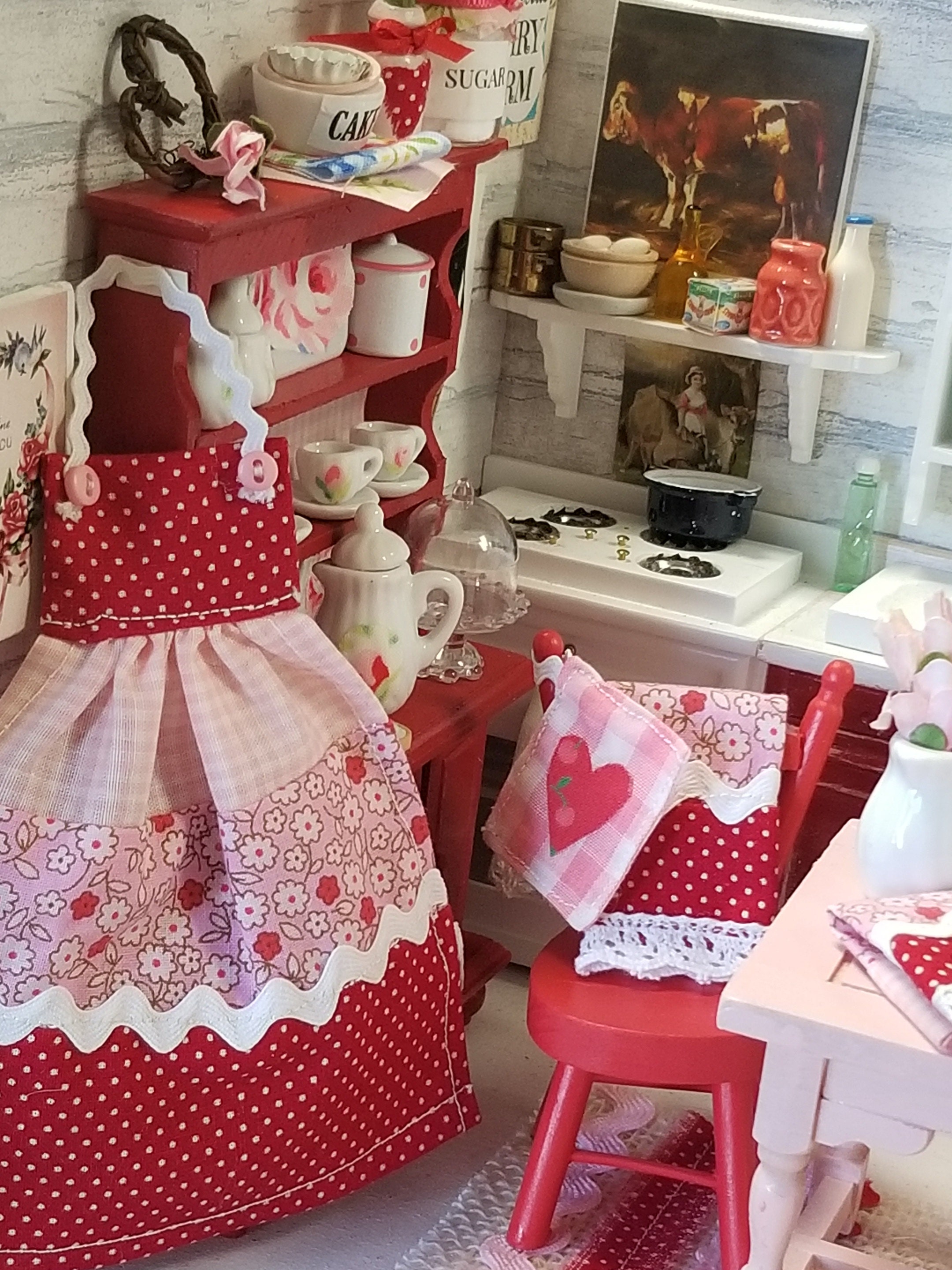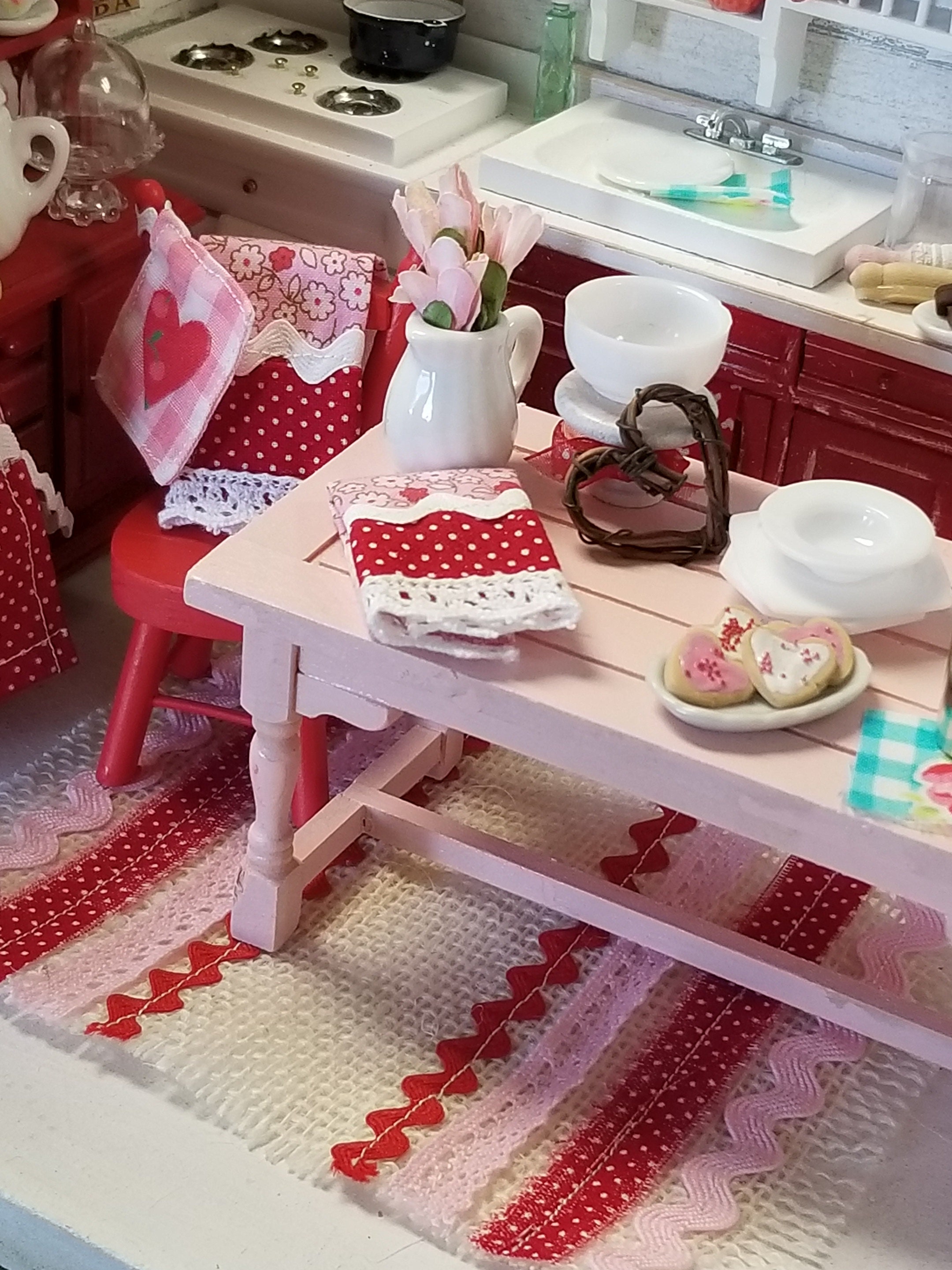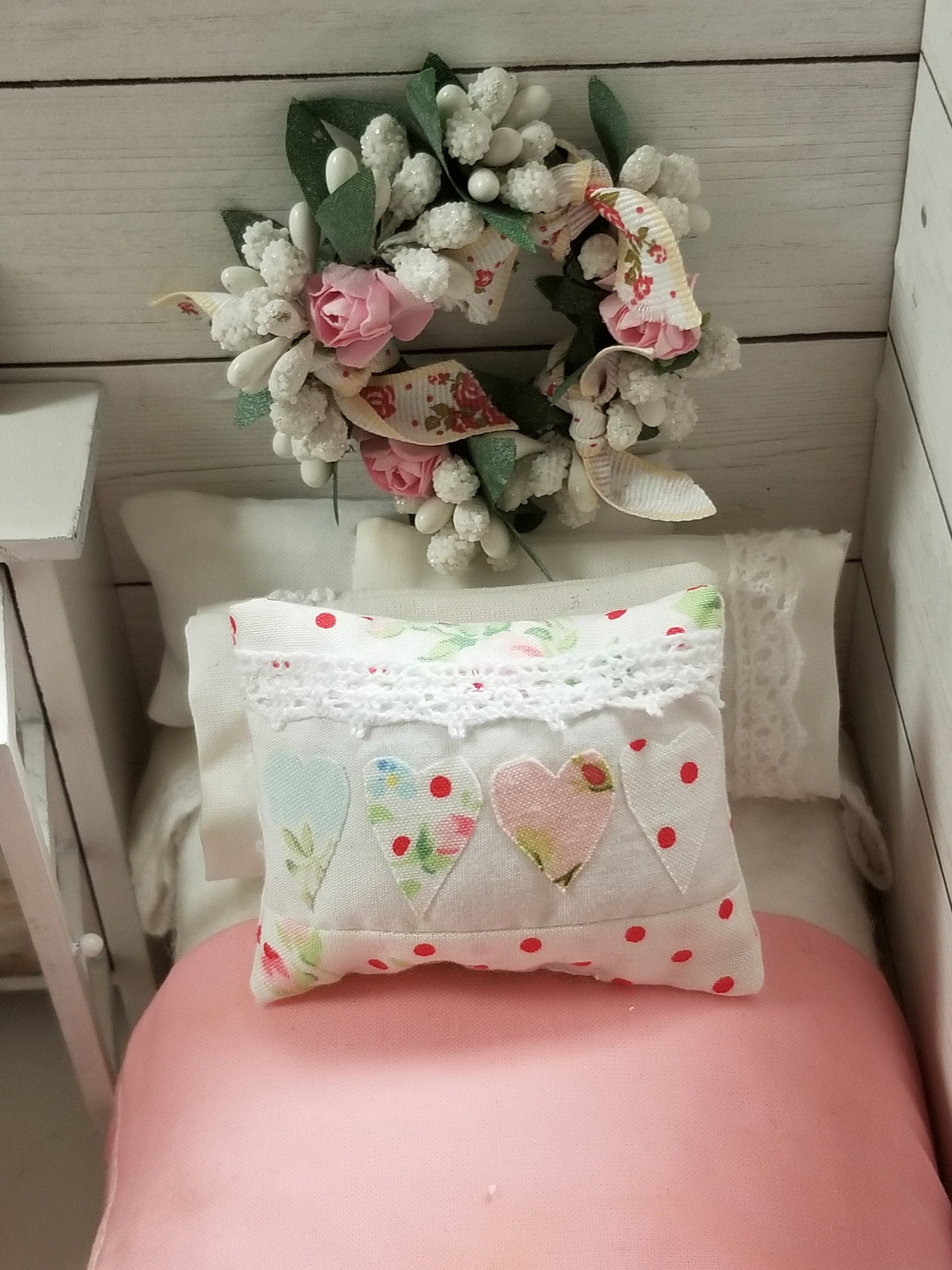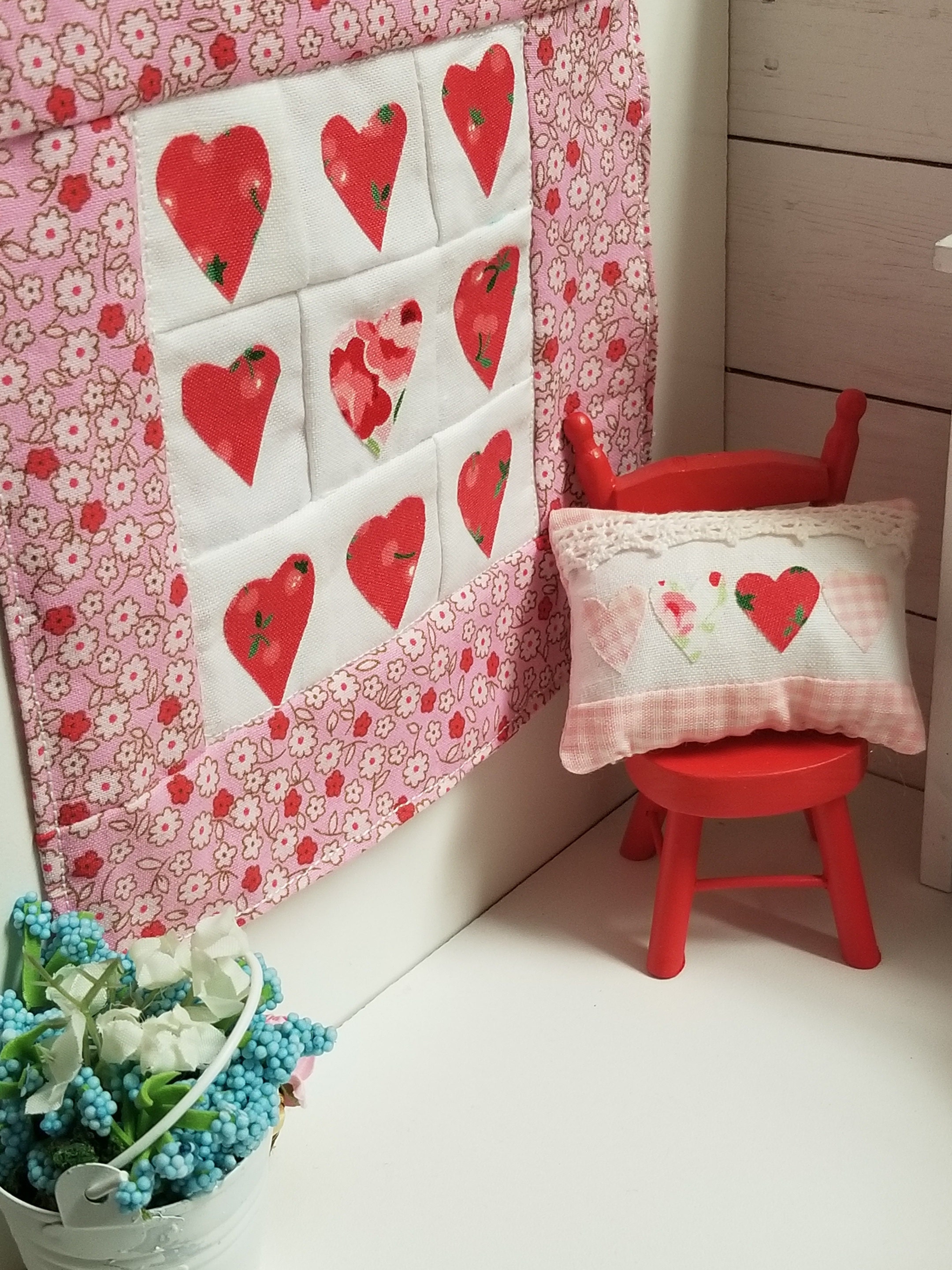 TAKE  a look HERE 
Happy Valentine's Day!
If you'd like to receive more free patterns and fun seasonal projects you can always sign up HERE YOU'LL receive about 1 email per month sharing new projects and patterns!
Debbie Booth